Former Adviser to Mike Pence Slams Trump Administration for 'Harassment' and 'Abusive Behavior' of State Department Staff
Former special adviser to Vice President Mike Pence, Molly Montgomery, warned on Monday that "morale" at the State Department under President Donald Trump's administration has been at a "historic low" as officials have subjected staff to "harassment" and "abusive behavior."
"Morale is at a historic low at the State Department," Montgomery, who previously worked in the Foreign Service before advising Pence on European and Eurasian affairs, said during an interview with CNN. She blamed the leadership of former Secretary of State Rex Tillerson, who Trump fired last year, as well as the leadership of current Secretary of State Mike Pompeo.
The foreign policy expert pointed out that both leaders had "championed budget cuts," while their staff "have engaged in politically motivated harassment and retaliation and abusive behavior." She also pointed out that both secretaries had "failed to fill key positions" in the State Department.
Montgomery said the current State Department is "far from having swagger" and is instead "limping along at the moment."
The former vice presidential aide also expressed a degree of disappointment that Pence had not done more to defend State Department staff, particularly in the wake of the Ukraine scandal at the center of the ongoing impeachment inquiry against Trump. "I certainly would have hoped that the vice president, the secretary of state, others in this administration, would have spoken up more," she said.
Trump's administration has repeatedly been accused of "gutting" the State Department by foreign policy experts, as well as former ambassadors and diplomats. James Melville, a career diplomat who served as the U.S. ambassador to Estonia, raised these concerns last week during an interview with CNN as well. He took particular aim at Pompeo, saying that he had not demonstrated "integrity" in his role as secretary of state.
"It's very clear that Mr. Pompeo's need to be close to President Trump and support him in every way has caused him to give up the integrity that I think is an essential element to being a successful leader," the former diplomat said. He argued that Pompeo had manipulated "everything that is said in ways that will flatter the president," which he asserted was "antithetical to the best national security interests of the United States."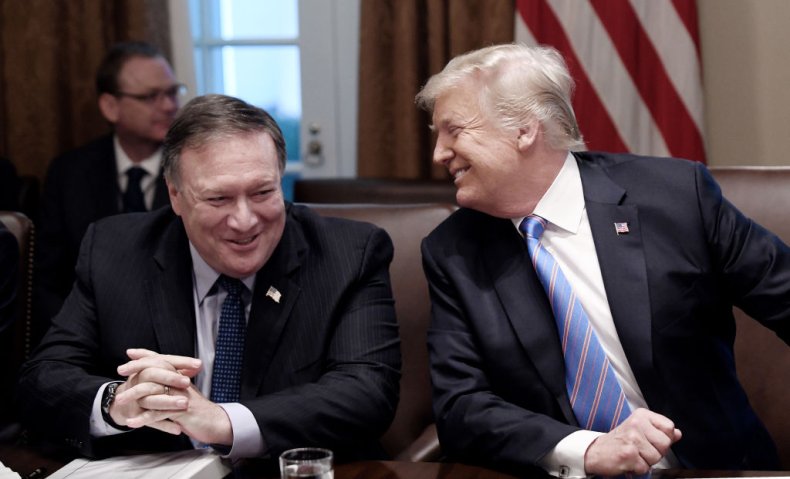 Melville resigned last year due to his objections to Trump's stance toward the European Union and the North Atlantic Treaty Organization. "For the President to say the EU was 'set up to take advantage of the United States, to attack our piggy bank,' or that 'NATO is as bad as NAFTA' is not only factually wrong, but proves to me that it's time to go," he wrote in a private message that was obtained and published by Foreign Policy at the time.
The impeachment inquiry against Trump has focused on the president's shadow foreign policy toward Ukraine, which centered around pressuring Ukrainian leaders to open investigations into the president's domestic political rivals in exchange for support and military aid, according to multiple White House and diplomatic officials who have testified. The dissenting voices within the State Department against the president's actions have been described as a "revolt," as many have testified to Congressional investigators despite the White House's opposition.