Former Defense Secretary Says Trump's Actions Clearly Were 'Attempt to Extort or to Bribe' Ukraine President
Former Secretary of Defense William Cohen warned on Thursday that President Donald Trump's actions toward Ukraine appear to be a clear "attempt to extort or to bribe" the leaders of the Eastern European country.
Cohen, who served as a Republican lawmaker in the House of Representatives and the Senate before joining President Bill Clinton's Cabinet, made the remarks during a "Citizen by CNN" interview on Thursday. He drew parallels between what's happening with the Trump administration now and what occurred during the Watergate scandal, which led to the resignation of President Richard Nixon while Cohen was in Congress.
"During the Nixon administration, you had the payment of hush money in order to silence witnesses. We've seen that take place," Cohen said. "You have obstructed justice, in addition to justice obstruction of Congress. With respect to Ukraine itself...the thing speaks for itself," he asserted.
"The transcription of the conversation that took place between the president of the United States and the president of Ukraine, I think it speaks for itself," he argued.
"It's so clear that this was an attempt to extort or to bribe the leader of Ukraine. And I don't think there's any doubt in my mind about that," the former defense secretary continued. "I think it's an impeachable offense, one of several."
The summary transcript of the call between Trump and Ukraine's President Volodymyr Zelensky is at the center of the fast-moving impeachment inquiry led by Democrats in the House. During the call, Trump asked the Ukrainian leader to do him "a favor" and open investigations that could be politically damaging to his Democratic political rivals, including Joe Biden. Ahead of that call, Trump ordered that nearly $400 million in military aid to Ukraine be withheld. The aid was widely approved by Republicans and Democrats in Congress, and U.S. intelligence agencies and the Pentagon had also signed off on the military support for the Eastern European country.
Trump and his supporters have argued that the aid was not withheld in connection with his desire to undermine a political rival. But testimony this week from U.S. Ambassador Bill Taylor, the current top diplomatic representative to Ukraine, flew in the face of that claim.
U.S. Ambassador to the European Union Gordon Sondland "told me that President Trump had told him that he wants President Zelensky to state publicly that Ukraine will investigate Burisma and alleged Ukrainian interference in the 2016 U.S. election," Taylor told congressional investigators on Tuesday. He asserted that he was informed that "'everything' was dependent on such an announcement."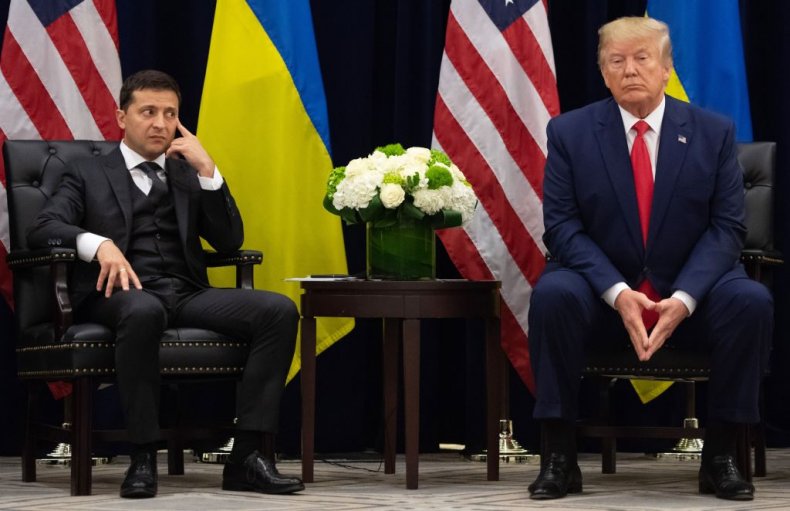 Leading Democratic presidential candidate Joe Biden's son Hunter previously sat on the board of Burisma, a Ukrainian energy company. The reference to Ukrainian interference in the 2016 election concerns a debunked conspiracy theory involving Democrats, which Trump and his supporters have repeatedly cited despite its being proved false.
Trump and Republican supporters initially had argued that there was "no quid pro quo" involved with the president's efforts to pressure Ukraine. But there now appears to have been a clear quid pro quo. Some Republicans and the president have tried to insist that it wasn't a real quid pro quo because the Ukrainians were not aware that the military aid was being withheld, but that is also inaccurate, according to Taylor's testimony and reporting by The New York Times.