Former Georgia Republican Lawmakers Urge Their Party to 'Unite' as 'Civil War' Grips State GOP
A group of former Republican lawmakers and officials from Georgia have urged their state party to "unite" ahead of the Senate runoffs there, as concerns have swirled about a "civil war" among the state's GOP voters.
Although Trump lost Georgia to President-elect Joe Biden by a narrow margin of some 12,000 votes, the president has refused to accept his loss in the state. Trump has claimed, without evidence, that he lost in Georgia, as well as in other key battleground states, because of widespread voter fraud. Trump and his allies have disparaged Georgia's Republican leaders—including Governor Brian Kemp and Secretary of State Brad Raffensperger, whom the president endorsed in 2018—claiming they mismanaged the election.
As a result, at least some Republican voters in Georgia are considering boycotting the two key Senate runoffs set for January 5. Some have also pushed a campaign to write-in Trump's name instead of voting for GOP Senators Kelly Loeffler and David Perdue. With both of the state's seats in the upper chamber of Congress up for grabs, the runoffs' results will determine whether Democrats or Republicans control the Senate.
"We have watched with increasing concern as the debate surrounding the state's electoral system has made some within our Party consider whether voting in the coming run-off election matters," the former GOP lawmakers and officials wrote in their Wednesday letter.
"Now is the time to unite our Party and win the two U.S. Senate seats," they said.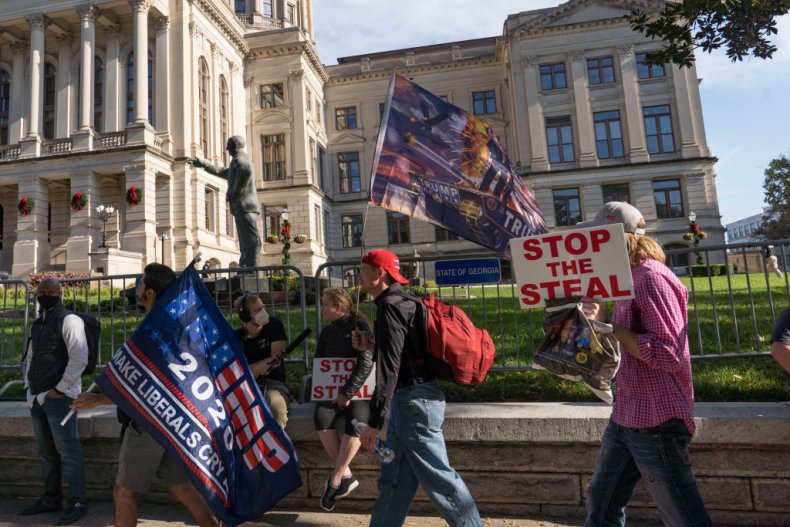 The letter was signed by former Georgia Governor Nathan Deal and former Senators Johnny Isakson, Mack Mattingly and Saxby Chambliss, as well as a number of former members of the House of Representatives, state leaders and state party officials.
"As former elected officials and long-time party activists, we must always act to ensure the integrity of the election process," the Republicans continued. "Indeed we have an obligation to assure every Georgia citizen—regardless of ideology—that free and fair elections are what distinguish our Republic from all others."
Newsweek reached out to the Georgia Republican Party for comment but did not receive a response in time for publication.
Although the letter did not explicitly call out Trump or his allies, they have repeatedly attacked Georgia's election processes and slammed state GOP leaders for refusing to overturn the results. Trump described Raffensperger as an "enemy of the people" last week, even though the Republican secretary of state has voted for and donated to the president.
"For those wondering, mine [my candidate] lost—my family voted for him [Trump], donated to him and are now being thrown under the bus by him," Raffensperger wrote in an article for USA Today.
Trump continued to disparage Georgia's leaders via Twitter on Tuesday. "Rigged Election. Show signatures and envelopes. Expose the massive voter fraud in Georgia. What is Secretary of State and [Governor] @BrianKempGA afraid of. They know what we'll find!!!" Trump tweeted.
During an event last Saturday, Republican voters expressed frustration and anger with their elected leaders over Trump's loss in the state. Some questioned why they should vote in the January runoffs, believing, as the president has claimed, that the election was "rigged."
"If we lose the White House and lose the Senate we will never recover from that. We cannot give up." Georgia GOP chief David Shafer told the crowd.