Former 'Hair Box Girls' of the 2000s Are Going Viral — Where They Are Now
The Black women who modeled for relaxer boxes in the early 2000s have re-emerged on Twitter, delighting women who idolized them as little girls.
Twitter user @prettiestluxury posted a collage of nine beloved "hair box girls" on Sunday, writing, "I remember wanting to be the face of a hair relaxer so bad."
User @AshTheDonLeon replied with the question, "Where are these girls today? Show yourselves."
To the internet's surprise, several women who once graced the advertisements answered the call, along with images of their transformations.
"I heard y'all were looking for the hair box girls...here I go," said Shaun Smith in a tweet with 228,000 likes, sharing a photo of her relaxer ad next to a selfie in the present day. "I was the original ORS perm box girl."
Smith told Newsweek she modeled for the boxes in her early 20s. She is now 43—and never uses a relaxer.
"Hair confidence means being able to unapologetically be me," she said. "Love my curls, coils, and the versatility that I can do with my hair."
Natalie Githu, pictured on the original collage that swept Twitter, modeled for the Dark and Lovely relaxer. These days, she wears blond hair in braids.
"Oh we outchea...taller, blonder but the sass is still the same," she tweeted.
Child model Shiyenn Scott tweeted a photo of her face on a Kids Organics package, alongside a current-day photo of her long curls.
"A photographer in [Atlanta] discovered me one day we were out, I remember telling my mom often I wanted to be on the cover of the boxes like the other little girls," Scott wrote. "She made it happen. He saw my passion for modeling [and] put us through with Kids Organics. My [first] shoot [and] start at modeling."
The Natural Hair Movement
For decades, Black workers have taken their employers to court over alleged discrimination against their natural hair.
In 2019, Kimberly Tegner filed a lawsuit against Charlotte-Mecklenburg Schools in North Carolina, alleging that her white colleagues circulated a petition referring to her hair as unprofessional. A North Carolina Judge ruled the petition was "offensive" but not discriminatory.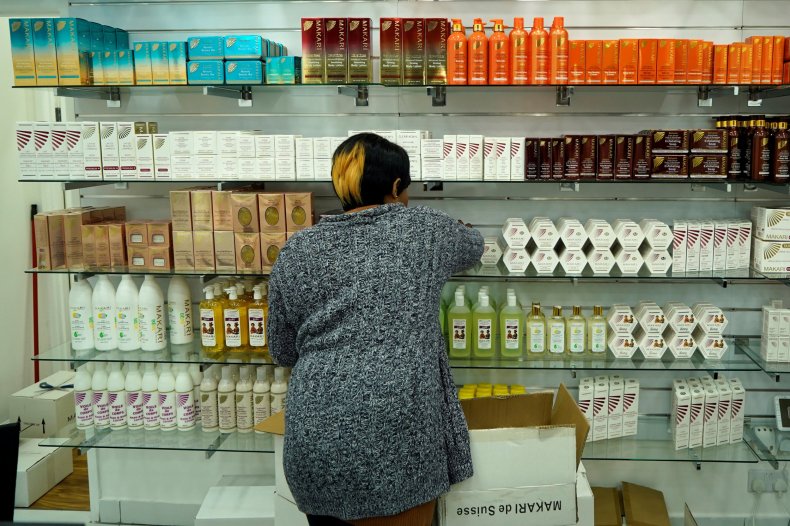 Chastity Jones accepted a job offer from Catastrophe Management Solutions in 2010, but the company held that she had to cut off her locs. When she refused, her offer was rescinded. The Equal Opportunity Commission (EEOC) filed a lawsuit on Jones's behalf in 2013 and lost the case.
A natural hair movement surged in the 1960s, as civil rights leaders encouraged Black women and men to embrace their natural features. Activist Angela Davis wore an afro to signal Black power and rebellion against white American beauty standards, while activist Marcus Garvey urged, "Don't remove the kinks from your hair! Remove them from your brain!"
Some of these progressive changes eroded during the late 1970s and 1980s, as social pressures to assimilate became more dominant, according to communications scholar Tracey Owens Patton in "Hey Girl, Am I More Than My Hair?" In the 1990s, prevailing hair care ads on TV and in magazines encouraged more women to change their hair texture, although the period also saw braids and cornrows grow in popularity.
Finally, a second wave of the natural hair movement swelled in the 2000s. A cultural shift in films and social media has prompted many Black women to wear their natural hair, with YouTube communities and natural hair blogs amassing millions of subscribers.
According to global research firm Mintel, relaxer sales dropped 36.6 percent between 2012 and 2017. The research found that 79 percent of Black consumers wore a natural hairstyle in the year leading up to May 2017.