Former Iowa Representative Compares Slavery to Abortion in Juneteenth Tweet
Steve King, a former member of the U.S. House of Representatives, likened slavery to abortion in a message posted on social media.
On Tuesday morning, the former Republican congressman wrote about how he spent Monday, the day Juneteenth was observed this year, and what it caused him to reflect on.
"I spent Juneteenth all day in the hot sun hoeing and pulling weeds and thinking about what it would have been like to have been a slave. At the end of the day, I thought about what it would be like to be an aborted baby. I got to see the sunrise and the sunset," King posted on Twitter.
Juneteenth, which is celebrated every year on June 19, recognizes the end of slavery in the U.S. On June 19, 1865, about 250,000 African Americans who were still living in slavery learned that the Civil War had ended and that they had been legally declared freed.
Last year, on June 16, Congress agreed to declare Juneteenth a federal holiday. President Joe Biden then signed the measure into law the next day, making it a federal holiday.
Following Tuesday's post, King was heavily criticized.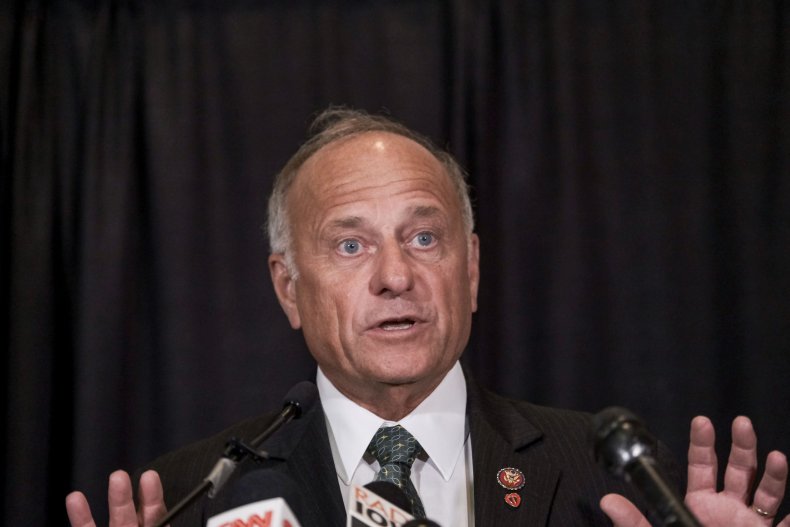 Lindsay Gibbs, a writer and podcast host, wrote on Twitter that "this is legitimately one of the most deranged tweets I've ever read and that bar is in the stratosphere."
Comedian and actor Patton Oswalt mocked King's message by writing, "I like imagining I'm a sweaty slave, or an aborted fetus. Hey, where ya going?"
Author and Daily Beast columnist Wahajahat Ali wrote, "white supremacist tweets like a white supremacist."
Todd Levin, who has written for the Conan late night talk show, responded to King with a question: "What did it feel like to be an aborted baby? Please spare no details," he wrote on Twitter.
King, who represented the Hawkeye state in Congress from 2003 to 2021, has a history of saying controversial things.
In 2019, he was removed from all of his committees by GOP leaders following an interview with The New York Times, in which he said, "White nationalist, white supremacist, Western civilization—how did that language become offensive?"
Also, in 2019, King suggested that without rape and incest, the earth's population would be much smaller.
"What if we went back through all the family trees and just pulled out anyone who was a product of rape or incest? Would there be any population of the world left if we did that?" he said.
At the time, King was defending abortion legislation that would have outlawed the controversial procedure even in the cases of incest and rape while speaking at a gathering of conservatives in Des Moines.
In November of 2020, King received backlash after he asked then-Vice President-elect Kamala Harris if she was "descended from slaves or slave owners."
Earlier that year, in June, Republicans decided to replace King after serving nine terms in Congress. King lost in a primary to state Senator Randy Feenstra 45 percent to 36 percent.
Update 6/21/22, 4:33 p.m. ET: This story has been updated with additional information.