As a Former Police Chief, I'm Troubled Watching My Republican Colleagues Forsake the Law to Protect Trump | Opinion
President Donald Trump's Ukraine scandal is a big deal. Don't let anyone say otherwise. It's unethical, immoral and illegal. Congress has a constitutional duty to act.
America's adversaries try daily to undermine, discredit and weaken us. What sets us apart is the rule of law. It's the strength of our democracy. That makes this a dangerous time to play politics.
During my 27 years as a law enforcement officer, I almost never knew the political party of the culprits we encountered or the brave officers who locked them up. For a time, I also served as the commander of internal affairs. Our job was to investigate police officers accused of wrongdoing—investigating our own. It was difficult, but we always followed the facts.
In that job, we took an oath to preserve, protect and defend the Constitution against all enemies, foreign and domestic. I never could have imagined betraying that oath by turning a blind eye to wrongdoing because the accused was a member of my political party. The citizens would never have tolerated such a dereliction of duty at the local level. We don't have to tolerate it now.
Yet that is exactly what my Republican colleagues in the U.S. Congress have decided to do. As a former police chief, I find their behavior bizarre and beyond disappointing. I know it's tough, but everybody should be held accountable.
Investigators in search of the truth are trained to look for three elements of a crime: motive, means and opportunity.
President Trump had all three. Motive―he feared Vice President Joe Biden, and he desperately wants to win the 2020 election. Means―the powers of the U.S. government, specifically military assistance. Opportunity―an allied country desperate for military assistance to survive an ongoing war with Russia.
Ukraine is a U.S. ally, and over 14,000 people have already died. Ukraine's ability to fight against Russian aggression is directly tied to our national security interests. When Ukraine's president asked President Trump for help, President Trump responded, "I would like you to do us a favor, though."
There it is, the "quid pro quo." Not something for the United States. Something for himself: investigations into a Russia-promoted conspiracy theory that acquits Russia of its 2016 hacking, as well as investigations of the Bidens.
This central piece of evidence is overwhelming. It's like having a videotape of a home invasion, filmed by the culprit himself.
It didn't end there. President Trump went on live television and said that Ukraine "should investigate the Bidens." President Trump's enablers, including "personal" attorney Rudy Giuliani, communicated this demand countless times, openly and privately.
During the impeachment hearings, I asked two witnesses with firsthand knowledge of Giuliani's activities on President Trump's behalf, "Was Mr. Giuliani promoting official U.S. interests?" Both answered no. Instead, they agreed, "he was looking to dig up political dirt." Do not underestimate the severity of this testimony.
Another witness testified that the president's agents were "involved in a domestic political errand," whereas "we were being involved in national security foreign policy."
An agent of President Trump said to another U.S. diplomat that Trump "doesn't give a s*** about Ukraine." Trump "only cares about big stuff...big stuff that benefits the president, like the Biden investigation."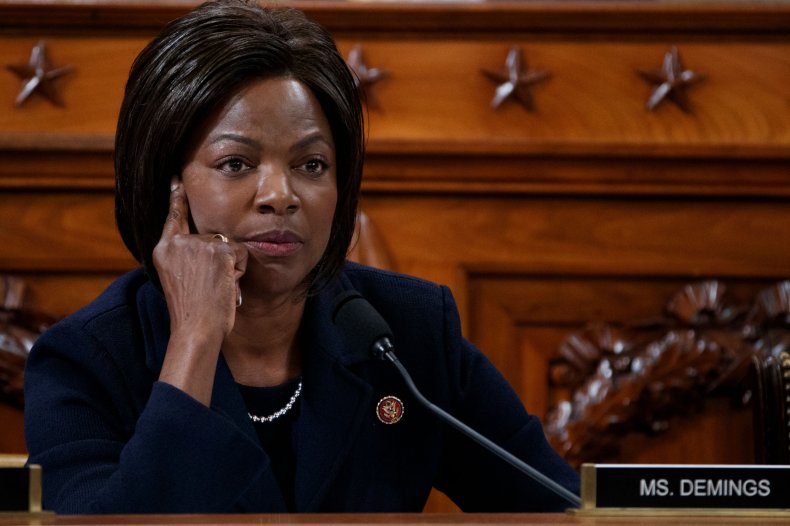 Said one of Trump's ambassadors under oath: "Was there a quid pro quo? The answer is yes." He also said, "We followed the president's orders."
White House Chief of Staff Mick Mulvaney confirmed that point. A reporter asked, "But to be clear, what you just described is a quid pro quo." Mulvaney replied, "We do that all the time...get over it."
National security adviser John Bolton called the scheme a "drug deal." Another official warned that this extortion of a foreign country would have "significant implications for U.S. national security."
The president's scheme went just as planned, until the president got caught. If not for the whistleblower, President Trump would have blackmailed or bribed a young, promising foreign leader into interfering in a U.S. election.
Despite an ongoing cover-up, the truth has since come out. It always does. The president's own public words, internal documents, the desperate effort to create justification for the military hold after the fact, and the testimony of dozens of patriotic Americans prove these facts beyond a reasonable doubt.
I could not be prouder of Ambassadors Marie Yovanovitch and Bill Taylor, Dr. Fiona Hill, Lieutenant Colonel Alexander Vindman and others who stepped forward and told the truth because they love our country. May God bless them. I have faith that in the end, the greatness of the American people and the strength of our Constitution will prevail.
Congresswoman Val Demings represents Florida's 10th Congressional District and sits on the House Permanent Select Committee on Intelligence.
The views expressed in this article are the writer's own.