Former Federal Prosecutor Says Mitch McConnell and Lindsey Graham Are 'Mocking' Juror Oath To Do 'Fair And Impartial Justice'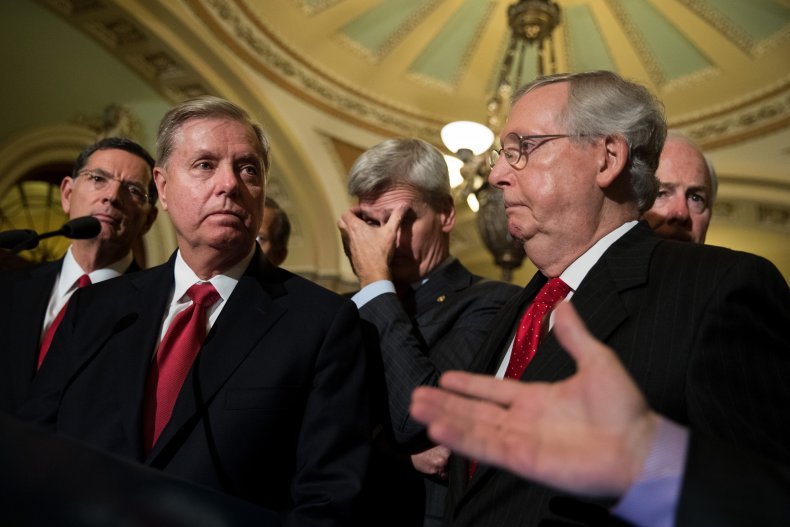 A legal analyst and former federal prosecutor took to social media Tuesday morning to decry Senator Mitch McConnell of Kentucky and Senator Lindsey Graham of South Carolina for making a mockery of the juror's oath.
Glenn Kirschner, a former federal prosecutor, argued in a tweet Tuesday that the Republican senators have already broken the oath they will swear at the impeachment trial of President Donald Trump by promising him their support before the trial has even begun.
"Every day in our country, jurors take an oath to do fair & impartial justice & decide cases based solely on the evidence," Kirschner wrote. "Mitch McConnell & Lindsey Graham are mocking that oath. Every American should be asking themselves, what kind of drug deal are McConnell & Graham cooking up?"
Newsweek contacted the offices of both senators for comment but did not receive replies before publication. This article will be updated to reflect any responses received.
Kirschner has appeared as a legal analyst on MSNBC and NBC News. He previously served as a federal prosecutor in the U.S. Attorney's Office Homicide Division in Washington, D.C., and as a military attorney in the U.S. Army Judge Advocate General Corps.
The Senate is preparing to try the president after the House of Representatives impeached him on December 18 on charges of abuse of power and obstruction of Congress. The impeachment resulted from a months-long scandal that started after a whistleblower alerted Congress to a July 25 phone call during which Trump asked the president of Ukraine to open an investigation into Democratic presidential candidate Joe Biden and Biden's son.
Per the Constitution, following impeachment, a Senate trial decides whether or not the president is removed from office. The Senate may also decide whether or not an official found guilty may run for office again in the future.
Kirschner's criticism of Graham and McConnell—both stalwart advocates for Trump—most likely stemmed from statements the two of them have made indicating their bias in favor of the president. This has caused some to doubt that they will really be "impartial" in their judgment of the president, as their oath as jurors calls them to.
As Newsweek previously reported, Mitch McConnell told Fox News's Sean Hannity that he would be working in "total coordination with the White House counsel's office and the people representing the president in the well of the Senate." Further, McConnell said that there "will be no difference between" how the president would want the trial to proceed and how McConnell intends for it to proceed.
Likewise, Graham has stated on record that he would not need to "hear a lot of witnesses" in the trial to decide whether or not to vote to remove Trump from office, implying that his mind is already mostly made up in favor of the president before the trial has started.
"Well, I'd tell the president if somebody's ready to acquit you, I'd sort of get out of the way," Graham said in the same interview.
A date for Trump's Senate trial has not yet been set. Negotiations between the House and Senate are expected to resume when the House reconvenes on January 7, 2020.