Former Trump Aide Anthony Scaramucci Slams President's Policy: 'America-First Strategy Is Becoming America-Alone'
Former White House communications director Anthony Scaramucci strongly criticized President Donald Trump's "irrational" behavior at the Group of Seven (G-7) Summit in France over the weekend, arguing that the president's "America-first strategy is becoming America-alone."
"Listen, the last three days have been an unmitigated disaster for the president," Scaramucci, who briefly served in Trump's administration before being fired, said during a Monday morning interview with CNN's New Day. "He's more or less been isolated by the other leaders."
"His America-first strategy is becoming America-alone," the former Trump official added.
Later in the segment, Scaramucci slammed Trump's "lack of predictability," saying the president's emotional state was "irrational." He argued that Trump is "melting down at the core," urging Republican leaders to take action to address concerns about the president.
As Scaramucci highlighted, Trump was clearly at odds with fellow world leaders over the weekend during the G-7 Summit. The annual meeting between the leaders of wealthy democracies – the U.S., France, Germany, the United Kingdom, Canada, Italy and Japan – was overshadowed by trade tensions and an increasingly isolated American administration.
French President Emmanuel Macron, who was hosting the event, decided ahead of the summit to not even attempt to issue a joint statement at the end, as had previously been the summit's tradition. During last year's G-7 in Canada, Trump refused to sign on to the official statement after he was angered by pushback from world leaders to his policies. This year, Macron determined that it would be unlikely that Trump would agree to any joint statements with the other members, so he chose instead to simply forego the process altogether.
Ahead of and during the summit, Trump also suggested that Russia, which was formerly a member when the association was referred to as the G-8, should be invited to rejoin. Russia was kicked out of the group after it supported separatist rebels in Ukraine and annexed the Crimea peninsula back in 2014, leading to an ongoing civil war. European leaders are also concerned that under President Vladimir Putin, Russia has moved steadily away from democracy into increasingly authoritarian rule.
"Under no condition can we agree with this logic," European Council President Donald Tusk said on Saturday in reference to Trump's suggestion to re-invite Russia. But on Sunday, Trump insisted that it was "certainly possible" that he would invite Putin next year.
Trump has increasingly isolated the U.S. from its long-time allies over a range of issues. While the G-7 countries, and every country in the world besides the U.S., are working to implement the 2015 Paris Climate Accord, Trump has withdrawn from the agreement and pushed back against even accepting the well-established science pointing to man-made climate change.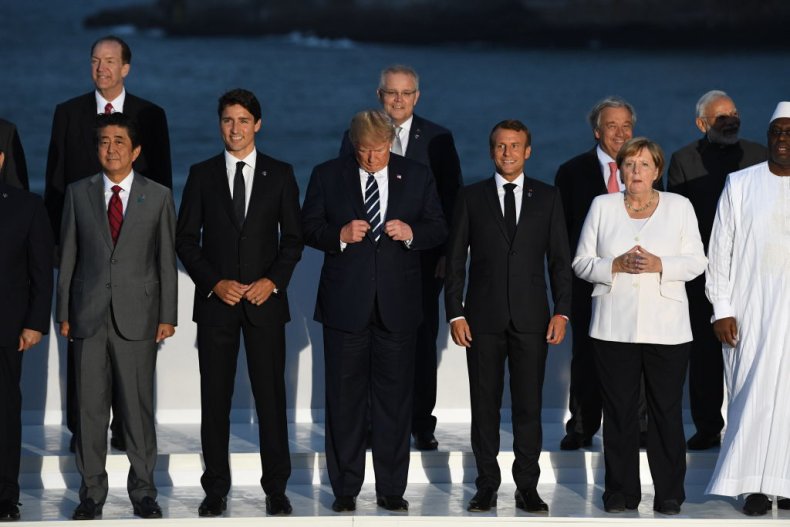 The president is also at odds with world leaders over the Joint Comprehensive Plan of Action, commonly known as the Iran nuclear deal. Last year, Trump withdrew the U.S. from the international treaty, which was championed by his predecessor former President Barack Obama and several members of the G-7, to curb Iran's nuclear capabilities in exchange for investment and sanctions relief. Consistent reports from the United Nations' nuclear watchdog had shown that Iran was abiding by the treaty's requirements until earlier this year, and European leaders are anxious to salvage the deal.
When it comes to trade, G-7 leaders are also concerned about the global impact of tensions between the U.S. and China. Trump's ongoing trade war with Beijing is having ripple effects across the world, as both nations have implemented hefty tariffs on each others' imports. Even British Prime Minister Boris Johnson, who Trump has repeatedly praised, criticized the president's strategy for dealing with China.
"We're in favor of trade peace on the whole," Johnson said. "We don't like tariffs," he added.
Macron was more blunt: "I want to convince all our partners that tensions, and trade tensions in particular are bad for everybody."
"We must succeed in reaching a de-escalation, stabilize things and avoid this trade war which is already taking place everywhere," he said.