Former Trump Campaign Aides Lobby for Pro-Russian Party Promoting Separatism in Bosnia, Documents Reveal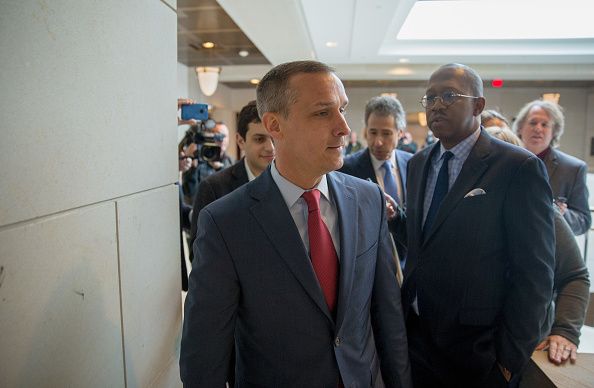 Former Trump campaign associates Jason Osborne and Mike Rubino have been hired as lobbyists for a political party in Bosnia that favors separatism and is allied with Russia, documents filed with the Justice Department reveal.
Osborne and Rubino, close friends and business associates of former Trump campaign manager Corey Lewandowski, are now helping gin up support in Washington for the party of Milorad Dodik, the president of Republika Srpska, an autonomous entity in Bosnia and Herzegovina.
The U.S. Treasury Department sanctioned Dodik last year for holding a referendum on whether to celebrate "The Day of Republika Srpska." Officials in Washington determined that the referendum prevented efforts to implement the 1995 Dayton Accords, the agreement that ended the war in Bosnia, because it discriminated against non-Serbs.
Dodik has called Bosnia a "failing state," and claimed that Republika Srpska would be better off if it separated from the rest of the country, a move analysts say would spark a new conflict as ethnic groups could begin to establish national borders.Documents and research recently revealed that local police in Republika Srpska are receiving military-style training from Russia and collecting military equipment, which some have warned could be used to promote separatism.
Dodik's party, the Alliance of Independent Social Democrats (SNSD), has not been sanctioned, and it is legal for Osborne and Rubino to lobby on the party's behalf. Nevertheless, some observers have questioned whether it is advisable for the Republican lobbyists to work for a party whose leader advocates for separatism and closer ties to Russia.
"Dodik has been trying for years to change U.S. policy toward sovereignty of Bosnia and Herzegovina," Reuf Bajrovic, a former minister in Bosnia and Herzegovina, told Newsweek. "Support for his goals in D.C. has been between zero and nonexistent. What's new with this firm is the proximity of the two lobbyists to Trump world…Considering the unusually modest fee, it seems that the Lewandowski allies are unaware of how toxic Dodik and his party are."
Osborne told Mother Jones that the SNSD had "verbally" agreed to pay $10,000 a month to his lobbying firm Twin Rocks Global, which he and Rubino established last month in Lewandowski's former townhouse. He also told the publication that he helped set up meetings for Republika Srpska's Prime Minister Zeljka Cvijanovic during a visit to Washington in July, including a reunion with the notoriously pro-Russian Republican Congressman Dana Rohrabacher, from California.
A press release issued by the Republika Srpska claimed that Cvijanovic had met with Trump administration officials Kellyanne Conway and Sarah Huckabee Sanders, and with Lewandowski, during her visit to Washington. She also reportedly met with former Trump adviser Steve Bannon, who is looking to support right-wing populists in Europe by establishing a foundation in Brussels.
This is not the first time Lewandowski and his associates have met with leaders in the Balkans. In April, Lewandowski traveled to Serbia and allegedly offered to set up phone calls between Serbian President Aleksandar Vucic, an ally of Dodik, and President Donald Trump. Lewandowski has denied that he is lobbying on behalf of Serbia. Some political figures in that country, however, have called on Vucic to reveal whether he has met with Osborne and Rubino.