Former Trump Supporters 'Tired,' Want DeSantis for Future of GOP: Pollster
Republican voters seem to be "fed up" with former President Donald Trump and are looking toward other options for the future of the party, according to GOP pollster Frank Luntz.
In an interview with MSNBC Tuesday morning, Luntz shared clips of a virtual focus group held with voters who had voted for Trump at least once during the 2016 and 2020 presidential elections.
During the focus group, Luntz asked participants to describe Trump in a word or phrase, to which voters responded with phrases like "narcissist," "unsettling" or "stay off Twitter."
In contrast, Luntz also asked the group to describe Florida Governor Ron DeSantis, who some Conservative leadership have hailed as a top choice for the GOP in the 2024 presidential election. Voters described the governor as "promising," "a leader" and "rising."
Luntz told MSNBC that the responses prove that once-Trump supporters are "tired" following a disappointing midterm election.
"They still appreciate him, they still think he was a great president, that hasn't changed," Luntz said. "But they now look at him and they say, 'Why all this chaos?'"
Some respondents did use positive words to describe the former president still, such as "fighter" or saying that Trump was "still right." But GOP leadership and voters alike are starting to split on supporting his third presidential campaign.
According to polling conducted by conservative political action committee (PAC) Club for Growth, DeSantis is leading Trump in hypothetical primaries in Iowa and New Hampshire, the first two states on the GOP's primary calendar for 2024. The Florida Governor, who won his reelection this November in double-digits, is also out performing Trump in southern states like Florida and Georgia.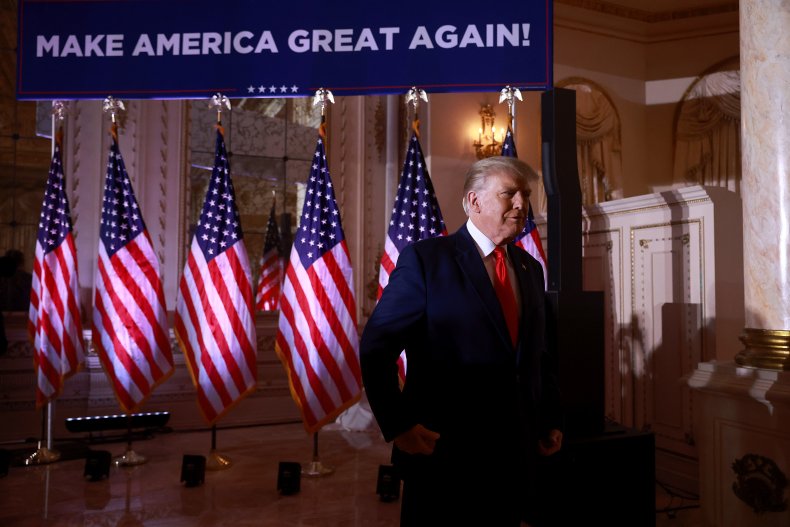 Newsweek previously reported that DeSantis was also the only Republican to break even in support in a hypothetical matchup against President Joe Biden in 2024, according to polling data from FiveThirtyEight.
Trump, however, beats DeSantis 55 percent to 25 percent in an Emerson College national poll released Tuesday, and is even stronger among younger Republican voters, beating the governor 67 percent to 14 percent among voters under 50 years old. DeSantis has also yet to formally announce his 2024 candidacy.
Luntz added on Tuesday that several Republican voters were also "angry" with Trump for his support–and lack thereof–in the 2022 midterm election.
"If you tell Republican Trump voters that he raised over $100 million dollars, and donated only 15 percent of that or less to those candidates, they get angry," Luntz said. "Trump voters are fed up with all the Trump-focused hysteria, and they want someone different, and they see Ron DeSantis at this point as being different."
Forbes magazine reported earlier this month that Trump's leadership PAC, Save America, raised nearly $100 million since being formed after the 2020 election. However, Trump seems to have kept much of that money for himself–Reuters reported that the committee had $69 million on hand in late October.
Newsweek reached out to Trump's press team for comment.