Former U.S. Ambassador Taken Hostage by Iran in 1979 Wants 'No Part' of Trump's 'Posturing About Iran'
Retired U.S. Ambassador John Limbert, who was taken hostage during the Iranian revolution back in 1979 while he served at the former American embassy in Tehran, criticized President Donald Trump's actions toward Iran and said he wants "no part" of the president's "posturing."
Limbert made the remarks during an interview with MSNBC Sunday in which he provided an analysis of Trump's controversial decision to carry out a U.S. military strike in Iraq on Friday that killed Iran's leading military commander, Qassem Soleimani. Soleimani headed the Persian Gulf nation's Islamic Revolutionary Guard Corps' (IRGC) Quds Forces. Limbert, a former diplomat who served the State Department in Iran, Saudi Arabia, the United Arab Emirates and Iraq among other countries before eventually becoming deputy assistant secretary of state for Iran, warned that Trump had "no plan" and this could lead to a "disaster."
"I, for one, want no part of the president's posturing about Iran," he said. "I certainly want no part of his–whatever decision he takes, such as killing people or blowing up Persepolis [a key Iranian cultural site]. So, Mr. President, if you're listening, please don't bother yourself on my account, because I want nothing to do with it."
The former diplomat highlighted that the U.S. had long supported Iran's enemies in the Middle East, pointing to its backing of the Saddam Hussein regime in the Iran-Iraq war in the 1980s. (The U.S. later invaded Iraq and overthrew Hussein's government in 2003, a decision that was sold to the American public and Congress based on false intelligence). Limbert pointed out that many Iranians viewed Soleimani as "patriotic" because he had fought against Iraq in the conflict decades before.
"I have to ask myself, does this president, does he care about Iran or is it his philosophy that he simply wants to undo everything that his predecessor [former President Barack Obama] did?" Limbert asked. He pointed to Trump's decision to withdraw from the Joint Comprehensive Plan of Action (JCPOA), commonly known as the Iran nuclear deal, and cut off communication with Iran, both of which were Obama-era efforts.
The retired civil servant noted that after decades of tensions, the U.S. and Iran "finally had a way to talk to each other" under Obama. "We talk to many countries with which we are not friends," he asserted. "Now that has disappeared," Limbert added, warning that the lack of communication could "lead us into another disaster in the Middle East."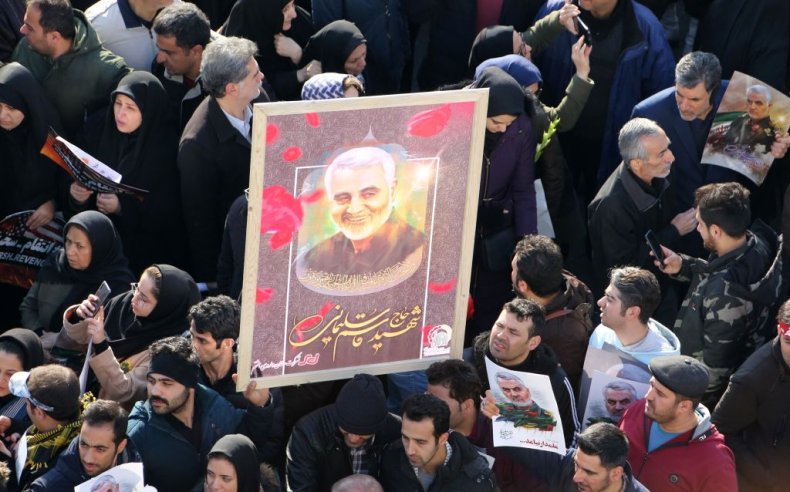 Hundreds of thousands of Iranians poured into the streets of Tehran on Sunday to attend Soleimani's funeral. Although Secretary of State Mike Pompeo has urged Iranians to take a stand against their government, many analysts have suggested that the killing of the popular military leader would instead lead the country to unite in opposition to the U.S.
Iranian leaders have vowed to retaliate against the U.S. strike, while Trump has warned that he has a list of 53 targets in Iran, including cultural sites, that would be attacked if there is any response from the Islamic Republic. Democratic lawmakers have scrambled to push for legislation to curb the president's actions, while international allies and rivals have urged caution from both sides, with many concerned about the possibility of a war breaking out.
Newsweek has reached out to the State Department and the White House for comment on the administration's Iran policy.
Sharing aerial photographs of the mass of Iranians attending Soleimani's funeral, Iran's Foreign Minister Javad Zarif posted a tweet directed at Trump on Monday.
"Have you EVER seen such a sea of humanity in your life, @realdonaldtrump? Do you still want to listen to the clowns advising you on our region? And do you still imagine you can break the will of this great nation & its people?" he asked. "End of malign US presence in West Asia has begun."
Limbert was one of 52 American diplomats and civilians held hostage in Iran for 444 days until their release in January 1981. They were captured after supporters of Iran's revolution, which opposed the rule of U.S.-backed Mohammad Reza Shah, stormed the U.S. embassy in Tehran in November 1979. Since then, the U.S. has not had a formal diplomatic presence in the country, and the Islamic Republic has become one of America's strongest critics on the international stage.
Under Obama, there was a brief de-escalation in tensions, as Limbert noted, with the adoption of the JCPOA in 2015. The international treaty, which was signed by the Obama administration as well as the European Union, Germany, France, the United Kingdom, China and Russia, offered Iran sanctions relief and foreign investment in exchange for curbing its nuclear program.
Trump, one of Obama's staunchest critics, long opposed the deal and formally withdrew the U.S. from the international pact in May 2018. His administration then reimplemented financial sanctions against Iran with the aim of crippling the country's economy. The deal's other signatories condemned the decision and worked with Tehran to preserve the treaty, but Iran began walking back from its commitments a year later in May 2019. Prior to that, UN inspectors had verified that Iran remained in compliance with the JCPOA.
Following the killing of Soleimani on Friday, Iran announced Sunday that it would no longer abide by any of its commitments under the deal, although it said it would return to the treaty if all other parties returned to compliance.