Fort Hood Faces Calls to Be Shut Down After Death of Another Female Soldier
Calls to shut down Fort Hood have grown on social media after yet another female soldier who had complained of sexual harassment was found dead at the Texas military base on Monday, per a statement released by Fort Hood.
The army said that there is no evidence of foul play in the death of 21-year-old combat engineer Ana Basalduaruiz, with unofficial reports stating she died by suicide.
However, parallels between her death and that of 20-year-old Army Specialist Vanessa Guillén has led to anger on social media, with many calling for Fort Hood to be shut down. Guillén was another soldier who had reported that she had been sexually harassed at the military base before being murdered in 2020.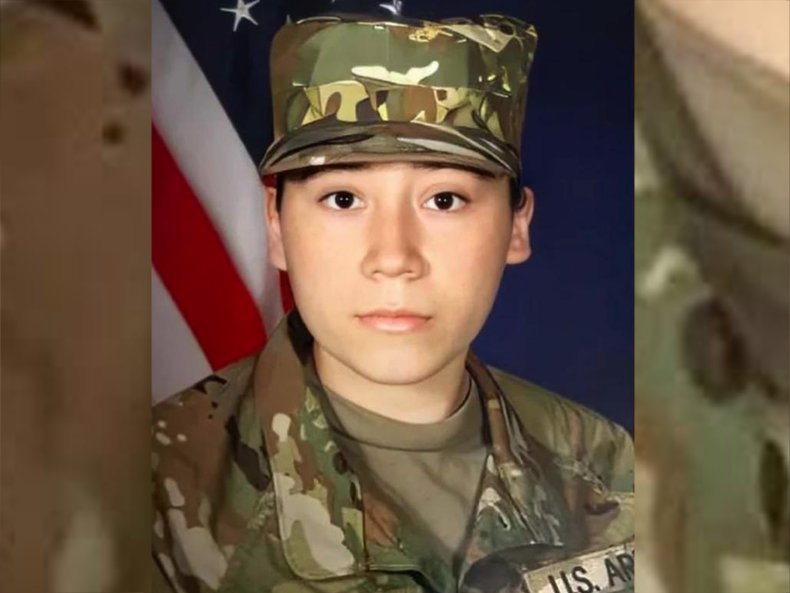 Basalduaruiz had served in the 1st Cavalry Division for the past 15 months. Her death, according to the military base, is being investigated by the Army Criminal Investigation Division and the chain of command.
"Will it ever end? #FORTHOOD needs to be shut down," tweeted social-justice advocate Lucy Flores in response to the news of Basalduaruiz's death. "The military needs to implement meaningful change. What will it take?"
"This is so sad. Fort Hood needs to b[e] SHUT DOWN!! They can not keep getting away w/ [with] killing their own soldiers! Let alone SA [sexually assault] their females soldiers & then them being k*lled right after??? WOW. My heart breaks," wrote another Twitter user.
"When are they going to shut down Fort Hood? Like how many people have to die at that base for them to start an internal investigation and put people in prison?" tweeted another.
Basalduaruiz's family told Noticias Telemundo—a Spanish news outlet owned by NBC—that she was found dead in a maintenance bay. They added that preliminary investigations indicated that her death was a suicide.
Her mother told the television channel that, only a few weeks before, Basalduaruiz had complained about being sexually harassed by her superiors and her peers. Her family told ABC that they were ready to pick her up from the base after she told them she was being harassed.
It is not yet clear if Basalduaruiz reported being sexually harassed while at Fort Hood. The military base makes no mention of sexual harassment in its note announcing the soldier's death. In a statement on Thursday evening reported by ABC, the Army Criminal Investigation Division said that "information related to any possible harassment will be addressed and investigated fully."
How Many Soldiers Have Died at Fort Hood?
That of Basalduaruiz is the latest in a series of deaths that occurred in recent years at Fort Hood. The Texas military base, 150 miles southwest of Dallas, has been marred by murder, suicide and sexual harassment among its troops. This has increasingly brought the post under the media spotlight—and public scrutiny.
In 2009, an Army psychiatrist killed 13 people and injured 32 others in a shooting rampage. In 2014, a veteran killed three people and injured 16 more before killing himself.
In the last five years alone, 50 suicides and 11 homicides have been investigated at Fort Hood, according to 2021 data mentioned by The Hill. In 2020, the year that Guillén was killed by a fellow soldier, Fort Hood officials told CNN that a total of 23 people among the post's 36,500 soldiers died.
That of Guillén is likely the most notorious case to emerge from the military post. The soldier was reported missing in April 2020, and her remains were found—dismembered and burned—on June 30, 2020. Her family said she had reported being sexually harassed before disappearing.
A fellow soldier was accused of killing Guillén and hiding her body, but the suspect, Spc. Aaron Robinson, killed himself before being arrested by police. His girlfriend Cecily Aguilar was arrested and pleaded guilty to one count of accessory to murder and three counts of false statement or representation.
Guillén's murder caused a wave of outrage that moved from Houston to Washington. The soldier's family met with former President Donald Trump at the White House, and activists called for change in the way the military handles reports of sexual harassment among its troops.
After the investigation into Guillén's death, 14 people were suspended or relieved from their positions. The report on the soldier's murder also found "major flaws" at Fort Hood and a command climate and culture "that was permissive of sexual harassment and sexual assault."
Vanessa's sister, Mayra Guillén, reacted to the announcement of Basalduaruiz's death with outrage, tweeting: "SEXUAL HARASSMENT & SEXUAL ASSAULT ARE NOT INCIDENT TO SERVICE. ENOUGH. VANESSA did not sign up to be SA [sexually assaulted],SH [sexually harassed]. ANA did not sign up to be tormented with SH. When will it be enough??? How many MORE?"
Mayra Guillén later added: "I'm aware of the death of Ana Basaldua in Ft Hood, TX. May she Rest In Peace. She was only 21 years old ... I will be speaking to the family soon, I find it very sensitive to speak on something I'm not fully aware off yet and this is also very triggering for me ... I need to gather my thoughts and then I'll be able to share them."
Newsweek has emailed Fort Hood's media team for comment.
If you have thoughts of suicide, confidential help is available for free at the National Suicide Prevention Lifeline. Call 1-800-273-8255. The line is available 24 hours every day.