'Fortnite's' the Batman Who Laughs Skin: Release Date and Bundle Items Revealed
The Batman Who Laughs is coming to Fortnite Season 8 as an unlockable skin, alongside a selection of "Dark Multiverse" cosmetics.
For a bit of context, Fortnite already crossed over with the DC universe earlier this year with the six-issue Zero Point comic. This story arc was focused on Bruce Wayne's attempts to escape Fortnite Island, after he was drawn into a portal and forced to compete in a never-ending battle royale loop.
In the last issue, the Caped Crusader successfully broke free from his prison and returned to a Gotham City that had been suffering from his prolonged absence. While balance seemed to have been restored at first, a cliffhanger ending teased that the saga was far from over.
In the final pages of issue 6, the Imagined Order's (IO) Doctor Sloane was glimpsed scheming with a cabal of DC villains, including Lex Luthor and Deathstroke. Alongside these more recognizable rogues, The Batman Who Laughs was also present at the clandestine meeting, suggesting that the interdimensional menace would at some point be integrated into the world of Fortnite.
Picking up right where we left off, a sequel comic (entitled Batman/Fortnite: Foundation) is now about to hit store shelves. In it, The Batman Who Laughs will be taking on a much bigger role, as evidenced by the fact that he is prominently featured on the front cover. To tie in with this, he will also be added to the Fortnite item shop as a brand-new skin.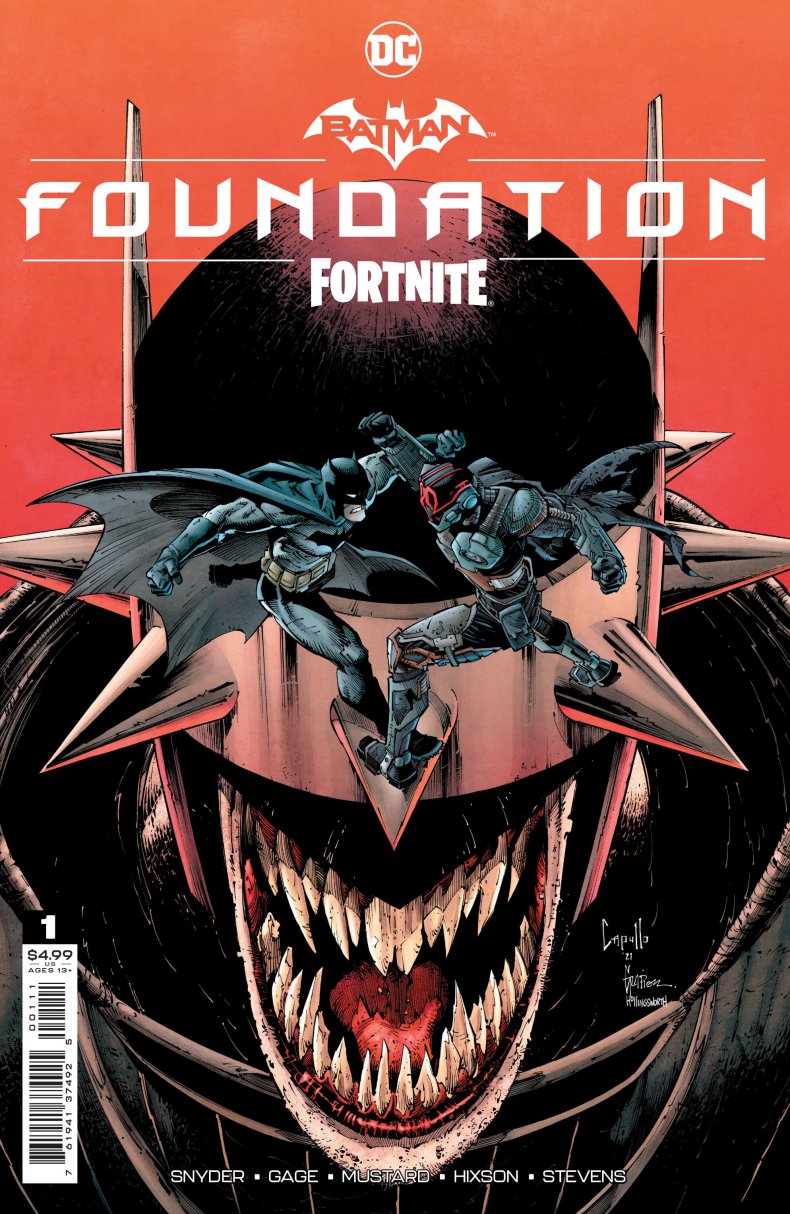 Who Is the Batman Who Laughs?
Created by writer Scott Snyder and artist Greg Capullo, The Batman Who Laughs is a relatively new addition to the DC canon, having only debuted in 2017.
He is an alternate universe version of Bruce Wayne (from Earth-22) who was drenched in the same chemicals that birthed the Joker. As such, he is essentially a hybrid of the nemeses, combining Batman's intellect and resources with the Clown Prince of Crime's insatiable lust for chaos.
Driven insane, he eventually takes over his own universe and begins looking for other timelines to conquer. In pursuit of this goal, he manages to accumulate godlike powers (after stealing the abilities of Doctor Manhattan from Watchmen), including near-omnipotence, clairvoyance, teleportation and control over the atomic structure of the world. In other words, he is a very formidable opponent for any hero.
Batman Who Laughs Fortnite Bundle Items Revealed
While you cannot use any of these superhuman abilities if you get the Batman Who Laughs skin in Fortnite, you will at least be able to sport his terrifying look.
The villain's creepy outfit will be available as part of a new Dark Multiverse Set in the item shop, which also includes the Robin's Perch Back Bling, a unique glider and a battle ax harvesting tool.
You will be able to purchase all of the above in a limited-time bundle with your V-bucks. Alternatively, if you pick up issue 1 of Batman/Fortnite: Foundation, then you will get a unique code that can be used to redeem the skin itself, as well as the back bling and an exclusive "Dark Days" loading screen. The latter is not available for purchase separately.
To summarize, these are all of the items featured in the Dark Multiverse bundle:
The Batman Who Laughs (Skin)
Robin's Perch (Back Bling)
Dark Multiverse Harvesting Tool
Dark Multiverse Glider
Dark Days Loading Screen (Only available through the Batman/Fortnite: Foundation code).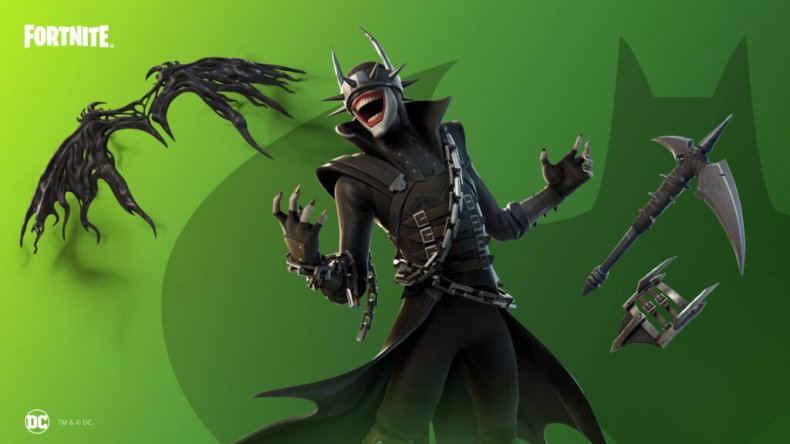 When Is the Batman Who Laughs Bundle Release Date?
The Dark Multiverse bundle be arriving in the Fortnite item shop on Tuesday, October 26. This coincides with the release date of the Batman/Fortnite: Foundation comic, which features a unique code that can be used to redeem the Batman Who Laughs skin.
Fortnite is no stranger to DC crossovers, with Bloodsport from The Suicide Squad having been added to the game back in August. In fact, there is even a sale running in the item shop right now that applies to characters like The Dark Knight himself, Harley Quinn and Beast Boy.
In other Fortnite news, a new Dune bundle has just been leaked online and a Kaws skin is currently available to buy from the item shop.