'Fortnite' Bloodsport Bundle: 'Suicide Squad' Character Hits the Item Shop
Fortnite's item shop has been updated with a new Bloodsport bundle, to coincide with the antihero's cinematic debut in James Gunn's new Suicide Squad adaptation.
The criminal alter ego of notorious sharpshooter Robert DuBois, Bloodsport is played by Idris Elba in the film, which comes out Thursday, August 5 (on HBO Max—It hits theaters on Friday August 6). Besides his deadly marksmanship, the character's main claim to fame is that he once incapacitated Superman using a kryptonite bullet, a detail that is even referenced in the upcoming film.
What Is in the Bloodsport Bundle?
You can now cosplay as the dexterous assassin in Fortnite, thanks to a new bundle that is currently discounted in the item shop.
It includes a skin based on Bloodsport's movie incarnation, matching camo overlays for all your weapons, a unique harvesting tool, some back bling, and a collection of DC themed sprays.
The harvesting tool takes the form of an A.R.G.U.S-branded sabre (A.R.G.U.S being the covert branch of the U.S. military that oversees Suicide Squad missions). Meanwhile, the back bling sees the film's principal antagonist, Starro the Conqueror, reduced to portable size and encased in a transparent jar.
Attached to the side of the container is the film's scene-stealer, Sebastian. In case you did not know, this adorable rodent is Rat Catcher II's favorite little helper and is also a source of constant terror for the musophobic Bloodsport, so it is quite funny to see him planted on the mercenary's back.
Finally, in terms of sprays, you can now leave your mark around the island with graffitied representations of King Shark, Peacemaker, Harley Quinn and "the dumbest DC character of all time" Polka-Dot Man.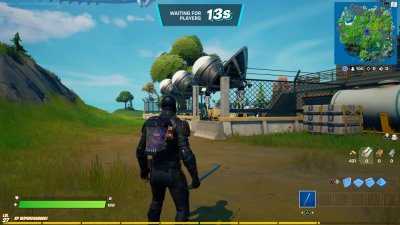 How Much Does the Bloodsport Bundle Cost?
The Bloodsport bundle would usually cost 2,600 V-bucks, which roughly equates to $26. For the rest of Wednesday, it is discounted to 1,800 V-bucks ($18).
There are three ways you can top up your in-game wallet to afford this. The first is by unlocking V-buck deposits using battle stars, and the second is by exchanging real-world money in the item shop. Finally, if you sign up as a member of "Fortnite Crew," you will get a monthly allowance of 1,000 V-bucks.
If you are not willing to shell out that much for the entire bundle, then you can pick up each of the cosmetic items (other than the sprays) separately. The costs for these are as follows:
Bloodsport Outfit: 1,500 V-bucks ($15)
Starro Specimen Back Bling: 1,500 V-bucks ($15)
A.R.G.U.S Sabre: 800 V-bucks ($8)
Bloodsport Camo Wrap: 300 V-bucks ($3)
In related Fortnite news, an Ariana Grande bundle will be coming to the item shop this week, to coincide with her imminent Rift Tour concert.