'Fortnite' Chapter 3 Flare Gun Locations: The Best Spots To Find the Rare Loot Item
Fortnite has at long last "unvaulted" the flare gun, which means that this handy item is now once again available to loot in standard battle royale matches.
As part of a new v19.01 hotfix, extreme weather and flare guns have been added to Epic Games' popular online shooter. At the time of writing, neither of these features can be accessed in competitive playlists (which are intended for more serious players), but they can be found dotted around elsewhere.
To be honest, you shouldn't have much trouble finding those weather anomalies, as it's hard to miss the swirling whirlwinds and ferocious lightning storms that are currently tearing their way across the island.
All you have to do is look up at the sky during a match and you will notice that dark clouds are forming over a particular landmark. What's more, until 9 a.m. on January 17, it is officially "Tornado Week" in Fortnite, which means that these forces of nature are going to be especially prolific.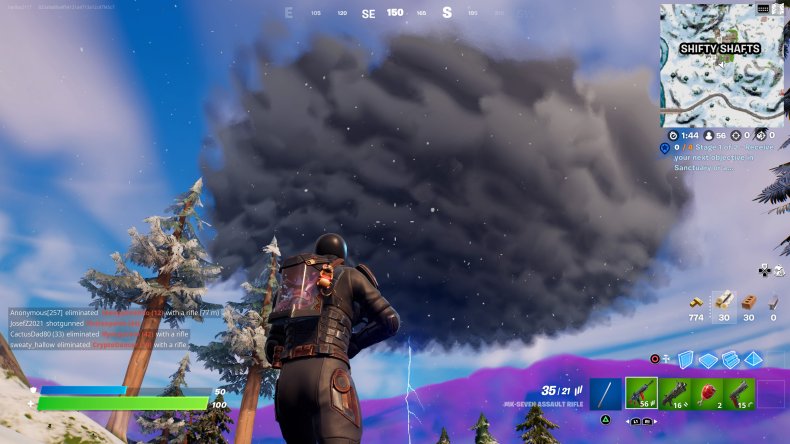 While it's easy to accidentally stumble across a lightning storm or a hurricane in Fortnite right now, the flare gun is far more elusive. This weapon—which can be used to mark enemy positions and to set wooden structures ablaze—has been featured in the game before now, but was eventually removed from the inventory.
In case you were wondering, the flare gun was not withdrawn last time due to player complaints or because it was thought to disrupt balancing. Rather, it was simply because Epic decided to "vault" it.
This regularly happens to miscellaneous gear, weapons and even vehicles in Fortnite, in order to make fans crave the items and eagerly anticipate their return. In that sense, it's very similar to what Disney used to do with its film catalogue prior to the era of streaming.
Where To Find Flare Guns in 'Fortnite' Chapter 3
The good news is that flare guns have now been unvaulted and are ready for collection in Fortnite Chapter 3.
However, it is important to note that they have only been allocated to the generic loot pool, which means that there are no guaranteed locations at which to acquire them (unlike with the recently unvaulted B.R.U.T.E Mechs). As confirmed by the v.19.01 hotfix patch notes, you might get lucky and find weapon in random chests, in supply drops or just lying around on the floor, but there is always an element of chance with this.
While it might be disappointing to learn that there is no definitive location for scavenging flare guns, Newsweek has managed to identify a few spots that yield positive results more often than not.
Given that flare guns tend to spawn in chests, we recommend that you look for somewhere that is littered with these boxes. For example, it's almost impossible to turn the camera in the Sanctuary region without seeing a chest. Every building in this village has at least one for you to open, and there are multiple scattered around the outside market.
Another good place to look is in the central snowy region of the map (see the below screenshot). Here, you will find a number of overturned trucks, with all of their cargo spilling out onto the nearby hills. We managed to find the flare gun in random chests and just lying around the ground here on several occasions.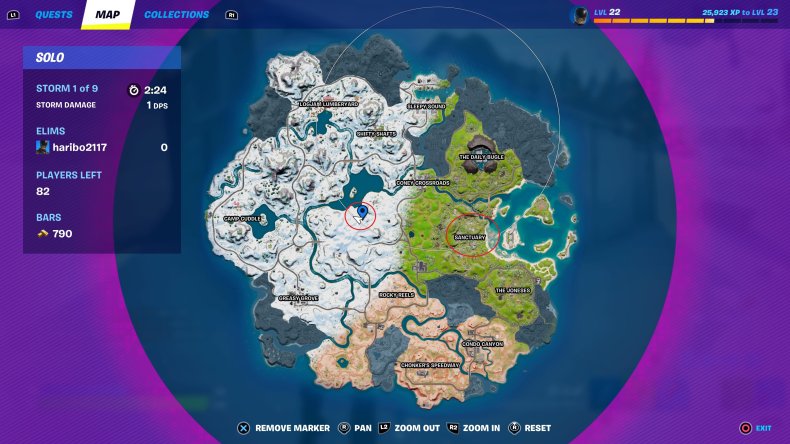 Of course, it is a popular landing spot (if they don't have the flare gun, then the chests will often contain legendary gear of some kind), so your best bet is to try and land on one of the giant blocks of ice in order to claim a good vantage point. Not only will you be able to detect rival players from up here, but you will also be able to survey the area for flare guns.
In terms of what you are looking for, the weapon is classified as rare loot, which means it will be glowing blue.
For more help with Fortnite Chapter 3, check out our guides on where to find seismometers and the optimal strategy for knocking down timber pines.