'Fortnite': When Is LeBron James Coming to 'Fortnite' and How to Unlock Him
LeBron James will be added to Fortnite later this week as an unlockable skin. The NBA player will have three separate outfits to choose from, alongside accessories like his own unique harvesting tool, some "back bling," a glider, a themed loading screen and a taunting emote.
What Is Included in the 'King James Bundle?'
Revealed on Fortnite's official website, the LeBron skin will come with three variants. First, there is the regal "King James" look, which is said to blend "the best of LeBron's on-court and pre-game persona." This ensemble sees the Los Angeles Lakers star adorned in a floating crown, decorative lion pauldrons for his shoulders, a pair of removable sunglasses and golden streaks that can be increased or decreased via an adjustable slider.
The upcoming Nike LeBron 19 footwear will also be included to complete the look. James is going to be seen sporting these shoes for the first time in the upcoming Space Jam: A New Legacy, which will be released on Friday.
There will also be a tie-in skin for that movie, in the form of LeBron's "Tune Squad" uniform. This is essentially standard basketball gear, themed around the iconic Looney Tunes orange rings. Finally, there will also be a Taco Tuesday outfit, which is a T-shirt with a Tortilla wrap printed on it, that comes with its own designated back bling.
To accompany each of these costumes, there is a suite of accessories you can equip for LeBron. These range from a lion pickaxe to a wingspan glider (both of which have the same gold slider function as the King James outfit) and an emote in the form of the athlete's on-court celebration: "The Silencer."
Each of these cosmetic items, and the new loading screen, will be packaged together in the "King James Bundle." Alternatively, you can buy the individual elements separately if you don't want to sink a ton of V-bucks into the purchase.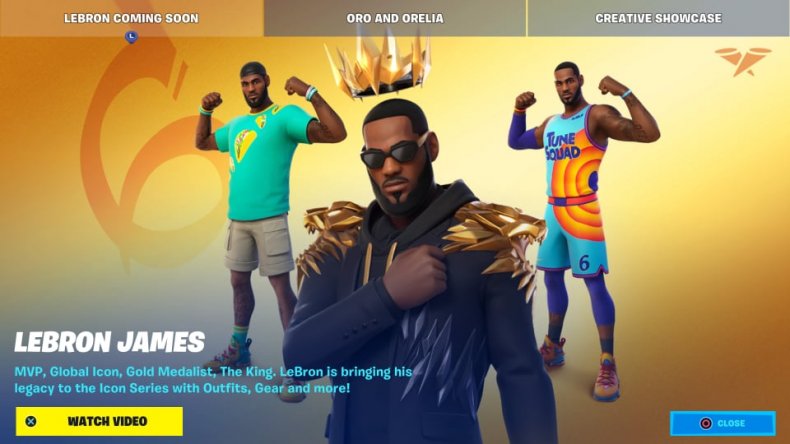 When Is Lebron James Coming to 'Fortnite'?
According to the Fortnite website, the LeBron James bundle will be added to the item shop on Wednesday, July 14, at 8 p.m. ET.
This means that it won't be included as a battle pass reward (like the upcoming Superman cosmetics) and, as such, you will be unable to earn it simply by playing matches. Instead, you will have to spend a little in-game currency, known as V-bucks.
There are currently three ways you can add these to your wallet. The first is by unlocking V-bucks in deposits using the battle stars that you unlock over the course of matches, and the second is by exchanging real-world money in the item store. Finally, if you sign up as a member of "Fortnite Crew," you will get a monthly allowance of 1,000 V-bucks.
LeBron James isn't the only persona heading into Fortnite right now, as Batman has also ventured onto the island with a new crossover comic book that explains much of the game's mysterious lore.