'Fortnite' Naomi Osaka Cup: Skin Release Date, Price and Tournament Details
Naomi Osaka will be arriving shortly in the Fortnite Item Shop, with a cosmetic bundle dedicated to the tennis star.
Epic's battle royale shooter is no stranger to this kind of collaboration, with content regularly added to tie in with blockbuster movie releases, TV shows and even other video games.
Occasionally, the developers will bring real-life people into Fortnite too. Last month, Bruno Mars and Anderson .Paak outfits were available to buy from the Item Shop and we've had similar cosmetics for the likes of Marshmello and Ariana Grande.
It's not just musicians—athletes will also pop up as playable characters from time to time, as was the case with LeBron James in 2021. Fortnite's Icon Series, which is basically the celebrity-themed collection, has included soccer stars Harry Kane, Marco Reus and Neymar Jr.
Naomi Osaka Bundle Contents
Two Naomi Osaka outfits are coming to Fortnite this week and both of them have alternate styles—meaning there are four different looks in total.
The first option is the standard Naomi Osaka skin, which is designed to resemble tennis gear that has been given a glitzy makeover. Here, the athlete is wearing a colorful getup adorned with flakes of gold, along with a necklace threaded with tennis balls. A crown sits atop her new vibrant pink hairstyle.
If you would prefer to tone down the tennis theme, you can opt for the "Court Queen" alt style, which switches the necklace for something less ostentatious and adds blue streaks to the hair.
When you purchase this costume, you also get the Royale Racket harvesting tool, which leaves a pink trail when it is wielded by Osaka. There is a matching back bling option for this, as well as a glider that has been modelled after a cloud.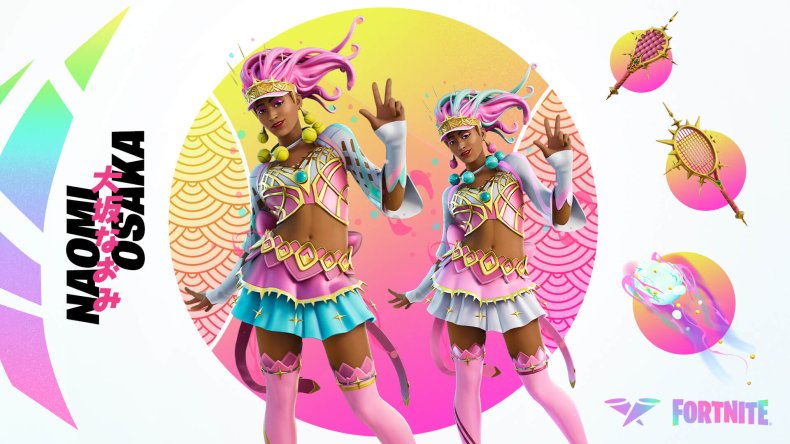 The second costume is the "Dark Priestess Naomi Outfit," which has a creepy mystical theme and a snake motif. This comes bundled with its own harvesting tool, as well as a back bling option and a cursed glider.
Here are all of the Naomi Osaka cosmetics that are being added to the Fortnite Item Shop.
Naomi Osaka Skin (with Alternative "Court Queen" Style)
Royale Racket (Harvesting Tool)
Matching Tennis Racket (Back Bling)
The Queen's Cloudcarriage Glider
Dark Priestess Naomi Outfit (with Alternative Style)
Portalforger Paddle (Harvesting Tool)
Matching Paddle (Back Bling)
Cursed Hazeboard Glider
Serve Stance (Emote)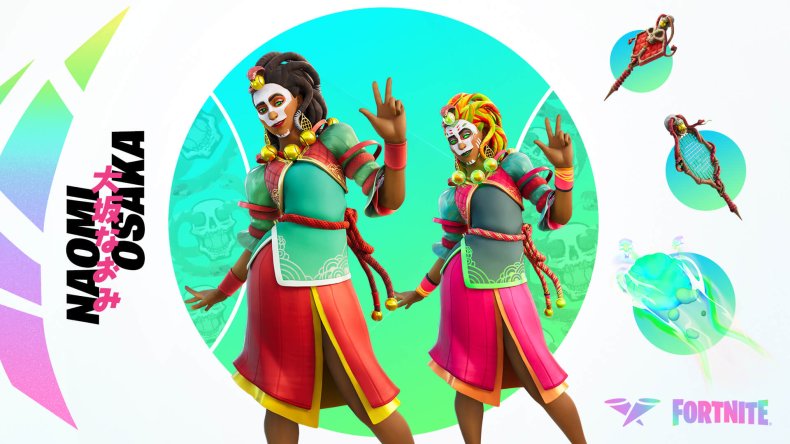 Naomi Osaka Bundle Release Date, Time and Cost
All these items will be added to the Fortnite Item Shop at 7 p.m. ET on Thursday, March 3.
Although Epic Games has yet to reveal the official costs, individual costumes are usually valued at 1,500 V-Bucks, while larger bundles tend to go for 2,500 V-bucks (as was the case with the recent Dune collection).
While it's difficult to do an exact conversion, 1,500 V-bucks is worth about $10 and 2,500 is roughly the equivalent of $18. These prices are pretty standard for new releases in Fortnite.
Naomi Osaka Cup Tournament Details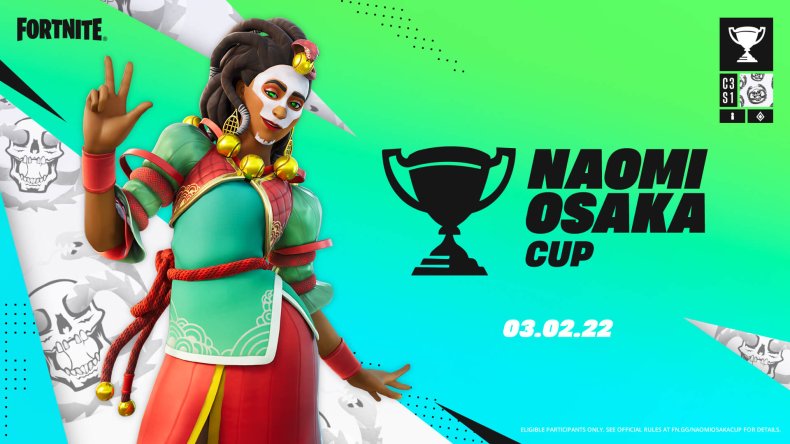 Alternatively, you can unlock all the Naomi Osaka items early (and for free) by competing in a tournament that is running throughout Wednesday, March 2.
The Naomi Osaka Cup is only available to players who have enabled 2-factor authentication and reached career rank 50 in Fortnite.
Those who place in the top 2,500 in their given region will get the full cosmetic set as a reward. To do this, you'll need to play a maximum of 10 matches and score as many points as possible.
If you score at least eight points, you will get a consolation prize in the form of the "Forbidden Ace" spray—two serpents entwined around a skull with a tennis ball lodged in its mouth.
In the Naomi Osaka Cup, you build your score by eliminating rival players and surviving storm phases in each of your 10 matches. Points are allocated as follows:
Victory Royale (1st place): 30 points
2nd: 25 points
3rd: 22 points
4th: 20 points
5th: 19 points
6th: 17 points
7th: 16 points
8th: 15 points
9th: 14 points
10th: 13 points
11th-15th: 11 points
16th-20th: 9 points
21st-25th: 7 points
26th-30th: 5 points
31st-35th: 4 points
36th-40th: 3 points
41st-50th: 2 points
51st-75th: 1 point
To take part in the Naomi Osaka Cup, visit the "Compete" tab in Fortnite.