'Fortnite' Bruno Mars and Anderson .Paak Icon Series: Arrival Date, Prices and Tournament
Bruno Mars and Anderson .Paak will be the next celebrities to appear in Fortnite's Icon Series, with their own dedicated outfits, cosmetic bundles and even a special Duos tournament.
Fortnite is known for integrating popular IP into its universe, securing the rights to use characters like Spider-Man, Boba Fett and Naruto. However, these crossovers are not limited to fictitious people, and sometimes you get influential figures from the real-world making their way into the battle royale.
Athletes, pop stars and even prominent Twitch streamers are all represented in Fortnite now, with many of them being featured in the Icon Series. The first inductee to this roster was the American DJ Marshmello — after his trailblazing virtual concert — and since then we have also had the likes of Ninja and Travis Scott.
Grammy-nominated R&B duo Silk Sonic (singer Bruno Mars and rapper Anderson .Paak) will be the next to join this Icon Series. They will shortly be arriving in the Item Shop as purchasable skins and there will even be a dedicated tournament playlist to mark the occasion.
Here is everything you need to know about this upcoming collab.
Bruno Mars and Anderson .Paak Bundles: Contents, Release Time and Cost
By now, the Fortnite community is accustomed to the idea of cosplaying as their favorite musical artists. Marshmello was previously available to buy in 2019 and more recently there was an Arianne Grande bundle up for grabs.
The Silk Sonic cosmetics will be added to the Item Shop at 7 p.m. ET on Thursday, February 10. For those in other time zones, this translates to 4 p.m. PST or midnight GMT on February 11.
In terms of what you can get here, there will obviously be skins depicting both Bruno Mars and Anderson .Paak. Each of these comes with alternative styles, including one that is reactive like the Shadow Midas outfit. You can get a good look at these in the screenshot gallery below.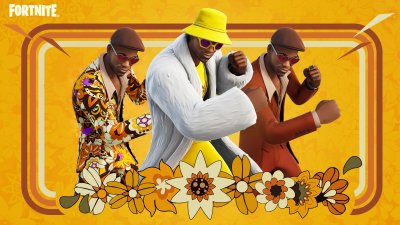 Meanwhile, both skins come with their own matching harvesting tools, musically themed back bling options, and emotes. There will also be a new lobby track that you can listen to while you are waiting for matches to load.
The full contents of the Silk Sonic Icon set are listed below:
Bruno Mars Costume (in three styles)
Bruno Mars Sound Scepter Pickaxe (Harvesting Tool)
Bruno Mars Sound Scepter (Back Bling)
Freedom Wheels Emote
Anderson .Paak Costume (in three styles)
Anderson .Paak Boom Bap Pickaxe (Harvesting Tool)
Anderson .Paak Sonic Snare (Back Bling)
Freedom Wheels Emote
Leave The Door Open Emote
'Somebody This Fly' (Lobby Track)
Silk Song Spray
The official pricing for these cosmetics has not been revealed by Epic Games yet. However, new costumes in Fortnite typically costs 1,500 V-bucks on their own (as was the case with Jinx from Arcane and Naruto). Meanwhile, larger bundles are usually in the 2,500 v-bucks region.
While it is impossible to do an exact conversion, 1,500 V-bucks is worth about $10, while 2,500 is roughly the equivalent of $18.
Given that there are actually two bundles featured here (one for each artist), it is possible there will be a discount if you get them both in a single transaction. For instance, when Paul Atreides and Chani from Dune hit the item shop, it was possible to get their bundles together for 4,600 v-bucks (a little under $30).
Silk Sonic Cup Tournament Details
Fans will have a chance to unlock some of the cosmetics early by participating in the limited-time Silk Sonic Cup on Monday, February 7.
This tournament is only available to players who have enabled 2-factor authentication and have reached career rank 50 in Fortnite.
It is a Duos event (where 50 teams of two are pitted against each other, like in The Hunger Games) and will last for a total of three hours. Entrants will have the opportunity to compete in 10 matches during this window and, if you score enough points, you will receive the Silk Sonic cosmetics as a free reward.
The rules are slightly different for each territory but, in North America, you need to rank in the top 250 to get the outfits and corresponding back bling options. As a consolation prize for everybody else, getting just 8 points will unlock you the Silk Sonic cosmetic spray (this requires you to come in 14th place in just a single match).
The breakdown of how points will be allocated in the Silk Sonic Cup can be found below. To reiterate, you can join up to 10 matches in the tournament, so you get a few tries.
Victory Royale (1st Place): 25 Points
2nd: 22 Points
3rd: 20 Points
4th: 18 Points
5th: 17 Points
6th: 16 Points
7th: 15 Points
8th: 14 Points
9th: 13 Points
10th: 12 Points
11th: 11 Points
12th: 10 Points
13th: 9 Points
14th: 8 Points
15th: 7 Points
16th: 6 Points
17th: 5 Points
18th - 19th: 4 Points
20th - 21st: 3 Points
22nd - 23rd: 2 Points
24th - 25th: 1 Point
Each Elimination: 1 Point
New Radio Station Added to Fortnite

To celebrate the imminent arrival of Bruno Mars and Anderson .Paak, a new in-game radio station has debuted in Fortnite.
While you are driving a can you can now tune into "Icon Radio" and listen to songs from artists that are connected to the Icon Series. At launch, the tracklist is comprised of solo offerings from Bruno Mars and Anderson .Paak, as well as their collaborative efforts as Silk Sonic.
Over time, the radio station's line-up will be expanded with more music.