The 'Fortnite' Shadow Midas Skin Is Finally Here—Here's Everything You Need to Know
After a year of waiting, the Shadow Midas skin has finally arrived in the Fortnite item shop.
If you are not familiar with this coveted cosmetic, it is an original Epic Games creation (as opposed to a crossover character like Bloodsport or Loki). Specifically, it is a variant of the standard Midas outfit, which itself debuted back in Chapter 2, Season 2 and could only be unlocked by reaching level 100 in the battle pass.
One key attribute that the original Midas shares with his namesake from Greek mythology, is that everything he touches turns to solid gold. If players equip his skin, then each weapon they pick up will have a gilded wrap applied to it.
The Shadow Midas variant works in a very similar way, only instead of turning everything to gold he covers items in an ominous dark aura. This "shadow effect" (which is possibly linked to the interdimensional cubes dotted around the island) has also consumed the man himself, giving him a uniquely sinister look.
Shadow Midas first appeared last Halloween, but he was only an A.I.-controlled boss encounter at that point in time. Many hoped that he would eventually become an unlockable skin, but that did not happen in 2020.
Epic Games has clearly listened to fan demand though, as Shadow Midas is now available to purchase in the Fortnite item shop.
How Much Is the Shadow Midas Skin?
The Shadow Midas skin costs 1,500 V-bucks. It is difficult to do a precise conversion here, (as you can only get V-bucks in fixed amounts) but this roughly equates to about $12.
It is worth noting that, unlike the new Batman Who Laughs outfit, the Shadow Midas skin is not available in any bundles. This means that you will not get a glider, emote, harvesting tool or any other items with it.
However, the outfit does have the aforementioned shadow touch effect (which makes your weapons glow purple) and comes with two selectable styles.
What Is the Shadow Midas Reactive Style?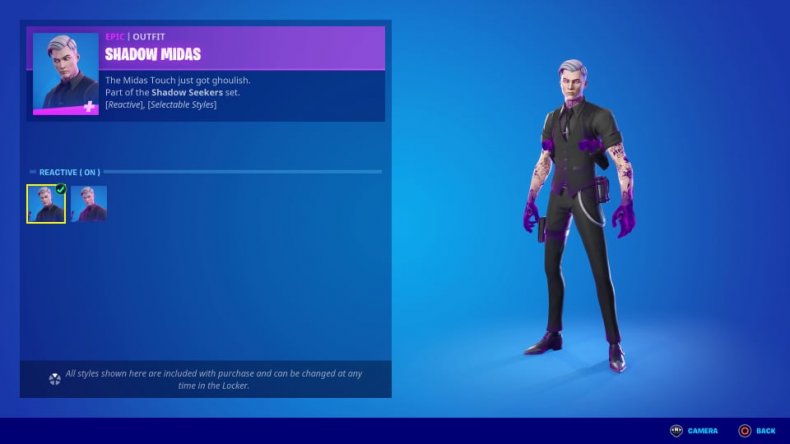 The shadow effect does not only apply to weapons that you pick up around the island, as Midas himself is being steadily consumed by it.
With the skin's "reactive" style activated, Midas will start off looking relatively normal, but a purple aura will gradually take over his body during the match. This growth is triggered by you racking up more kills, with each elimination causing the shadow to spread even further (it takes three to have a full Shadow Midas).
Alternatively, you can turn off this reactive style, so that Shadow Midas is in his final form at the very start of a battle royale game.
To switch between the two, head into your locker, select the Shadow Midas outfit and then press the "edit style" button.
In related news, the Fortnitemares Halloween event will soon be drawing to a close. As such, the deadline for completing its limited-time quests is fast approaching.