Fortnite Paradise Discord Quest Rewards and Challenges
With the arrival of Fortnite Chapter 3 Season 4: Paradise, Epic Games has kicked off a new community questline. The Paradise Discord Quest offers six different tasks for players to complete and three special in-game rewards for players to unlock. The quest is only available until October 2, 2022, at 5:59 p.m. ET, so players should jump in and complete their tasks as quickly as possible.
The Paradise Discord Quest in Fortnite is different from other quests and challenges you might find within the free-to-play battle royale. Unlike most challenges and events–– including the upcoming Fortnitemares Halloween event––Fortnite's Paradise Discord Quest requires players to connect their account outside the normal application.
First, you'll need to join an official Fortnite Discord server. The full list of these can be found in Epic's announcement of the event. From there, players need to read the announcement message in the Paradise Discord Quest channel, and then click on "start" to link their Epic account and get started.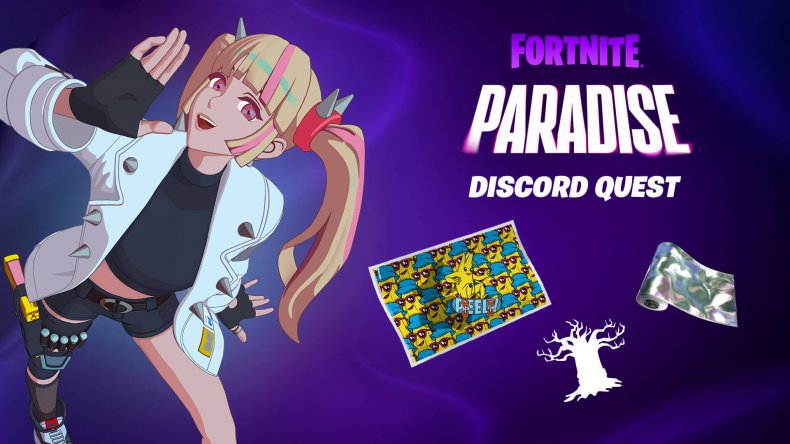 Once you're in the Discord and can join the quest, it's time to start talking about tasks. There are six main tasks (or challenges depending on how you look at them) available in the Paradise Discord Quest. Here are all six tasks you can complete:
Help teammates with 10 eliminations.
Catch 15 fish.
Survive the fifth Storm Circle three times.
Deal 3,000 damage to opponents in battle royale.
Heal yourself for 300 Health Points.
Place with the Top 10 in Solo queues three times.
If you want to unlock all three of the rewards available in the Fortnite Paradise Discord Quest, you will need to complete all six tasks. Upon completing one task, you'll be given the Chrome-ified Reality Tree Banner Icon. Completing three of the six tasks will give you the Banana Flip Loading Screen. And finally, completing all six of the tasks in the Paradise Discord Quest will reward Fortnite players with the Chrome Flow Wrap.
While completing the Paradise Discord quest will require Fortnite players to set up third-party accounts, Discord is commonly used as a general chat experience by many these days. And, because it is available on mobile devices, even those taking advantage of Fortnite on iOS via Nvidia Geforce Now can take part in the quest and earn these new rewards.
Additionally, if you're looking for more Fortnite to worry about, there are plenty of other challenges and quests to complete within the newest season.