'Fortnite' Rocket Blasting Off Tomorrow, Playground Mode Still Missing
Fortnite fans have been speculating about the Snobby Shores Rocket heading into Season 5, and it looks like the mysterious object will be taking to the skies very soon. A recent update to Battle Royale's in-game news post suggests Blast Off is set to take place at 1:30 p.m. EDT Saturday.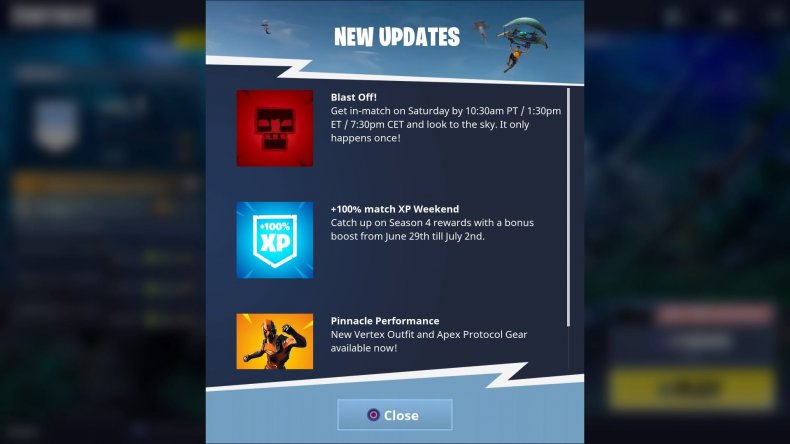 "Get in-match on Saturday by 1:30 p.m. EDT and look to the sky. It only happens once," the post teases.
The Snobby Shores Rocket first made its debut at the start of Season 4 alongside the Villain's Lair and several small bunkers that didn't exist in prior iterations of the map. Since then, the launch has been teased via in-game countdown timers on TVs and siren sounds in key locations. Fortnite fans have suspected something big was in the works, and now we know an exact time for when it's all going down.
While Epic hasn't officially discussed what the launch of the Rocket means for Fortnite Battle Royale, datamines offer a few clues. Strings of code suggest players may be able to launch the Rocket themselves with the push of a button. A server-side leak also briefly displayed parts of the Rocket strewn across Anarchy Acres as well. Much like the Meteorite that hit Dusty Depot and Tilted Towers at the end of Season 4, the Snobby Shores Rocket could potentially offer major changes to named locations on the Battle Royale map.
News of the Fortnite Rocket launch arrives during what's been a rather troubling week for Fortnite's limited-time modes. Despite going live with update 4.5 on Wednesday, the creativity-focused Playground mode is still missing pending changes to the in-game matchmaking system. Early Friday morning, Epic also removed its Final Fight LTM for tweaks to weapon and resource spawn rates. As it stands, the 50v50 mode is currently in its place. It remains to be seen if Playground mode will return before the Rocket's launch or sometime thereafter.
Fortnite is in early access across PS4, Xbox One, PC, Switch and iOS. The Rocket will launch at 1:30 p.m. EDT on all platforms.
What's your take on the Fortnite Rocket Blast Off? Are you still salty about Playground mode? Tell us in the comments section!