'Fortnite' Chapter 3: How To Get the Spider-Man Mythic Web Shooters
Spider-Man has crossed over with Fortnite for the game's recent Chapter 3 update. Among other things, you will be able to unlock the wall-crawler as a new skin in the battle pass, visit the Daily Bugle offices and get your hands on a pair of web-shooters that allow you to swing around the map.
In terms of the latter, you will be able to equip these gadgets no matter what outfit you are wearing (so you don't need to be cosplaying as the spandex vigilante to use them). They are classed as mythic gear, which just means that they are rarer than legendary items but not quite as elusive as the light-blue exotics.
Early reports would have you believe that you can get the web-shooters in Fortnite right now. Yet they are not really available in the battle royale at the time of writing, with Epic having confirmed that they will instead be added at a later date.
However, thanks to a glitch (that has since been patched) we do now where they will appear when the time finally comes. Here is everything you need to know.
When Will the Mythic Web-Shooters Be Added to 'Fortnite' Chapter 3?
To clarify, you cannot get the web-shooters just yet. Although they were prematurely added to Fortnite when Chapter 3 launched, this issue has now been fixed and so the information that you might see circulating on social media is now outdated.
According to the patch notes, Spider-Man's mythic web-shooters will make their official debut in Fortnite on Saturday, December 11, with a release time of 10 a.m. ET.
How To Get the Mythic Web-Shooters Once They Have Been Added
For a brief window on Saturday, December 5 you were able to get the mythic web-shooters in Fortnite. These items could be found in one of two places.
The first, most obvious location was the Daily Bugle building in the northeast corner of the map. This area is covered in webbing (that can be used as improvised trampolines to ascend higher up the tower) and was patrolled by Spider-Man until the glitch was patched. You could temporarily get the web-shooters from this NPC, but that is no longer the case.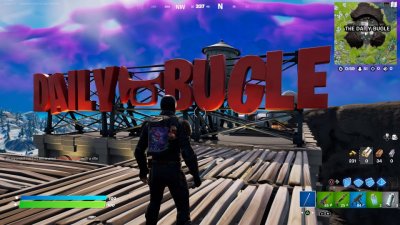 The second method was to load up an arena match and head over to Greasy Grove. In the area's Mexican restaurant, there is a merchant NPC (named Guaco) who would sell the web-shooters for 400 gold bars. However, he is now just selling the Chilli Chug Splash consumable instead.
To reiterate, you can no longer get the web-shooters from either of the aforementioned locations and will not be able to do so again until December 11, when the mythic items officially unlock.
Once that deadline has passed, you can then return to Greasy Grove or the Daily Bugle to finally try them out.
For more help with Fortnite Chapter 3, check out our guides on how to perform the new slide move and how the crown system works.