'Fortnite' Update 17.20: How to Set Your Preferred Item Slots
Fortnite's 17.20 update has now officially launched, introducing various bug fixes, a new limited-time mode, and the ability to customize your item slot preferences to help you equip the right gear faster.
What Is New With the 'Fortnite' 17.20 Patch?
Unlike the 17.10 update—which saw the debut of alien parasites, abductor ships and mothership experiments—the latest patch for Fortnite Season 7 does not make any seismic changes to the battle royale.
The headline attraction here is the "Late Game" arena that has been curated by popular eSports competitor and Twitch streamer Kyle Giersdorf (aka Bugha).
Played in trios, this limited-time mode begins with the storm already closing in when you drop into the island.
Your team will be assigned one of nine starting loadouts and will have to battle against the competition to earn "hype". If you manage to accumulate enough of these points before July 28, then your trio will be eligible for a professional tournament where $100,000 (in real cash) is up for grabs.
Outside of "Bugha's Late Game Arena", a number of bug fixes have also been implemented with Fortnite's 17.20 update.
Issues that have been resolved include a glitch that disabled zip-lines, problems with the crafting menu shortcut, and a technical malfunction that caused certain items to be automatically equipped without the player's input.
The full list of bug fixes can be found in the Fortnite 17.20 patch notes on the Epic Games website.
What Are Preferred Item Slots in 'Fortnite'?
The only other major addition for Fortnite 17.20 is a surprisingly practical one.
A new setting has been added to the options menu that enables you to prioritize the gear you pick up during matches, so that you switch between your favourite weapons with greater ease.
In a nutshell, you can now configure your "preferred item slots" and decide which pieces of equipment are most readily at hand and which ones go to the bottom of the pile.
For instance, if you are proficient with shotguns then you can assign these weapons top priority in your loadout, so that they will automatically go into your first inventory space (once you have looted them of course).
For console players, this means that you will no longer have to cycle through every item in your possession just to get to the thing you really want, which can be particularly stressful in close-quarters combat.
You can tailor the settings to best suit you, whether that means having all your healing consumables ready at the touch of button or categorizing your guns according to their firepower.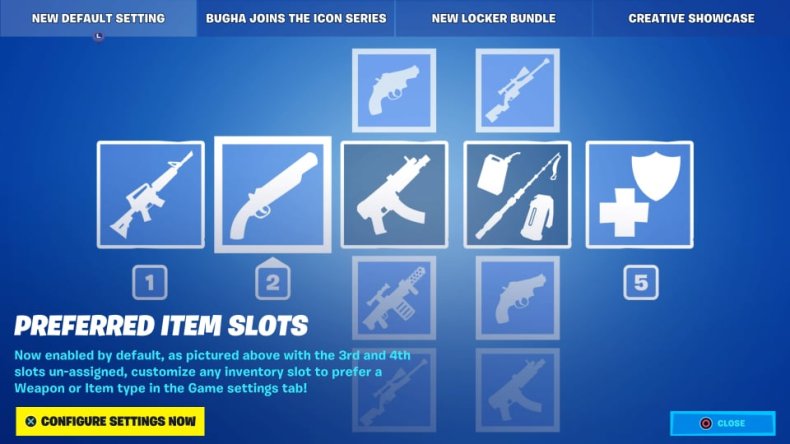 How to Set Preferred Item Slots in 'Fortnite'
Tweaking your item slot preferences is fairly straightforward and can be done at any time.
All you need to do is open up the settings menu and then navigate to the "Game" tab. Partway down this page you will find the "Combat" heading, underneath which there is a toggle for "Preferred Item Slots".
If you activate this option then you will be taken to a new menu, where you can assign each weapon or item type to one of five different positions. Loadout slot 1 is your top priority and loadout slot 5 is your lowest priority.
For example, if you choose to set assault rifles in slot 5, then this means that they will be sent to the back of your loadout. Meanwhile, if you put launchers in slot 3 then they will automatically be assigned to your third inventory space whenever you pick one up.
You can readjust these settings at any time, even during matches, so if you realize you have made a mistake it shouldn't be too much of a problem. Just remember to press the "apply" button to save your changes.
In other Fortnite news, a LeBron James bundle has recently been added to the item store to coincide with the release of Space Jam: A New Legacy.