'Fortnite' Update V19.20 Patch Notes: Covert Cavern, Mythic Stinger and Haven Masks Added
The Fortnite V19.20 patch notes have been released, detailing all of the major additions and bug fixes that come with the latest update.
We are now over halfway through Chapter 3, Season 1 of Fortnite, which means that the developers at Epic Games are starting to ramp up to their grand finale event. The last couple of weeks have seen significant changes made to the battle royale, with extreme weather devastating the wilderness, Tilted Towers making a long-overdue comeback, and giant prehistoric creatures settling on the island.
Fortnite certainly has a lot of momentum right now and it is a very exciting time to be part of its thriving community. In fact, the version 19.20 update has just gone live in the game, adding a whole bunch of extra content for players to sink their teeth into.
As per the official patch notes, here is everything that you need to know.
Haven Masks and Feather Currency Added
Fans might remember that in the previous season of Fortnite, there was a cartoony skin known as Toona Fish. By collecting rainbow ink and paint bottles, you were able to gradually unlock different color schemes for this monochromatic avatar.
Chapter 3, Season 1 has been lacking an equivalent of Toona Fish up until now. With the V19.20 update, players can try on different spirit masks for a character called Haven.
To start acquiring these extra cosmetics, you must first purchase Haven from the Battle Pass menu. Once you have done this, you will be able to complete optional quests around the island to earn mask schematics.
You can then purchase these designs using a brand new feather currency. The items can be found in chests that are scattered around the island, much like the rainbow ink from the previous season.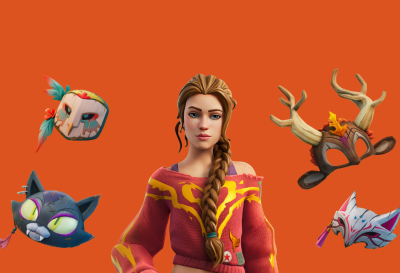 Covert Cavern Base Established
Sandwiched between Camp Cuddle and Logjam Lumberyard, a new Point of Interest (POI) has been added to the Fortnite map.
In the northern mountain range, you will find a secret base that has been established in a hollowed-out portion of the rock, accessible via a hidden waterway duct. Known as Covert Cavern, this is a veritable goldmine for those who want to loot high-tech gear and materials.
According to the patch notes, it's also the best place to look for the new Mythic variant of the Stinger SMG. The original versions of this gun were deemed so powerful that Epic Games had to nerf them substantially in a recent hotfix, so it will be fun to see what this enhanced model is capable of.
The Mythic Stinger SMG is not included in competitive playlists at the time of writing.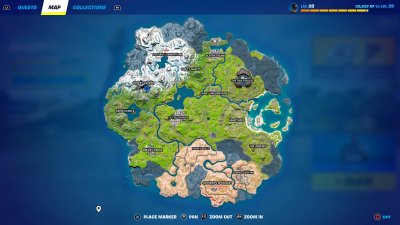 Heavy Shotgun Unvaulted
Speaking of weapons, the Heavy Shotgun has finally been unvaulted for the V19.20 update.
Its specs are slightly different from the last time it was available in the game, as it's become a single slug firearm and has increased range. Now that the Heavy Shotgun has returned to the loot pool, you will be able to find it on the ground, in chests and contained within supply drops.
One other thing worth mentioning is that, due to a bug, the Heavy Shotgun is currently unable to penetrate through multiple targets. The patch notes acknowledge the existence of this glitch and promise that it will be addressed in a future update.
Competitive Mode Updates
A few adjustments have also been made to Fortnite's competitive playlists, which have different loadouts and rule sets.
Typically, if an item is brand new or has just been unvaulted, then it will have to undergo an "evaluation period" in standard battle royale matches before it can be added in competitive playlists. This is to ensure that everything is properly balanced and that the gear cannot be exploited.
An exception has been made for the Heavy Shotgun, however, given that this weapon was explicitly designed for use by skilled players. It's available to use right now in competitive playlists.
Meanwhile, Spider-Man's Web-Shooters have been slightly nerfed for use in competitive modes. Instead of having 80 shots, their ammo count has been reduced to just 20. This will incentivize players to be more conservative when using the mobility tool, as they can no longer swing around the environment constantly as a way of avoiding combat.
Bug Fixes and Miscellaneous Tweaks
As per usual, the latest Fortnite patch also implements a few bug fixes and balancing tweaks. Here is the full list of these:
Tornado and lightning weather events have been added to the Team Rumble deathmatch mode.
Fixed an issue involving the visual indicator for using a Reboot Van appearing at a greater distance than the sound could be heard.
Fixed an issue involving matches sometimes not being recorded during a tournament session and the points earned in those matches becoming lost.
Fixed an issue involving Spider-Man's Web-Shooters dropping from eliminated players with a full stock of uses even if it didn't have a full stock before the player was eliminated.