Four Chinese Warplanes Buzz Taiwan Radars in One Day
Four Chinese warplanes flew into Taiwan's air defense identification zone (ADIZ) on Wednesday—the most incursions in a single day since early November, according to the island's defense ministry.
The air force scrambled interceptor jets to shadow three People's Liberation Army Y-8s and one Y-9 as they flew sorties between southwest Taiwan and the Taiwan-controlled Dongshan Island, according to the Ministry of National Defense.
An ADIZ allows a country to monitor foreign aircraft but, despite the zones' widespread use, they are not recognized under international law.
Chinese military planes—mostly reconnaissance and electronic warfare aircraft—have entered Taiwan's southwest ADIZ on 11 days this month, said the defense ministry.
After Taiwan's President Tsai Ing-wen was re-elected for a second term in January, Beijing began dispatching warplanes toward the island at an increasing rate in order to conduct what it called routine exercises to "safeguard national sovereignty."
PLA warplane activity spiked in August and September during the visits of two senior U.S. cabinet officials to Taipei. Several Chinese fighter jets crossed the Taiwan Strait median line, which has served as an unofficial buffer between China and Taiwan since the end of the Chinese civil war in 1949.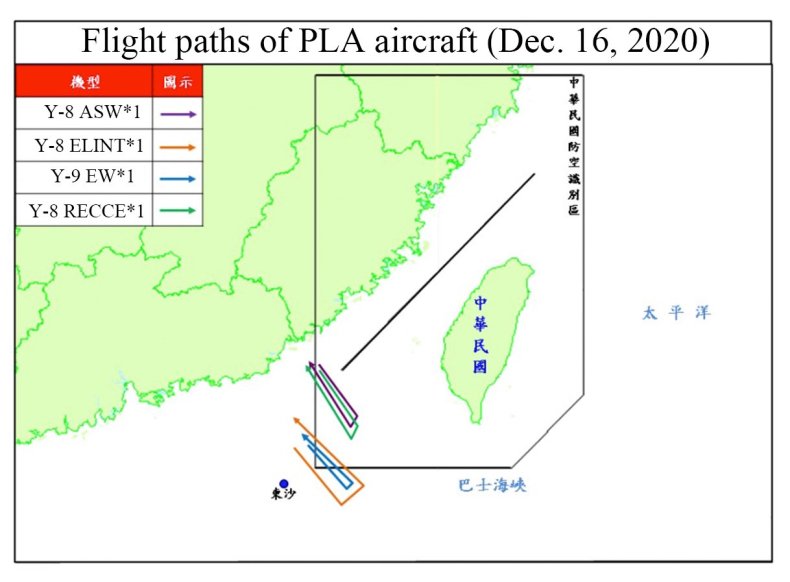 Last month, Taiwan's defense ministry allocated a section of its website to log the near-daily Chinese warplane incursions into Taipei's ADIZ. On November 2, eight PLA aircraft, including four fighters, triggered Taiwan's air defense radars by flying sorties into the southwest ADIZ.
The PLA's air force set a record last month by flying sorties into Taiwan's ADIZ on 26 out of the 30 days.
Taiwan's defense ministry has described the Chinese military activity as "provocations," while the nation's lawmakers say the PLA is attempting to exhaust the island's armed forces.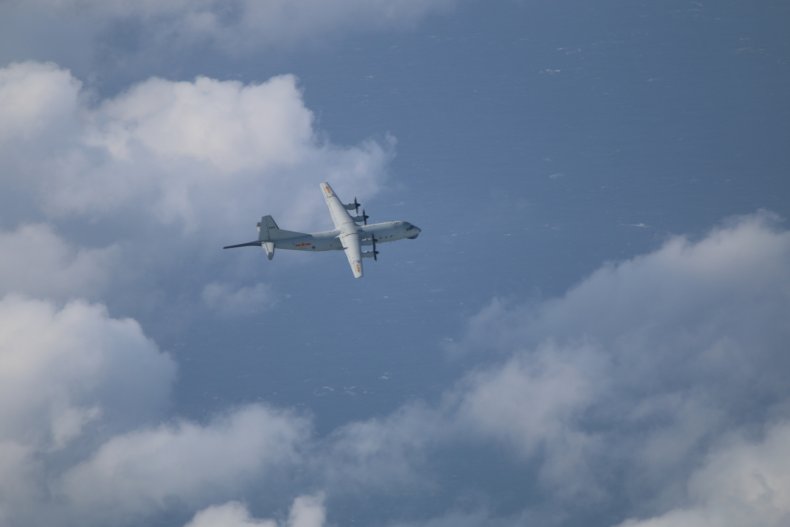 At a foreign and national defense committee hearing in October, Taiwan's defense minister, Yen De-fa, revealed that PLA warplanes had crossed the Taiwan Strait median line 49 times this year. It was the highest figure in three decades, the minister added.
In the year to September 30, the air force had scrambled 2,972 jets to intercept PLA aircraft in its ADIZ at a cost of 31.2 billion New Taiwan dollars ($1.1 billion)—nearly a 10th of Taiwan's annual military budget—Yen said.
Last week, Reuters reported that the PLA was conducting "gray-zone warfare" in the Taiwan Strait, taxing Taipei's outgunned air force and navy by demanding extra sorties and ship days.
Taiwan's defense ministry spokesperson, General Alan Shih, told Newsweek the island was taking all appropriate measures to counter China's "gray-zone harassment."
On November 17, a Taiwanese pilot and his F-16 went missing off the coast of Hualien air force base in eastern Taiwan two minutes into a night training exercise. The aircraft's flight recorder has been detected, but neither Colonel Chiang Cheng-chih nor the wreckage has been found.
Two weeks earlier, an F-5E pilot lost his life when his jet crashed during a training mission off Taitung County.