Four-Year-Old Tennessee Girl Accidentally Shoots Toddler With Assault Rifle
A one-year-old girl is recovering in hospital after being shot with a rifle in Mississippi by a four-year-old.
The girl was accidentally shot in the hand with an AR-15 assault rifle on Sunday at a home on Ridgecrest Drive in Holly Springs, according to police.
The toddler's mother was not at home when the shooting took place and had left the girl with a sibling. It is not known exactly how the older child got hold of the gun.
According to Fox News, the one-year-old is being treated at a hospital in Memphis, Tennessee, and is expected to recover. Authorities and child protective services are investigating the incident.
Catressa Malone, a neighbor, told Fox that the incident "broke her heart" as a parent.
"It truly breaks my heart as a parent to see them suffer," she said. "My heart truly goes out to the parents and the auntie that was here and we definitely will be praying for the baby and hope she has a speedy recovery."
"I couldn't imagine what she is going through, but I will definitely be keeping her and the baby both in my prayers," Malone added.
The Gun Violence Archive reported over 17,400 gun deaths and 36,300 gun injuries in 2020.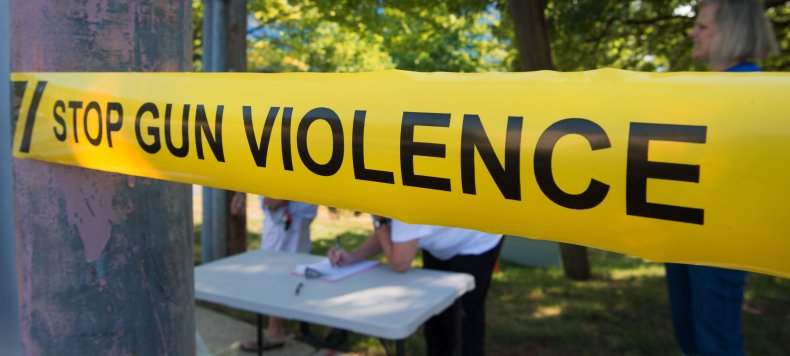 Last week, a five-year-old boy shot himself in the chest in Ohio after the gun he was playing with discharged. Officers were called to an apartment in the Weinland Park area of Columbus at 10:45 p.m. on Saturday to reports of a shooting.
However, the little boy had already been taken to the Nationwide Children's Hospital by his mother with a gunshot wound to his upper right chest before police arrived.
The child had been playing with his mother's loaded gun when the firearm discharged, the Columbus Police Department said in a statement on Sunday. The boy is expected to recover from his injuries.
In December 2020, a man in Florida was left in critical condition after being accidentally shot by a toddler who found a gun in his home, according to police in the city of Stuart in southern Florida. The male adult, whose name, age and relation to the toddler were not revealed, was airlifted to a local trauma center.
Two months earlier, a toddler accidentally shot his 12-year-old cousin after finding a gun, according to police. The 2-year-old boy, who has not been named, was playing at a house in Octavia Drive South in Alabama when the incident occurred.
The little boy is understood to have come across the gun on a bed, picking it up and pulling the trigger, hitting his cousin. The child was rushed to hospital and treated for non-life-threatening injuries.