Four years after a school shooting in Parkland, Florida transformed the conversation around school safety, school shootings continue to ravage communities across the United States.
On February 14, 2018, 19-year-old Nikolas Cruz opened fire at Marjory Stoneman Douglas High School, in Parkland, fatally shooting 14 students and three staff members.
The shooting pushed school safety to the forefront of the national dialogue, with many survivors pushing lawmakers to take action on gun control, while schools implemented new safety measures to prevent on-campus shootings. But nearly half a decade later, student shooters remain a massive issue in schools across the U.S., according to a recent analysis from Everytown for Gun Safety.
In the wake of the shooting, schools spent billions of dollars on new, high-tech security measures including metal detectors, surveillance and more school resource officers aimed at lowering the number of school shootings. Some schools now require students to have clear backpacks to keep students from hiding weapons in their backpacks, while others have turned to companies that monitor students' social media use to catch shootings before they happen.
Many schools refocused on mental health after the shooting, hiring more counselors and directing funds for mental health with the hope that improving mental wellbeing among students would lower the number of shootings.
Lawmakers also passed legislation aimed at preventing shootings, including raising the minimum age to purchase a gun—so school-aged students can't do so—and even arming teachers.
Despite efforts to prevent school shootings, gun violence remains a significant issue in many schools. The 2021-2022 school year is on track to be the most violent in recent years, as 136 instances of gun violence were reported in the first half of the school year alone, according to Everytown for Gun Safety. One school shooting at Michigan's Oxford High School left four people dead in 2021, again renewing conversations about school safety.
Many of the gun safety laws—including universal background checks and banning assault weapons—pushed by advocates following the shooting have stalled in Congress in recent years. Any gun control legislation faces a particularly grim future in the Senate, where it seems unlikely that 60 Senators would back widespread gun reform.
Although President Joe Biden signed a series of executive orders aimed at reducing the number of shootings—including directing the Department of Justice to put forward a model "red flag" law that would remove firearms from people believed to be a danger to either themselves or other people—the White House has also acknowledged the orders are "not enough." Biden urged Congress to take further action to prevent school shootings on Monday.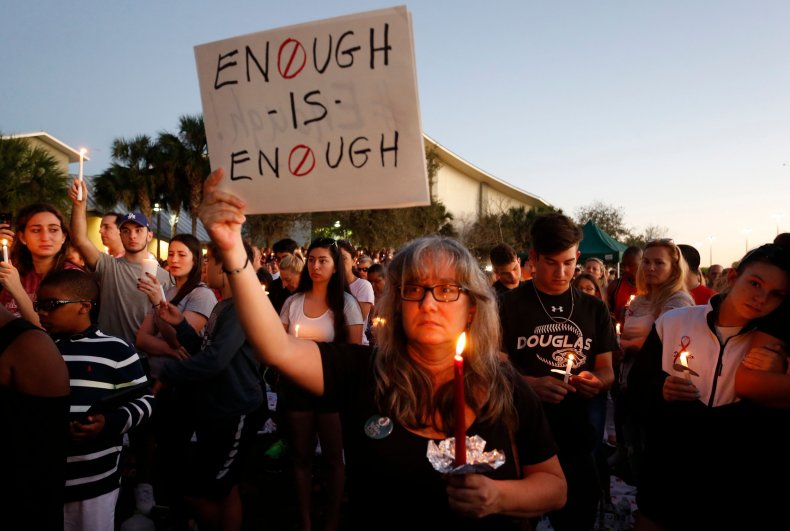 Some safety measures passed by schools following the shooting have also come under scrutiny, with some advocates saying they don't actually prevent shootings. Some teachers, for example, have spoken out against the Florida law that allows some of them to carry guns in the classroom. A 2018 Washington Post Survey found that most schools said heightened security did little to nothing to actually prevent shootings.
In a statement to Newsweek Monday afternoon, the organization March for Our Lives called on Biden to do more to curb gun violence, including establishing a National Office of Gun Violence Prevention and holding the gun industry accountable.
"It shocks the conscience, however, that gun violence has continued to worsen. Under this president, who committed to ending gun violence in his campaign, gun violence remains sky-high. We are compelled to speak out and demand that the president keep his promises to fight the gun violence epidemic," the statement said.