Fox Host Tucker Carlson Says College Education 'Diminishes You' and 'Everyone Should Opt Out'
Popular and controversial Fox News host Tucker Carlson criticized American colleges and the mainstream media, saying "everyone should opt out" of higher education and that he "really" hates journalists today.
Carlson's remarks came in an wide-ranging interview with OutKick, a largely sports-focused media company, published on Friday. The Fox News host is one of the network's most highly rated personalities, regularly drawing in millions of viewers.
In the interview, Carlson railed against the higher education system in the country, explaining that he urged all four of his children not to attend college—but they did anyway.
"There is this idea that college improves your worth. Where is the evidence of that? I'm sure that hard sciences do. If you're an engineer or you are in medical school, you would learn discrete information, actual facts that you can use and that you need to know in order to join the profession that you want to join. But for kids like me who go in for liberal arts education, I believe it diminishes you," Carlson told the site.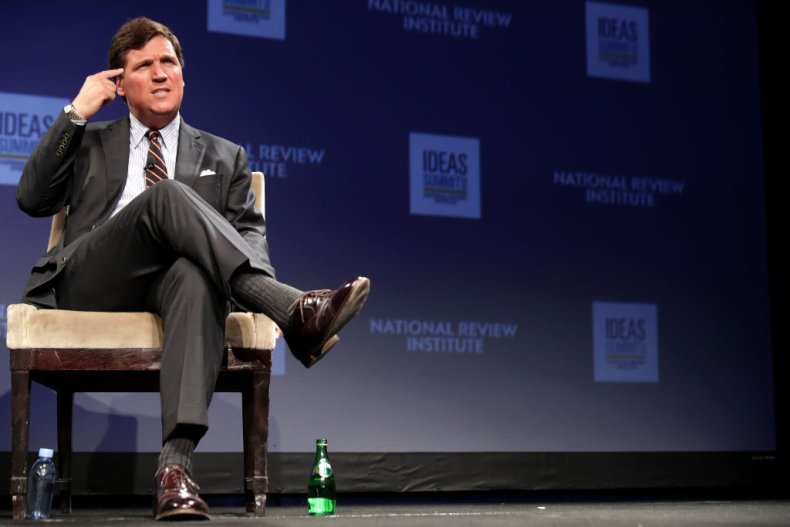 The Fox News host explained that he "pushed" his children not to attend college, but said they all disregarded his advice. "I told them, 'I'll take the money we're gonna spend in college—we were blessed to have, we saved money for them—and figure out something more interesting to do with this.' But, to my shame, all of them went."
He added that "everyone should opt out, except people with very specific goals. I don't believe in the system at all."
When it comes to the media and journalism in America today, Carlson argued that journalists are going about it all wrong.
"Journalism should always be upward. We should be doing the tough stories on the people with the most power. Jeff Bezos should be subjected to some intense scrutiny since he's the richest man in the world," Carlson said.
He claimed that there's "no scrutiny" of Bezos.
"I just can't overstate how disgusted I am, not simply by the details of the lying of the medium, but disgusted by the emphasis. The media is basically Praetorian Guard for the ruling class, the bodyguards for Jeff Bezos. That's the opposite of what we should have," the Fox News host told the site.
"I really hate them for it, I'll be honest," he added.
It's unclear why Carlson doesn't believe the media scrutinizes Bezos. Amazon, the company founded by the ultra-billionaire, routinely gets negative press coverage as workers and union activists complain about what they view as subpar working conditions and poor labor practices. Bezos also faces significant criticism for his immense wealth (his net worth currently hovers just below $200 billion), with Democratic and Republican lawmakers alike raising concerns about the growing power and influence he holds. Other billionaires and big tech companies—such as Facebook and Twitter—have faced similar criticism.
Carlson routinely faces backlash over his controversial commentary. Some companies have chosen to remove their ads from his show due to remarks he's made in the past. But the Fox News host continues to be one of the most popular television personalities in the country. Carlson's nightly show Tucker Carlson Tonight was the No. 1 cable news program in the country in March. It was the second highest-rated on cable news last year, following Fox News' other popular evening program hosted by Sean Hannity.
Newsweek reached out to Fox News for comment, but did not immediately receive a response.