Fox News Anchor Confronts Trump Adviser With Senate Oath to Be 'Impartial,' Asking How McConnell Can Take 'Cues' From WH
Fox News anchor Chris Wallace confronted White House adviser Pam Bondi over GOP Senate Majority Leader Mitch McConnell's assertion that he and fellow Republicans in the Senate plan to coordinate with President Donald Trump's lawyers in an increasingly inevitable Senate trial following a planned vote of impeachment by the House of Representatives. Wallace noted that this appeared to go against the oath senators will take prior to the trial.
"Now, Democrats note that before an impeachment trial, all senators have to raise their right hand and take an oath to do impartial justice," the journalist said during an interview with Bondi on Fox News Sunday. "How impartial can it be when McConnell says, quote, he is taking his 'cues' from the White House."
Bondi attempted to evade the direct question, accusing Democratic leaders in the House of Representatives of carrying out an unfair impeachment inquiry. "Adam Schiff [the Democratic chair of the House Intelligence Committee] started those proceedings himself hidden in the bunker of the Capitol–," she said.
Wallace cut Bondi off, pressing his original question. "But wait, I'm just asking you about McConnell saying he'd be taking his cues from the White House. Please answer the question."
"So, we weren't given a fair trial in the House, at all. Now it goes to the Senate and these senators, the president deserves to be heard," Bondi responded. "We should be working hand-in-hand with them," she stated. The White House adviser argued that the charges against Trump are "some of the weakest" out there.
Later in the interview, Bondi again repeated her claim that the allegations against Trump were weak, inaccurately saying that Wallace had said as much himself. The anchor pushed back, laughing at her remarks.
"Well, I didn't say it was a weak case," Wallace said through chuckles. "I just asked you about the Senate trial."
As Wallace noted, McConnell, who represents Kentucky, told Fox News host Sean Hannity on Thursday evening that he planned to work directly with Trump's White House counsel if the case moved to the Republican-controlled Senate for a trial.
"I'm going to take my cues from the president's lawyers," the senator said, noting that he hoped it would be "a shorter process rather than a long, lengthy process."
Ahead of the impeachment trial, all senators will be required to take an oath, vowing impartiality. "I solemnly swear (or affirm) that in all things appertaining to the trial of ____, now pending, I will do impartial justice according to the Constitution and laws, so help me God," the oath reads.
McConnell's comments have drawn significant criticism from Democrats and some conservatives, who argue he is openly disregarding this oath.
"McConnell is diminishing the stature of the Senate, bringing a matter of high politics low," Jeffrey Tulis, a professor of political theory and American politics at the University of Texas at Austin, warned in an op-ed for the conservative news site The Bulwark. "And it also is in literal violation of the oath McConnell and the other 99 senators will be required to take at the start of the trial."
Democratic Congresswoman Ilhan Omar of Minnesota lobbed similar criticism during a Sunday interview with MSNBC. "I think what the American people get to witness is a party that has decided to make a mockery of the Constitution. These are leaders within the Senate who are abdicating their responsibility and their oath," Omar argued.
Newsweek has reached out to press representatives for McConnell to ask for a response to criticism of his defense of Trump.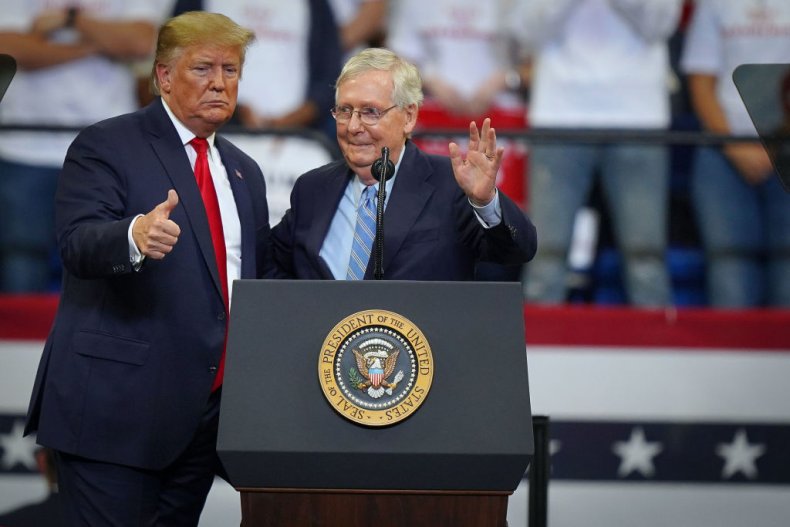 Although Fox News is widely seen as favorable to Trump and Republicans, Wallace, as well as several other journalists and analysts, on the network have drawn significant criticism from the president for their willingness to confront and criticize administration officials. Meanwhile, the shows prominent opinions hosts – such as Hannity, Laura Ingraham, Jeanine Pirro and others – have remained staunch defenders of the president, routinely drawing his praise and public backing.
On Sunday, Fox News published polling results that showed the majority of Americans – 54 percent – believed that Trump should be impeached. The poll also found that 50 percent of respondents believed the president should be removed from office.
Trump dismissed the poll, criticizing the network via Twitter.
"The @foxnewPolls, always inaccurate, are heavily weighted toward Dems. So ridiculous - same thing happened in 2016," he tweeted. "They got it all wrong. Get a new pollster!"