Fox News Anchor Confronts Kellyanne Conway Over Migrant Detention Conditions: 'It's a Disaster'
Fox News anchor Chris Wallace confronted President Donald Trump's counselor Kellyanne Conway over conditions at migrant detention centers, calling the situation in some facilities a "disaster."
Wallace, who interviewed Conway on Fox News Sunday, pushed the White House advisor over the conditions in the detention centers along the southern border as she tried to defend the facilities. The anchor pointed out that the Office of the Inspector General for the Department of Homeland Security, which oversees the migrant detention facilities, had recently issued a warning over the extremely overcrowded conditions.
"How does it help for the president to minimize the situation and say: 'It's much better than what they had,' where for Vice President Pence in [journalist] Kevin Corke's piece to say: 'They're all being well treated,' when you're own — I mean you can look at the conditions there," Wallace said. "It's a disaster," he asserted.
Conway responded by saying "not every facility is the same." But Wallace cut her off, pointing out he was talking about a specific overcrowded facility in the border city of McAllen, Texas. The White House counselor then replied by lamenting that a different detention center with better conditions had gotten little attention from the media. Pence himself made the same complaint earlier in the weekend, accusing CNN of focusing on the facility with men crowded into cages and not the other center he had visited where families and children "were being treated well."
Earlier in the interview, Wallace read a portion of the DHS Inspector General report that warned about the conditions in certain detention centers.
"DHS needs to address dangerous overcrowding and prolonged detention of children and adults in the Rio Grande Valley," the report said. Wallace then showed videos of the conditions, while describing what had been reported by journalists who had visited the McAllen facility.
"Almost 400 men were in caged fences with no cots. The stench was horrendous. Some of the men were sleeping on concrete. They began shouting and wanted to tell us they had been in there 40 days or longer," Wallace stated, reading from a media pool report from last week.
Democratic lawmakers, lawyers and medical professionals have strongly criticized DHS and the Trump administration after touring multiple detention facilities in recent weeks. Many of the holding centers lack basic supplies such as beds, hygiene products and other basic necessities. While Wallace and Conway discussed a facility that detained adult male immigrants, numerous facilities for women and young children have faced even greater scrutiny.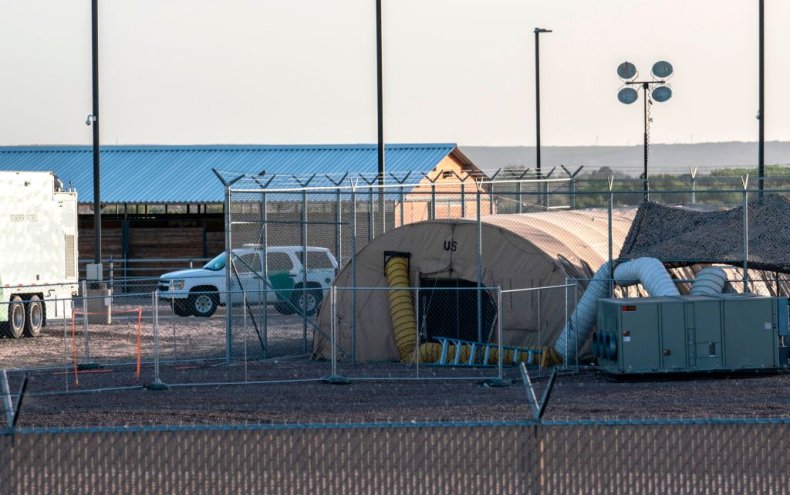 At least five children have died in DHS custody since December. Children have also been forced to remain in overcrowded facilities, often without soap, toothbrushes and other products. A lawyer for Trump's Justice Department controversially argued in court last month that the government should not be required to provide such essential items to detained children. The judge's hearing the case disagreed, and expressed shock at the attorney's arguments.
Despite the backlash, the Trump administration has insisted that the facilities are well maintained. The president also argued earlier this month that the migrants are "living far better now" in the overcrowded detention centers than how they were living where they came from. Republicans and the Trump administration have also attempted to blame Democrats, arguing inaccurately that they have not approved funding to address the problems.
Mark Morgan, the acting director of U.S. Immigration and Customs Enforcement (ICE), appeared on ABC's Face the Nation Sunday, where he was presented with accounts from reporters who were on hand when during Pence's visit and described the conditions inside the facility as "sweltering."
"I would not consider it 'sweltering' hot. I was there, alongside the vice president," Morgan said to host Margaret Brennan. "But make no mistake: Was it overcrowded? Absolutely, but Margaret we've been saying that for a very long time that these conditions are overcrowded."
"So you agree it's unacceptable?" asked Brennan.
"Absolutely it's unacceptable," replied Morgan. However, when Brennan asked the ICE chief what his department would do to alleviate the overcrowding now that Congress had approved nearly $4.6 billion in supplemental funding, Morgan did not offer any details and instead responded by blaming lawmakers for not having provided the funds earlier and for not having passed legislation to reform the country's immigration laws.