Fox News Anchor Says Mueller Remarks Dispute 'No Collusion, No Obstruction' Trump Claims
Fox News chief political anchor Bret Baier commented on Robert Mueller's first public remarks since the conclusion of his investigation, pointing out that the special counsel clearly demonstrated that President Donald Trump's insistence that the report showed "no collusion" and "no obstruction" was inaccurate.
"I was struck by the tone and tenor of those remarks, as he [Mueller] laid out his case wrapping up this report," Baier said Wednesday on America's Newsroom after the special counsel's comments were aired live. "This was not, as the president says time and time again, 'no collusion, no obstruction.' It was much more nuanced than that," the anchor explained.
"He [Mueller] said specifically they couldn't find evidence sufficient to move forward with a crime on the issue of conspiracy, on the collusion part of the investigation on the Trump campaign," Baier pointed out. "He said specifically if they had found that the president did not commit a crime on obstruction, that they would have said that," he said.
As Baier highlighted, and as the special counsel's report previously explained, Mueller said on Wednesday that if his team "had confidence that the president clearly did not commit a crime, we would have said so." Continuing, he said: "We did not, however, make a determination as to whether the president did commit a crime."
Mueller also said that "the Constitution requires a process other than the criminal justice system to formally accuse a sitting president of wrongdoing." Those comments point to Congress, which is constitutionally tasked with impeaching and removing a president that is believed to have violated the law.
Baier also argued that Mueller's public remarks appeared to be in stark contrast to the interpretation of the special counsel's findings put forward by Attorney General William Barr.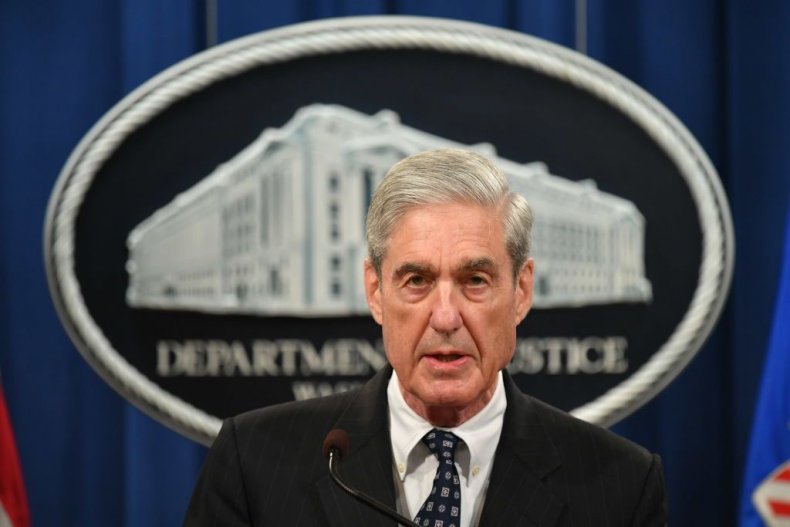 "It was not anywhere as clear cut as Attorney General Bill Barr [characterized the report]," the political anchor said. "In fact, it was almost exactly the opposite, not clear cut."
Democrats and some Republicans have been highly critical of Barr's handling of the release of Mueller's report. Many have argued that the attorney general has acted more like a personal defense lawyer to the president than a legal representative of the American people.
As Mueller's report laid out, the 22-month special counsel investigation concluded that Russia had interfered in the 2016 presidential election to disparage Democratic candidate Hillary Clinton and to favor Trump. The probe, however, did not find sufficient evidence that Trump or his campaign team had conspired with Russia in that effort. A second part of the final report laid out a series of allegations that Trump worked to obstruct the special counsel's investigation. But it did not recommend charges against the president, as indicting a sitting president through the criminal justice system would be unconstitutional, as Mueller explained.
A growing number of Democrats in Congress have pushed the legislative body to begin impeachment hearings based on the findings of Mueller's report. Some Republicans have also called on Congress to act.
"The ball is in our court, Congress," GOP Representative Justin Amash from Michigan posted on Twitter Wednesday, re-tweeting a breaking news headline from the Associated Press about Mueller's public comments.
"Mueller made clear Trump is NOT exonerated and that AG Barr is a liar," Democratic Representative Maxine Waters from California tweeted. "Mueller did his job now it's time for Congress to do its job. No more hiding behind the special counsel. Enough is enough. It's time to #ImpeachTrump."