GOP Congressman Slams Attorney General Barr for Misleading Congress and the Public to Support Trump
Republican Representative Justin Amash blasted Attorney General William Barr and President Donald Trump in a lengthy thread posted to Twitter on Tuesday afternoon, accusing the nation's top prosecutor of misleading Congress and the public.
"Attorney General Barr has deliberately misrepresented key aspects of [special counsel Robert] Mueller's report and decisions in the investigation, which has helped further the president's false narrative about the investigation," the GOP congressman, who represents Michigan's 3rd District, wrote.
Amash went on to explain how Barr had "selectively" quoted portions of Mueller's report in his letter to congressional leaders, which was intended to summarize the investigation's findings.
"Mueller's report says he chose not to decide whether Trump broke the law because there's an official DoJ opinion that indicting a sitting president is unconstitutional, and because of concerns about impacting the president's ability to govern and pre-empting possible impeachment," the conservative lawmaker explained.
"Barr's letter doesn't mention those issues when explaining why Mueller chose not to make a prosecutorial decision," Amash continued. "He instead selectively quotes Mueller in a way that makes it sound—falsely—as if Mueller's decision stemmed from legal/factual issues specific to Trump's actions."
The congressman argued that Barr's March 24 letter "misled" the public and Congress. "Mueller himself notes this in a March 27 letter to Barr, saying that Barr's letter 'did not fully capture the context, nature, and substance of this Office's work and conclusions,'" he pointed out.
Going on to lay out quotes from Mueller's report and detail the actions of the attorney general in defense of Trump, Amash argued that Barr's priority was to protect Trump. While highlighting how Mueller detailed allegations that Trump may have obstructed justice by interfering in the investigation, the Republican representative also pointed to "concerning contacts between members of Trump's campaign and people in or connected to the Russian government."
"Barr has so far successfully used his position to sell the president's false narrative to the American people," Amash wrote. "This will continue if those who have read the report do not start pushing back on his misrepresentations and share the truth."
Mueller concluded his nearly two-year long inquiry into allegations that Trump's 2016 campaign conspired with Russia back in March. The full, but redacted, document was released nearly one month later by Barr. Prior to that, the attorney general had released a four-page letter that summarized the probes findings, according to his interpretation.
Democrats, and some Republicans, have been highly critical of Barr's handling of the report's release. Mueller also took issue with how the attorney general handled the document, writing at least two letters to Barr urging him to release large portions of the document shortly after it was submitted.
Although Mueller's report did not establish that the president or his associates conspired with Russia during the 2016 election, it did conclude that Moscow had interfered in the election against former Democratic presidential candidate Hillary Clinton to favor Trump. It also explained that investigators were unable to review some evidence that could have changed the report's findings, as documents, emails and text messages were destroyed.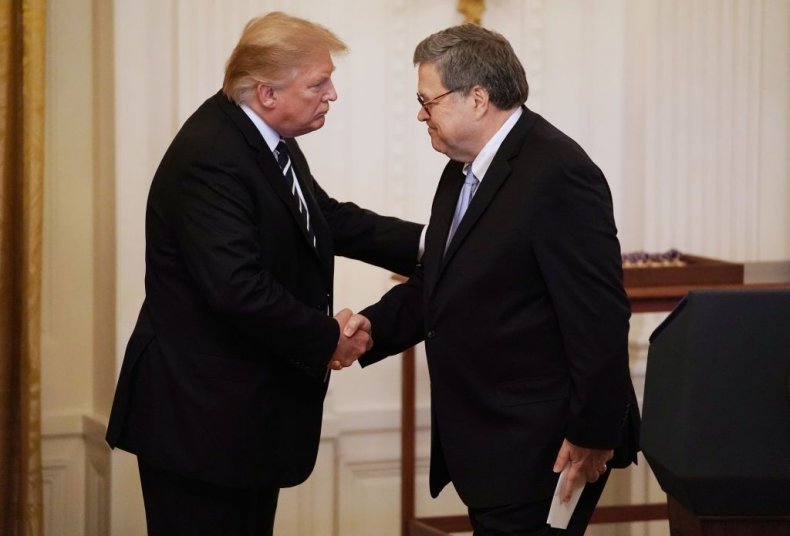 Mueller's team also chose not to conclude whether the president had obstructed justice by alleged interference in the investigation, but laid out the allegations for further review. Barr decided that the president had not obstructed justice, using a narrow interpretation of the law that has been strongly criticized by Democrats and some conservatives.
Trump and his supporters have consistently dismissed the Mueller probe as a partisan "witch hunt." They have said that the report's release represented a total exoneration of the president, but critics argue that assessment is highly inaccurate.