Trump Campaign Figures Deleted Communications Before Mueller Could See Them, Potentially Altering Report
President Donald Trump's campaign officials and associates deleted information and concealed details from special counsel Robert Mueller's team, leading investigators to conclude that it could "not rule out the possibility that the unavailable information would shed additional light" on the findings.
Attorney General William Barr publicly released a redacted version of the long-anticipated, 448-page Mueller report on Thursday. The special counsel concluded his investigation last month, submitting his final report to Barr. Department of Justice officials then reviewed the report to black out large portions of some sections—including entire pages—citing legal requirements to protect privacy and not harm any ongoing investigations.
On page 10 of the report, Mueller's team detailed efforts by Trump's campaign and associates to conceal information from investigators.
"The investigation did not always yield admissible information or testimony, or a complete picture of the activities undertaken by subjects of the investigation," the report explained.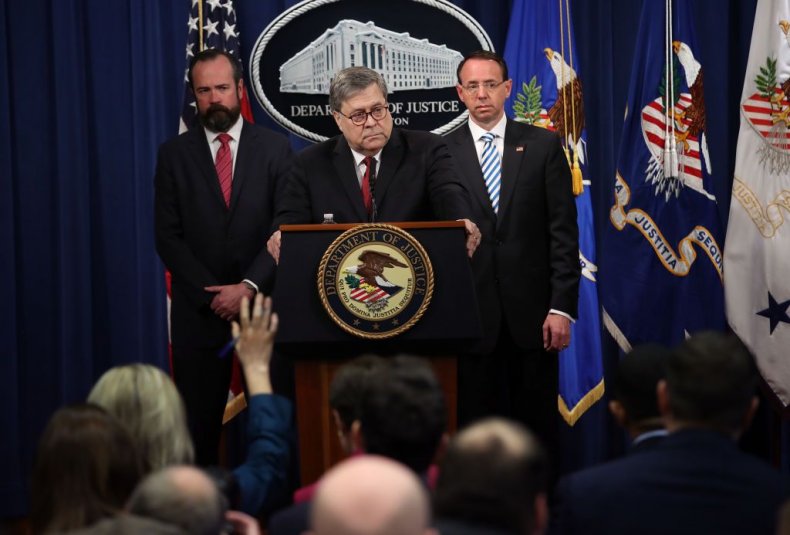 It then laid out how some persons of interest claimed their Fifth Amendment right against self-incrimination when questioned by investigators. Some information was "covered by legal privilege" and could not be used by Mueller's team. Individuals also provided false and misleading information to investigators, according to the report, hindering the investigation. Certain witnesses and material were also located outside the U.S., limiting the special counsel's efforts.
"Further, the Office [of the special counsel] learned that some of the individuals we interviewed or whose conduct we investigated–including some associated with the Trump Campaign–deleted relevant communications or communicated during the relevant period using applications that feature encryption or that do not provide for long-term retention of data or communications records. In such cases, the Office was not able to corroborate witness statements through comparison to contemporaneous communications or fully question witnesses about statements that appeared inconsistent with their known facts," the document explained.
"Given these identified gaps, the Office cannot rule out the possibility that the unavailable information would shed additional light on (or cast in a new light) the events described in the report," the investigators wrote.
Mueller also noted, on Page 9, that his investigation "established that several individuals affiliated with the Trump campaign lied to the office, and to Congress, about their interactions with Russian-affiliated individuals and related matters. Those lies materially impaired the investigation of Russian election interference." The report named three specific individuals—former National Security Adviser Michael Flynn, foreign policy adviser George Papadopoulos, and Trump's personal and corporate attorney Michael Cohen, each of whom has already entered guilty pleas about lying to investigators or to Congress.
Later in the report—Volume II, Page 78 (page 290 of the PDF containing all pages of the document)—Mueller detailed Trump's reported response to the special counsel's appointment.
"Oh my God. This is terrible. This is the end of my Presidency. I'm f*cked," he said, according to notes credited to Jody Hunt, then–Attorney General Jeff Sessions' chief of staff. The response from the president would suggest he was deeply concerned about the launch of Mueller's investigation, as well as the information it could reveal about him and his campaign.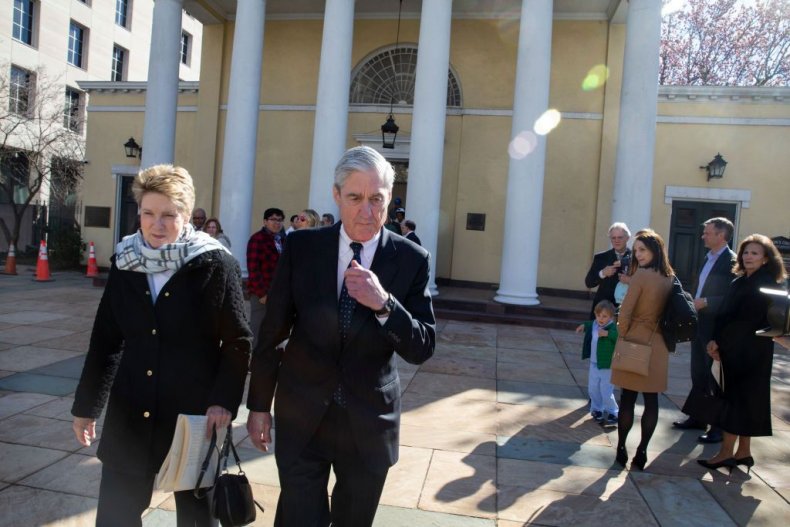 Although Mueller's report did not "establish" that Trump or his associates conspired with Russia in its efforts to interfere in the 2016 presidential election, legal analysts have pointed out that this does not mean there was no evidence of collusion. Experts have explained that this simply means investigators were unable to conclude with certainty that there was any conspiracy.
Trump and Russian leaders have consistently denied working together. Posting to Twitter following Barr's Thursday press conference, the president appeared to gloat in the face of his critics. Sharing a Game of Thrones–style image of him with his back turned, the president's message was: "No collusion. No obstruction. For the haters and the radical left Democrats—game over."