Fox News Analyst Slammed for Saying Trump's 'Go Back' Tweets are ' 'Xenophobic' But Not 'Racist'
Fox News senior political analyst Brit Hume drew significant criticism on Monday after he tweeted that President Donald Trump's controversial "go back" tweets were "xenophobic" and "politically stupid," but not "racist."
"Trump's 'go back' comments were nativist, xenophobic, counterfactul [sic] and politically stupid," Hume wrote in a Monday twitter post. "But they simply do not meet the standard definition of racist, a word so recklessly flung around these days that its actual meaning is being lost," the veteran journalist asserted.
Hume was referring to Trump's Sunday tirade, in which the president argued that progressive Democratic congresswomen should "go back" to the "totally broken and crime infested" countries "from which they came." He added that "you can't leave soon enough."
Although Trump did not mention specific names, it was clear that he was referring to Democratic Representatives Alexandria Ocasio-Cortez of New York, Rashida Tlaib of Michigan, Ayanna Pressley of Massachusetts and Ilhan Omar of Minnesota. All the congresswomen, who are women of color, were born as American citizens in the U.S., with the exception of Omar. She immigrated to the U.S. as a young girl and was naturalized as a citizen in 2000.
Analysts, Democratic lawmaker and former GOP Representative Justin Amash, who now is an independent, quickly called out the comments as overtly "racist." Former GOP Senator Jeff Flake, who has often publicly sparred with Trump, also blasted the president's remarks, writing on Twitter: "There are times when the President's comments are so vile and offensive that it is incumbent on Republicans to respond and condemn. This is one of those times."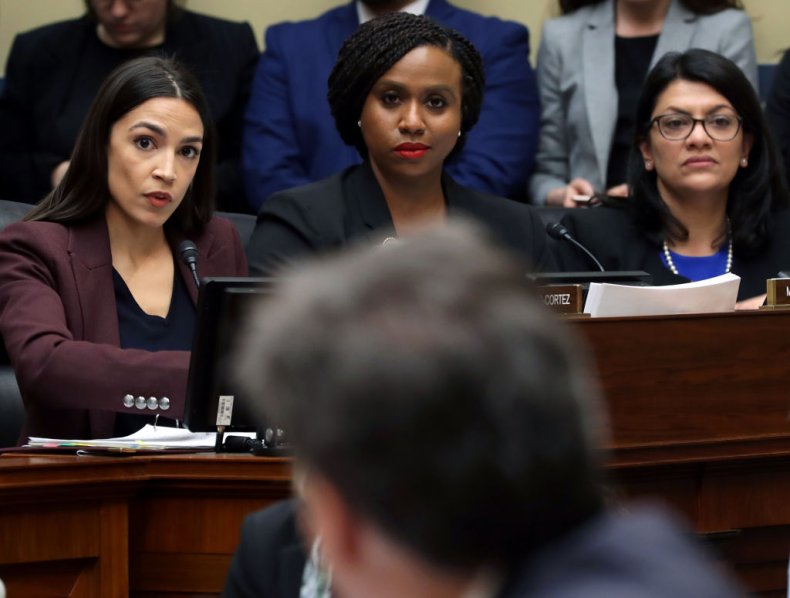 But Hume wouldn't accept that the comments were "racist," despite many others from across the political spectrum arguing they were. A large number of Twitter users blasted the political analyst's assessment.
"You don't think xenophobia and nativism against American citizens *born in America* doesn't meet the definition of racism," Andrew Kaczynski, a reporter at CNN's KFile, shot back in response.
"If you are a conservative who can't condemn Trump's hate-mongering without including a 'but' sit down and spare us your fake ass sincerity," activist and filmmaker Adam Best wrote.
Journalist and author Jonathan M. Katz sarcastically responded: "Considering African-Americans whose families built this country and its most important symbols of governance foreigners is definitely not racist, nope, no sir." The tweet was apparently a specific reference to Pressley, who is a black American.
"You will make tortured excuses for this racist fraction of a man no matter what," writer Dennis Perkins wrote. "Which makes you a racist too, you old joke."
New York Times culture reporter Sopan Deb asked: "Can you explain to me how a comment can be xeophobic about *U.S. citizens* but not be racist?"
Despite the backlash, Hume doubled down on his assessment, sharing a link to the Merriam Webster definition of racism. "For those who asked what is my standard definition of racism, here is an answer: Note definition 1," he wrote.
The first definition listed by the dictionary is: "a belief that race is the primary determinant of human traits and capacities and that racial differences produce an inherent superiority of a particular race." However, it also goes on to add several more definitions, which are: "a doctrine or political program based on the assumption of racism and designed to execute its principles," "a political or social system founded on racism" and simply "racial prejudice or discrimination."
As for Trump, he has doubled down on his remarks. He asked on Twitter on Monday when the progressive Democratic congresswomen would "apologize to our Country [sic]." He also slammed Democrats for defending their colleagues.