Fox News Sunday anchor Chris Wallace confronted Senator Lindsey Graham, a South Carolina Republican, over his opposition to Senator Joe Manchin's compromise voting rights proposal.
Manchin, a moderate West Virginia Democrat, proposed this past week to narrow the scope of the For the People Act voting rights bill in a bid to build bipartisan consensus and push through a compromise supported by Republicans. However, a number of top GOP lawmakers came out against Manchin's proposals, and Graham reiterated his disapproval during an interview on Fox News Sunday this morning.
"Manchin took out a lot of the basic Senate plans...like public financing of public elections. Can you go along with the Manchin stripped-down version? And if not, why not?" Wallace asked Graham.
Graham responded by asserting that he likes Manchin but questioned the need for the federal voting rights legislation. "States are in charge of voting in America, so I don't like the idea of taking the power to redistrict away from state legislatures," he said.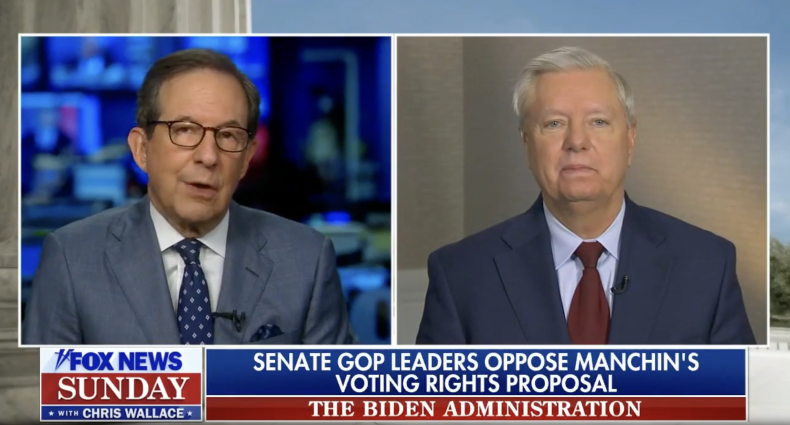 The Republican senator argued that Democrats were doing a "power grab" by pushing for new federal legislation on elections. Graham said that Democrats wanted to mandate "ballot harvesting" and end voter identification. "It does away with the states being able to redistrict when you have population shifts," he said.
Wallace responded: "Now, Manchin would say, 'Look, a lot of the stuff you just objected to is not in my bill.' His is a stripped-down version ... and as you know, the Constitution does provide for federal oversight of state elections. Here's the practical question...If you kill—if Republicans vote, as it appears you're going to, to kill the Manchin version of voting rights, you've already...voted to kill the bipartisan January 6th commission looking into the insurrection at the Capitol, do you run the risk that Manchin and a couple of other moderate senators say, 'Look, bipartisanship isn't working'?"
"I hope not," Graham responded. He touted other areas of legislation that currently appear to be moving forward in a bipartisan way, such as infrastructure and police reform.
Manchin's slimmed-down voting rights proposal would make election day a national holiday, mandate at least 15 days of early voting nationwide, require states to send absentee ballots to eligible voters and ban partisan gerrymandering. Democrats' effort to pass substantial voting rights legislation comes as Republican lawmakers in state legislatures across the country have pushed forward restrictive election reforms. Activists and Democratic lawmakers argue that these GOP measures amount to voter suppression, arguing that many of the bills particularly harm minority voters.
Although Manchin hoped to put forward a compromise that Republicans would support, top GOP lawmakers have largely responded as Graham did. Senator Rob Portman, an Ohio Republican, pushed back against Manchin's proposal during an interview with NBC News' Meet the Press on Sunday as well.
"It takes the election system in this country and it federalizes it," Portman said. He argued that the Manchin proposal is "a federal takeover of the election system."
Newsweek reached out to Manchin's press secretary for comment but did not immediately receive a response.