Fox News Anchor Fact-Checks GOP Congressman as He Attempts to Dismiss Impeachment Witnesses as Partisan
Fox News anchor Chris Wallace called out Republican House Minority Whip Steve Scalise after the GOP representative from Louisiana attempted to discredit the testimony against President Donald Trump in the ongoing impeachment inquiry, suggesting that the witnesses were partisan.
As Wallace emphasized that Trump had specifically urged Ukraine to investigate his domestic political rivals in exchange for military aid, according to multiple credible witnesses, Scalise interrupted, saying: "Those were Schiff's witnesses," during an interview on Fox News Sunday. The congressman's remark was a reference to Democratic Representative Adam Schiff of California, who chairs the House Intelligence Committee and is leading the impeachment inquiry.
"Well wait a minute, no sir," Wallace responded. He then proceeded to fact-check Scalise's claim, pointing out that the witnesses served in Trump's administration and were not partisan.
"They're career foreign service officers and these are people who worked in the Trump administration," the anchor said. Scalise cut him off again, insisting: "they're Schiff's witnesses."
"Sir, you had a woman yesterday who was on Vice President [Mike] Pence's staff. She said it was 'inappropriate,'" Wallace pointed out, referencing the testimony of Jennifer Williams, who serves as the vice president's special adviser for Europe and Russia.
"You had Tim Morrison, who was on the NSC [National Security Council] staff, who said that 'alarm bells' immediately went off for him. [Lt. Colonel] Alexander Vindman, [who served on the NSC as well], immediately went to see [NSC legal counsel]. These are all people– you say they're Schiff's witnesses," the anchor continued, "they all were working in the Trump administration."
Trump and Republicans have attempted to dismiss and discredit the testimony of witnesses involved in the impeachment inquiry. On Saturday, Trump tweeted a quote from right-wing talk radio host Rush Limbaugh, an avid Trump backer, arguing that the witnesses were members of the "swamp" in Washington.
"It is paramountly obvious watching this, these people have to go. You elected Donald Trump to drain the Swamp," Limbaugh said, according to the president's tweet. "Dismissing everybody involved from the Obama holdover days trying to undermine Trump, getting rid of those people, dismissing them, this is what it looks like."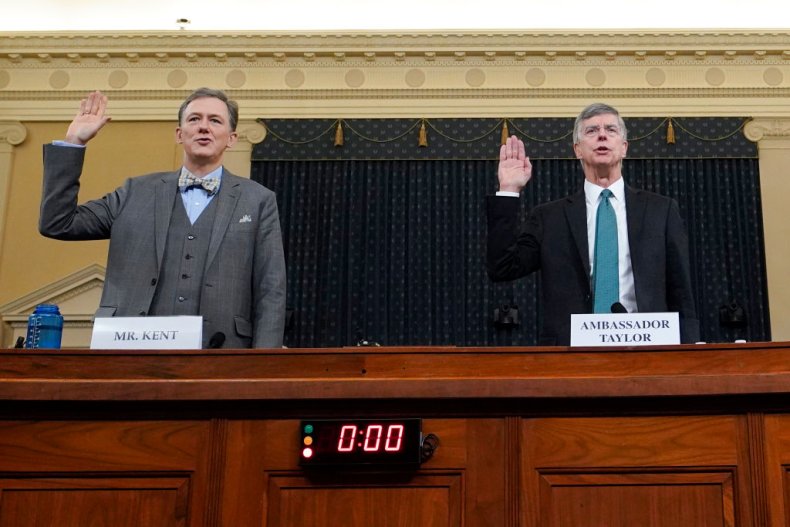 While some of the witnesses did serve under former President Barack Obama, many served under multiple administrations, Republican and Democrat. Other key witnesses, such as U.S. Ambassador to the European Union Gordon Sondland, were appointed directly by Trump. As reported by The Oregonian, Sondland also donated $1 million to Trump's inaugural committee, suggesting that he was staunchly supportive of the president, not against him. The ambassador has confirmed to investigators that Trump pressured Ukraine to open the investigations against his Democratic rivals and that he withheld military aid as part of that pressure campaign. He will testify publicly this coming week.
Despite being a prominent anchor on right-leaning Fox News, which is widely viewed as pro-Trump and pro-Republicans, Wallace has consistently pushed back against Trump administration officials and supporters who have touted misleading or inaccurate information. His Sunday program often features tense and combative interviews with Trump officials and Republican supporters of the president.
Last Wednesday, as House investigators publicly questioned acting U.S. Ambassador to Ukraine Bill Taylor, Wallace characterized the diplomat's testimony as "very damaging" to Trump. He referred to Taylor as "nonpolitical" and "compelling."