Fox News Anchor Confronts GOP Rep With Diplomatic Texts After He Insists Trump Had No Quid Pro Quo With Ukraine
Fox News anchor Chris Wallace confronted Republican Congressman Chris Stewart with text messages between U.S. diplomats discussing what many critics of the president see as clear evidence of a quid pro quo after the representative insisted no such expectation existed.
Stewart, who represents Utah and sits on the House Intelligence Committee, told Wallace during an interview on Fox News Sunday that Trump never linked his request that Ukraine's President Volodymyr Zelensky investigated Democratic presidential candidate Joe Biden and his son Hunter Biden to military aid. "It's never even mentioned," the representative said, referring to a controversial July 25 phone call between the two leaders. "He [Trump] doesn't ever offer a quid pro quo."
But Wallace, later in the segment, pointed to text messages between American diplomats working with Ukraine that suggested Trump would only grant the $391 million in military aid and a meeting with Zelensky if the investigation into Biden was opened.
"I want to pick up on what you said at the very top, which is that there is no quid pro quo, no linkage between President Trump's asking the Ukrainian President Zelensky to investigate Joe Biden and U.S. support, including [nearly] $400 million in military aid to Ukraine," Wallace said. "There are a number of documents that your committee received this week, and bear with me, I'm gonna go through just three of them and read them," he said.
Wallace then read three of the text messages exchanged between the key U.S. diplomats involved in setting up direct communications between Zelensky and Trump.
"July 25th, this is the morning before the phone call between Zelensky and Trump," Wallace said prior to reading the text by former U.S. Special Representative for Ukraine Negotiations Kurt Volker. The message said: "Heard from White House – assuming President Z convinces trump he will investigate / 'get to the bottom of what happened' in 2016, we will nail down date for a visit to Washington."
The Fox News anchor then read an August 10 message from Ukrainian aid Andrey Yermak sent to Volker, which said: "Once we have a date we will call for a press briefing, announcing upcoming visit and outlining vision for the reboot of US-UKRAINE relationship, including among other things Burisma and election meddling in investigations." Biden's son previously served on the board of the Ukrainian energy company Burisma.
The final text exchange read by Wallace was between acting U.S. ambassador to Ukraine William Taylor and U.S. ambassador to the European Union Gordon Sondland. Taylor asked: "Are we now saying that security assistance and WH meeting are conditioned on investigations?" Sondland responded simply: "Call me," which critics have argued demonstrates that the diplomat knew the conversation should not have a paper trail.
"Now, Sondland later says that there was no quid pro quo, but I gotta tell you, you read these [texts], before and after, and I just took three, congressmen, it seems that Ukrainian officials and some top American officials sure saw a quid pro quo," Wallace asserted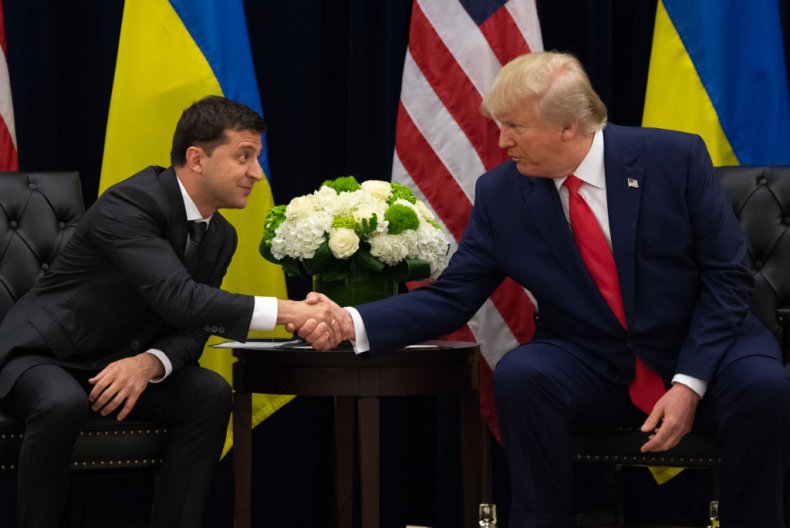 Despite Wallace's assessment and the text messages, Stewart insisted that no quid pro quo existed. "It's just not true," he said, arguing that the investigation into Trump's actions is dishonest.
Volker resigned from his post as the revelations regarding the president's actions toward Ukraine came to light at the end of September. He testified behind closed doors last week as the first witness since Democrats formally launched an impeachment inquiry over Trump's actions. Although he defended his actions in the Eastern European nation, Volker dismissed the president's unsubstantiated accusations against Biden.
"I have known former Vice President Biden for 24 years, and the suggestion that he would be influenced in his duties as vice president by money for his son simply has no credibility to me," he told investigators.
While Trump and his supporters insist that the impeachment inquiry is overtly "partisan," several Republicans in Congress and other prominent members of the GOP have raised serious concerns about the president's actions. Wallace, despite being an anchor on conservative-leaning Fox News, has also criticized Trump's defenders as the revelations regarding Ukraine have become public.
"The spinning that has been done by the president's defenders over the last 24 hours since this very damaging whistleblower complaint came out—the spinning is not surprising—but it is astonishing, and I think deeply misleading," the journalist said at the end of September.