Fox News senior judicial analyst Andrew Napolitano explained that prosecutors in Ukraine and the United States dismissed unsubstantiated claims pushed by President Donald Trump and his supporters that former Vice President Joe Biden acted corruptly within the Eastern European country.
"If you talk to [Trump's personal lawyer] Rudy Giuliani, he's got a lot of evidence of inappropriate behavior by the former vice president [Biden] and his son," Napolitano told the hosts of Fox News morning show Fox & Friends on Tuesday. "Yet the prosecutors in Ukraine and even prosecutors here in the United States say there's no there there," the former New Jersey Superior Court judge pointed out.
Democrats last week launched an official impeachment inquiry into Trump's actions following revelations from an unidentified whistleblower that the president and Giuliani had repeatedly pressured Ukrainian officials to open an investigation into unsubstantiated allegations against Biden and his son Hunter Biden. The effort has been widely seen as an effort to dig up dirt on the president's political rival, as Biden is currently one of the leading Democratic presidential candidates seeking to challenge Trump in 2020.
The accusations against Biden center around his actions as vice president, when he warned Ukrainian officials that $1 billion in aid could be suspended if the country's top prosecutor Viktor Shokin was not removed. At the time, Biden's son served on the board of Burisma, a Ukrainian gas company, that had been under investigation for corruption. Trump and his supporters claim Biden wanted the prosecutor removed to protect his son's business interests in the Eastern European nation.
However, as analysts and corruption experts in Ukraine have pointed out, Shokin was actually exceptionally lax on corruption. He had stonewalled a British probe into Burisma and done little, if anything, to pursue the allegations of corruption against the company. Western leaders, as well as the World Bank and the International Monetary Fund, were uniformly opposed to the prosecutor staying in his post, as they saw him as unwilling to root out corruption in his country.
As a result of Biden's efforts and pressure from other international leaders, Shokin was removed and replaced. But, as analysts have explained, this actually would have made it more likely, not less likely, that Burisma would face harsher scrutiny.
Yuriy Lutsenko, who took over as Ukraine's general prosecutor after Shokin, told the BBC on Monday that there was no evidence that Biden, or his son, acted improperly.
"I don't know any reason to investigate Joe Biden or Hunter Biden according to Ukrainian law," Lutsenko said. He also explained that any "possible embezzlement" at Burisma was alleged to have occurred "two or three years before Hunter Biden became a member of the board."
Despite the facts, Trump has continued to push the conspiracy theory. Trump and Giuliani have ramped up their accusations against Biden in the face of escalating controversy regarding the president's actions toward Ukraine.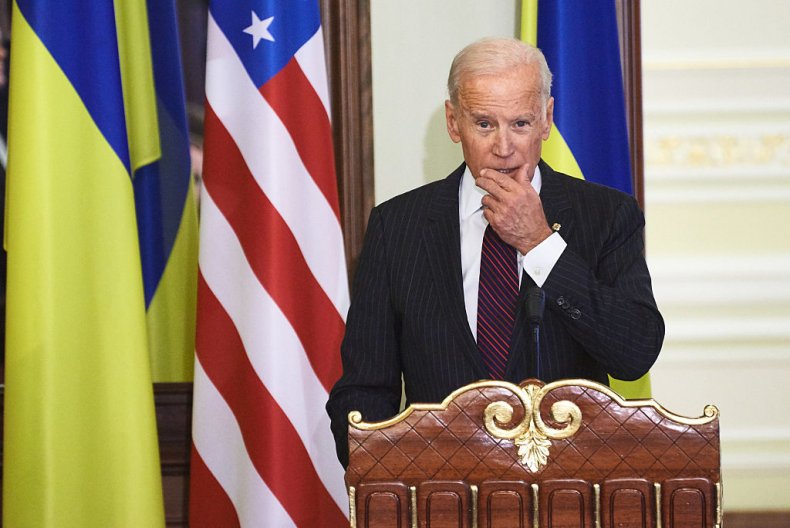 During a July 25 call with Ukrainian President Volodymyr Zelensky, Trump repeatedly urged the recently elected leader to open an investigation into Biden. Ahead of that call, the president had ordered that $391 million in military aid to Ukraine be temporarily suspended. Critics have argued that this was done as leverage, in an attempt to pressure Zelensky to open the probe. Ukrainian officials have also said they were given the impression that Trump's support for their government would be impacted by how they managed the U.S. president's request to investigate Biden.
Military aid to Ukraine enjoys significant bipartisan support in Congress. As a result, Republicans and Democrats were concerned by Trump's effort to hold back the funds and urged the White House to release the aid. The funds were eventually released by the president following pressure from lawmakers in Washington.
While Trump has dismissed the impeachment inquiry as "partisan" and a "witch hunt," several prominent Republicans lawmakers have voiced serious concerns.
Fox News analyst Napolitano has repeatedly highlighted the troubling nature of the allegations against the president.
"The president has admitted to holding up nearly $400 million in aid until he got a political favor, his word—'favor'—from the president of Ukraine," Napolitano said on America's Newsroom Monday. "That is arguably impeachable."