Why Nancy Pelosi Launching an Impeachment Inquiry Doesn't Actually Change Anything
Despite Speaker of the House Nancy Pelosi (D-CA) declaring Tuesday that the chamber was launching an "official impeachment inquiry," the announcement is unlikely to change how Democrats' ongoing investigations will continue to play out.
For months, the House Judiciary Committee has said they've already been conducting an impeachment inquiry in order to "determine whether to recommend articles of impeachment with respect to President Donald Trump," a point the panel made in a July lawsuit seeking to compel White House counsel Don McGahn's testimony.
Earlier this month amid confusion with Democrats as to whether or not they were in an inquiry, Judiciary Committee Chairman Jerrold Nadler (D-NY) sought to put the matter to rest by stating there was "no legal difference between" an impeachment investigation or an inquiry, and that it was accurate to state they were conducting either one.
Pelosi has not detailed any sort of timeline or scope for ongoing investigations, according to several lawmakers, and has indicated the full House will not vote to formally authorize an inquiry. The only vote that's been taken on the matter thus far was by the Judiciary Committee earlier this month when they outlined new parameters regarding their future "impeachment hearings."
And committees investigating Trump have already been sharing information with one another for some time, something Pelosi also referenced in her inquiry announcement.
Several Democrats, including two committee chairmen, conceded to Newsweek Wednesday that Pelosi's official inquiry launch would do little—if anything—to alter their current congressional probes.
"It doesn't really change the work, per se. Obviously, we are coordinating it with the other committees," Rep. Eliot Engel (D-NY) told Newsweek. "And we'll just move on. Nothing really changes, other than the fact that it's all under the same umbrella, which technically it was even before."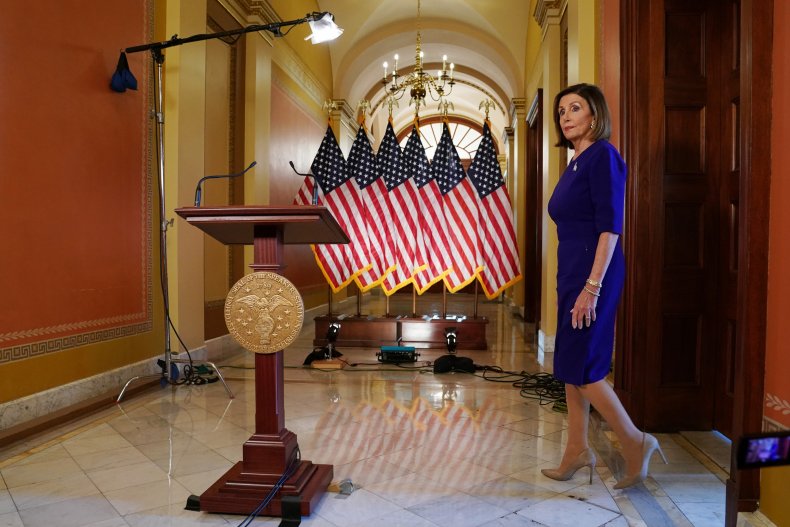 Engel is chairman of the Foreign Affairs Committee, one of the six House committees with ongoing probes into various aspects of Trump's presidency.
Another one of those panels is the Financial Services Committee, chaired by Rep. Maxine Waters (D-CA). One of the arguments made by Democrats for launching a more formal inquiry was so the courts would fast track any ongoing litigation, a belief that Waters did not believe would likely come to fruition.
"We can't control the courts. The courts are the courts, and they're going to do their work in the way that they do it," she said, adding that her committee will not be conducting their work any differently. Waters' panel has issued subpoenas to companies for Trump's financial records and is fighting to enforce them through the courts.
The move by Pelosi on Tuesday to direct the six committees to "proceed with their investigations under that umbrella of impeachment inquiry" appeared to be more of a symbolic effort to appease the Democratic caucus, the majority of which supports impeachment proceedings in the wake of the revelation that Trump directed a foreign country to investigate a political foe.
A partial transcript released by the White House Wednesday morning of a phone call Trump had with Ukrainian President Volodymyr Zelensky in July confirmed reports that he asked Zelensky to investigate former Vice President Joe Biden and his son for their past involvement in a Ukrainian gas company. The transcript showed that after Zelensky said they were ready to purchase more military equipment from the U.S., Trump requested that he talk with Attorney General William Barr and his personal attorney Rudy Giuliani about investigating the Bidens.
"Yesterday was a day of vindication. It was an indication that the caucus itself now, by overwhelming majority, wants to move forward with with some form of impeachment effort," said Rep. Al Green (D-TX). In July, Green put his colleagues in a tough spot by attempting to force a House floor vote on ousting Trump with articles of impeachment. "It allows us to move forward with all of the committees openly and notoriously acting on impeachment."
Many members hoped that with the backing of Pelosi, their investigations could operate on an expedited timeline, something the Speaker herself eluded to on Tuesday. Rep. Karen Bass (D-CA) said there's been discussion of having certain committees return to Washington to work during an upcoming recess. But without a more formal timeline to operate on, it appears unlikely that the speed at which probes are completed will be altered.
"The Speaker suggested the committees would continue with their work, continue with their ongoing impeachment investigations. And I think the committees will continue to do that," said Rep. David Cicilline (D-RI), a Judiciary member. "It's obviously escalating the seriousness."
Pelosi's "formal impeachment inquiry" announcement has also given Republicans more fuel for their longstanding argument that Democrats are not actually in an impeachment inquiry due to the lack of a floor vote to validate it.
"She cannot unilaterally decide we're in an impeachment inquiry," House Minority Leader Kevin McCarthy (R-CA) told reporters on Tuesday after Pelosi's announcement. "What she said today makes no difference about what's been going on."
Rep. Doug Collins (R-GA), the ranking member of the Judiciary Committee, has long been frustrated as Nadler and other Judiciary Democrats say they've been in the midst of impeachment proceedings. Tuesday evening, he labeled Pelosi's proclamation as "a false and feeble decree," pointing to the lack of a floor vote.
"Speaker Pelosi's decree changes absolutely nothing. As I have been telling Chairman Nadler for weeks, merely claiming the House is conducting an impeachment inquiry doesn't make it so," Collins wrote in a tweet. "Until the full House votes to authorize an inquiry, nobody is conducting a formal inquiry."