Fox News' Chris Wallace Tears Into Lewandowski Over Voter Fraud: 'You Lost' Over '60 Court Cases'
Fox News host Chris Wallace confronted former Trump campaign manager Corey Lewandowski on Sunday over his defense of ex-President Donald Trump's COVID-19 response and ongoing voter fraud claims.
On Saturday night, Trump delivered a 90-minute address to the North Carolina Republican Party state conference at the Greenville Convention Center, marking his first official speech since the Conservative Political Action Conference in February. He used the address to push his baseless claim that widespread election fraud caused his 2020 loss to President Joe Biden.
The event came days after New York Times journalist Maggie Haberman reported that Trump had been telling a number of contacts that he "expects he will get reinstated by August" to the White House. The report was based on information from unnamed sources and Lara Trump has dismissed it, saying "there are no plans for Donald Trump to be in the White House in August." Newsweek could not independently verify the report.
In an appearance on Fox News, Lewandowski told Wallace that he's spoken to Trump dozens of times since he left the White House but has "never" heard him mention being reinstated. Wallace began grilling the former Trump campaign staffer after he attempted to blame the media.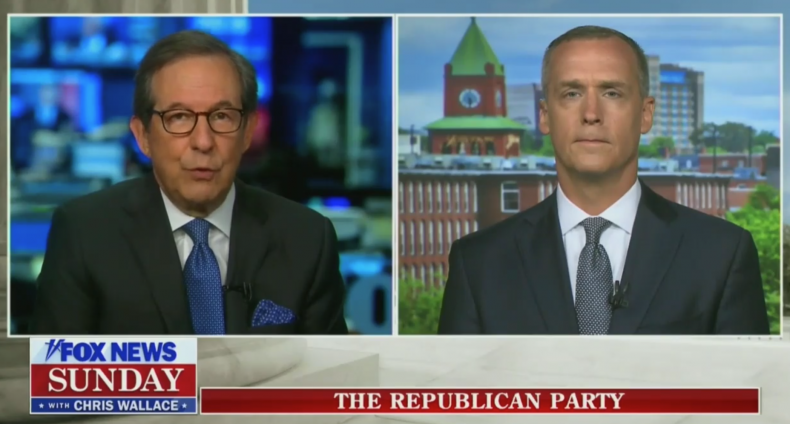 "We notified the media of at least one dead person who voted. It is unequivocal. But the response from the media was, 'well that person was a Trump supporter.' Chris, we need to have election integrity in this process." Lewandowski said.
"Corey, you keep blaming this on the media," Wallace said. "The fact of the matter is this went to more than 60 different court cases and you were beaten in every one. The Supreme Court refused to even hear the Trump challenges, so please don't blame this on the media. You had your day in court and you lost."
Lewandowski responded: "But Chris, what I'm saying that the media's obligation and responsibility should be is making sure we have a fair and honest account of what the election results were. Look, I have provided specific examples of the dead..."
Wallace interrupted to ask, "What about the courts, including Trump appointed judges? Including the Supreme Court that has a 6 to 3 conservative majority?"
"They threw you out of court," he added.
Later in the interview, the pair sparred again after Lewandowski suggested that a special congressional commission should probe China over the origins of the coronavirus.
If Trump "was so concerned about the Wuhan lab, if he wanted he had the opportunity as president, why didn't he get tough with China then when he had the opportunity?" Wallace asked.
"We were listening to what the media has defined as the experts and Dr. [Anthony] Fauci specifically," Lewandowski said.
"Come on, Corey!" Wallace interrupted. "Corey. Corey. Corey. Wait a minute. You're telling me that the president—you're going to blame the president's inaction on Dr. Fauci?"
Newsweek reached out to Trump representatives for comment. This story will be updated with any response.