Fox News host Steve Hilton argued that Democrats, MSNBC and CNN are the "real agents of [Russian President Vladimir] Putin" during a Monday panel discussion regarding the conclusion of special counsel Robert Mueller's investigation.
"Let's look at the big story. What do we know now [that] we didn't before? We know for sure the scope of the Russian effort, Putin's effort, to destabilize our democracy and to divide America. That's clear from the report," Hilton, a conservative British political adviser who hosts Fox's The Next Revolution program, said.
"We also know that not only was there no collusion, there is a very important line in the attorney general's letter, the special counsel not only didn't find collusion, it says 'despite multiple offers from Russian affiliated individuals to assist the Trump campaign.' They tried to collude with the Trump campaign," the pundit pointed out. "The Trump campaign said: 'no.'"
"I'll tell you who did end up being an agent of Putin, an agent of Russia in his effort to divide America and to destabilize our democracy, it is all these people who have been pushing this story," he argued. "They're the ones who have been dividing America—[former Director of the CIA John] Brennan, and [former Director of National Intelligence James] Clapper, and [Congressman] Adam Schiff, and [Congressman] Eric Swalwell and MSNBC and CNN. They're the real agents of Putin!"
Mueller officially concluded his investigation into Russia's efforts to interfere in the 2016 presidential election on Friday, submitting his final report to the Justice Department. Attorney General William Barr then released a four-page letter detailing the key findings and conclusions of the special counsel's report. Although Mueller confirmed that there was no conspiracy between Trump and Russia, his report did not conclude whether or not the president had obstructed justice due to alleged interference with the investigation.
Even just hours before Barr's letter was released, several prominent Democrats appeared on Sunday news shows to insist there had been collusion between Trump's people and Moscow. "Obviously, we know there was some collusion," Representative Jerrold Nadler from New York, who chairs the House Judiciary Committee, said on CNN's State of the Union.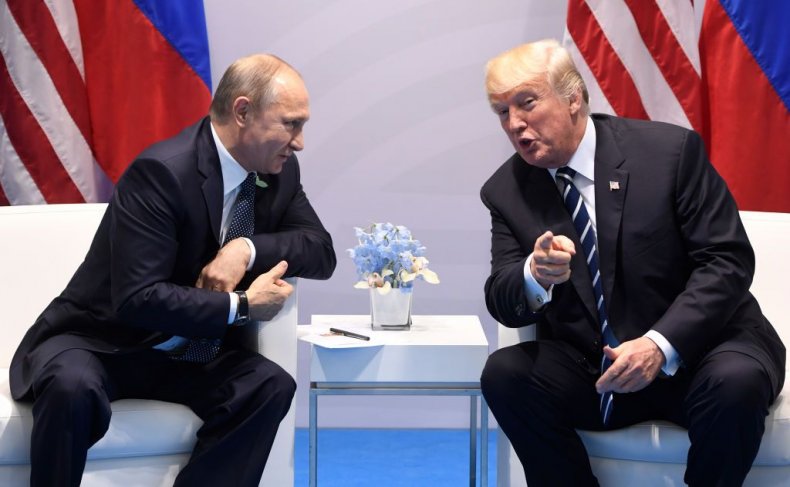 Trump and his supporters have previously argued, similarly to Hilton on Fox News, that Democrats were the ones who had actually colluded with Russia. They've inaccurately alleged that the whole investigation was sparked by anti-Trump research financed by the Democratic Party and Hillary Clinton's 2016 campaign. A document was compiled by a former British spy, Christopher Steele, who reportedly learned controversial—and largely unproven—information through a network of contacts in Russia. But, according to the Associated Press, the FBI had already launched the probe months prior to receiving the infamous dossier.
The president on Monday lashed out at his opponents during a press conference while discussing the Meuller report. He accused his enemies of doing "treasonous, evil things," according to The Guardian. However, Trump also affirmed that Mueller had acted honorably during the probe, a dramatic reversal from his repeated attacks on the special counsel throughout the 22-month investigation.