'Trumponomics' Author Blames Obama for Great Recession, Mocks Student Loan Forgiveness Plans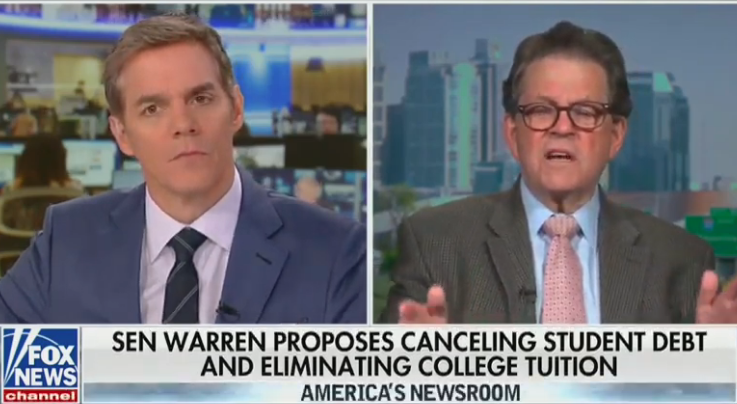 Former Reagan administration economist Arthur Laffer ridiculed Americans with student loan debt and blamed the 2007 Great Recession on Barack Obama, who didn't begin his presidential term until January 2009.
Speaking on Fox News Tuesday morning, longtime Republican economist Art Laffer warned viewers that Sen. Elizabeth Warren's $640 billion student loan debt forgiveness plan would be an economic "catastrophe" and cautioned 2020 voters that a Democrat like former President Barack Obama doing well in the polls may sink their retirement plans. The 2018 Trumponomics author claimed the 2007-2009 Great Recession was sparked by polls showing "Obama coming into the office," but made no mention of the subprime mortgage crisis and debt bubbles which began under Republican President George W. Bush in 2007.
Laffer and America's Newsroom co-anchor Bill Hemmer mocked Warren's student debt forgiveness plan and compared it to Oprah Winfrey famously offering her audience members free cars.
"In March of 2020 I'm really going to look at the political world very carefully," Laffer said. "Because if you'll remember, coming into the election in 2008, when Obama started rising in the polls, and doing well in the polls, the stock market crashed, the stock market tells you what will be and not what has been. And the stock market looks forward -- If they see an Obama coming into the office they'll crash and that's what led to the Great Recession."
Laffer's revisionist economic history of the 2007 and 2008 financial crises' that led to the Great Recession made no mention of unregulated use of derivatives, the failed U.S. Treasury and Federal Reserve bank bailouts, the expansion of toxic debt and subprime mortgages -- all of which occurred under Bush's administration.
Then-Illinois Sen. Barack Obama was not elected to office until November 2008, which was two months after Lehman Brothers' bankruptcy sparked a global panic and was six months after the Fed began bailing out banks in March 2008.
Perhaps speaking to Fox News' average viewer age of 65-66 years old, Laffer praised Donald Trump's recent tax bill and monetary policy that has made "retirees very happy."
He claimed Warren and other 2020 Democratic candidates' Medicare-for-all, universal health care and child development plans will lead to another massive economic recession.
"It makes no sense, let me just tell you what a two cent tax is that's a two percent tax on the wealth, and when you've got a portfolio that maybe makes 5 percent, a 2 percent tax is like a 40 percent income tax bill and that is huge and would lead to a crash in the market and all the wealth she thinks she's going to be able to tax will turn into poverty and she'll not get her money it would just lead to a catastrophe."
Despite Laffer's claim, Warren has previously said she switched from being a conservative to a liberal in the mid-1990s after watching banks destroy families through bankruptcy and other greed-driven tactics.
Laffer and Hemmer added insult to injury in the Tuesday Fox News segment, appearing to mock the 45 million Americans who owe $1.5 trillion in cumulative student loan debt who Warren is seeking to relieve.
"How'd you get through college did somebody pay for you, how'd that happen?" Hemmer asked Laffer in a jocular tone.
"Yea, my dad, mom and dad, I'm sorry. I didn't even have to pay them back either," Laffer replied with a chuckle, before agreeing he'd been financially planning since age 17. "But back then it was much cheaper. It was a lot, lot cheaper."
"Come on Art, that's the Oprah way: you get a car and you get a car," Hemmer added.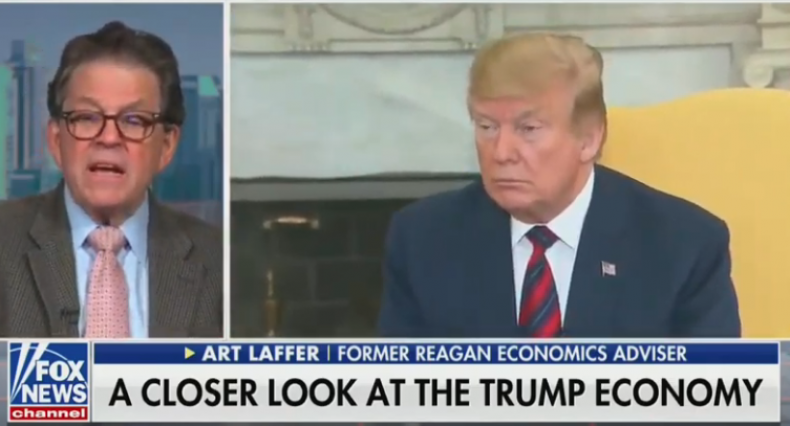 "In March 2020 [I'm going] to make sure Trump's going to get re-elected otherwise I'm going to move my portfolio and make a much more risk-free portfolio"
"Art means business, from all that free stuff to the green new deal," America's Newsroom co-host Sandra Smith chimed in to conclude the segment.