Sean Hannity gave a lengthy critique of the January 6 committee's latest hearing but did not mention a text of his that was read out in which he called for ex-President Donald Trump to do something to stop the U.S. Capitol riots.
In front of a screen graphic that said "sham committee", the Fox News anchor took aim at the committee, which on Thursday heard text messages that Trump's chief of staff Mark Meadows had received as the violence unfolded on January 6.
The hearing focused on Trump's actions during 187 minutes, starting with his speech at a rally encouraging supporters to march on the Capitol, to sending out a video telling supporters to go home. Committee members say it shows Trump was culpable for the violence directed at Congress and betrayed his oath to the Constitution.
Committee member Adam Kinzinger (R-IL), one of two Republicans on the committee, said that Trump had "resisted and he kept resisting" telling his supporters to leave.
He referred to two tweets the former president sent at the time, one at 2.38 p.m and the other at 3.13 p.m., calling on them to "stay peaceful" and "remain peaceful," even though he "knew that the mob was attacking the police and had invaded the Capitol."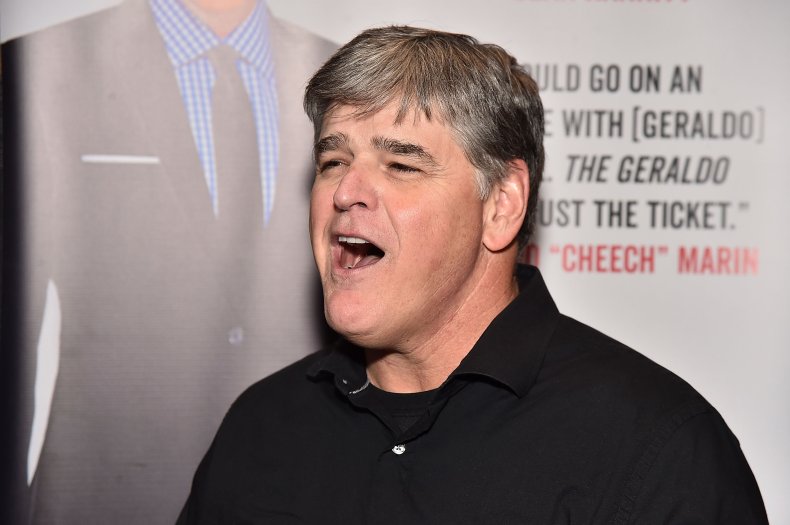 Kinzinger then read out texts sent to Meadows he said showed how Trump "was not meeting this moment."
One was sent by his son, Donald Jr, soon after his father had tweeted, which said "he's got to condemn this s*** ASAP," to which Meadows said he agreed.
Trump Jr said in another tweet said that "they will try to f*** his entire legacy if this gets worse." Kinzinger then read out a text by Hannity to Meadows which said, "can he make a statement" adding, "ask people to leave the Capitol." Meadows responded, "on it."
Although not read out in this part of the hearing, Hannity followed it up with a text that said, "Wth is happening with VPOTUS," referring to Vice President Mike Pence.
Kinzinger said Trump's son and Hannity "were not the only ones to implore Mr Meadows to get the president to speak to the nation and tell the mob to leave," adding that Meadows had received similar texts from GOP figures, administration officials and friends.
However, these dramatic text exchanges sent as the Capitol was being ransacked did not feature in Hannity's monologue. The Fox anchor called the hearing an "obsessive partisan anti-Trump smear" and took a swipe at what he said were security shortcomings at the Capitol that day.
"They didn't attempt to interview the Speaker (Nancy) Pelosi, she's the person in charge of security," Hannity said.
He then revisited the argument made by other conservatives against the hearing in questioning why there was no congressional committee probe into the 2020 protests, some of which turned violent, that followed the death of George Floyd, a Black man killed by a police officer in Minneapolis, Minnesota.
"Unsurprisingly, they did not establish a criminal case or reveal new damning evidence against President Trump as they have promised," Hannity said of the January 6 committee which will meet again in September.
"Ultimately, the American people see this for what it is—a one-sided political smear that does nothing to improve our lives."