Fox News Host Cites Pete Buttigieg's Height While Knocking His Presidential Potential
Fox News host Jesse Watters pointed to Secretary of Transportation Pete Buttigieg's height to dismiss his potential to become president
On his Watters' World show Saturday, Watters said because of President Joe Biden and Vice President Kamala Harris' dipping approval ratings, some Democrats are looking elsewhere for their potential 2024 nominee. He predicted there would be a "civil war" among Democrats ahead of the election.
In discussing Buttigieg as a potential nominee, Watters listed several reasons he believes Buttigieg would not be a strong candidate, including his height. Watters also referred to Buttigieg taking parental leave after he and his husband Chasten adopted a baby in August. Some conservatives have criticized the transportation secretary for taking the leave as the United States faced mounting inflation and supply chain crises during the COVID-19 pandemic.
"The donors are looking to springboard over Kamala and throw a lot of cash behind Mayor Pete, who as you said, took a little vacation, paternity—whatever you want to call it—in the middle of a crisis. He's also about 5' 4" and I don't think Black Democrats are going to go for Mayor Pete for President."
He also hit Buttgieg on his relatively low polling numbers among Black voters during the 2020 presidential primary.
Buttigieg's 2020 presidential campaign said his height is actually 5'9", according to a report from the Daily Dot.
Meanwhile, Buttigieg on Sunday dismissed claims that there was a rivalry between him and Harris while appearing on NBC News' Meet the Press.
"She and I are part of a team that is disciplined and doesn't focus on what's obsessing the commentators—we're too busy with a job to do," he told host Chuck Todd. "She as a leader in this administration, with her leadership role, and I, and the president, and everybody else in the Cabinet and across the administration are laser-focused on getting the job done."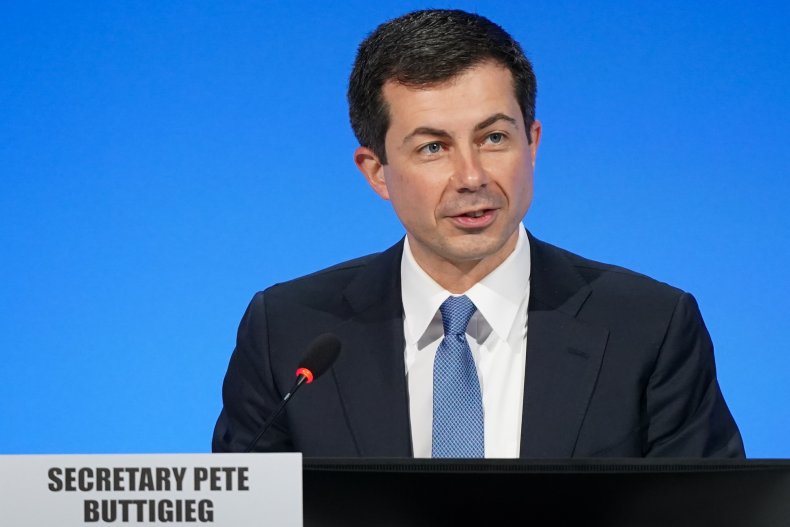 Although the next presidential election is nearly three years away, speculation has already begun about who will run on both the Democratic and Republican sides. Some have speculated Biden may not run again due to his age, but Biden has said he does plan to run again in 2024.
Polls show Democratic voters are largely split on whether Biden should or should not make another bid for the Oval Office. If he opts not to run, polling indicates Harris as the favorite—although other potential candidates, including Buttigieg, have also received significant support.
Harris said Thursday on ABC News' Good Morning America that she and Biden are "absolutely not" discussing the 2024 presidential campaign.
Newsweek reached out to a spokesperson for Fox News and the Department of Transportation for comment Sunday morning but had not heard back by publication. This story will be updated with any response.