Fox News Host Confronts GOP Gov. Kristi Noem on Anti-Abortion Views, Bill Similar to Texas Law
A Fox News anchor confronted South Dakota Governor Kristi Noem, a Republican, on Sunday over her anti-abortion views, questioning whether they were "out of step" with the majority of Americans.
On Friday, Noem announced the text of two anti-abortion bills she aims to pass in South Dakota. The proposed legislation follows the example of a controversial Texas law that leaves enforcement up to private citizens, who are entitled to $10,000 from anyone they report for carrying out or aiding an abortion after a fetal heartbeat is detected. The law in Texas, as well as the proposed South Dakota bill, makes no exception for pregnancies that result from rape or incest.
"Governor, you've made clear you're among those who would like to see Roe [v. Wade decision] struck down. Well, our brand new Fox News polling shows us this: When asked about that, 63 percent say 'let it stand,' 31 percent say 'it's time to overturn it,'" Shannon Bream pointed out during an interview with Noem on Fox News Sunday.
"Are you out of step with the American people on this?" the Fox News host asked.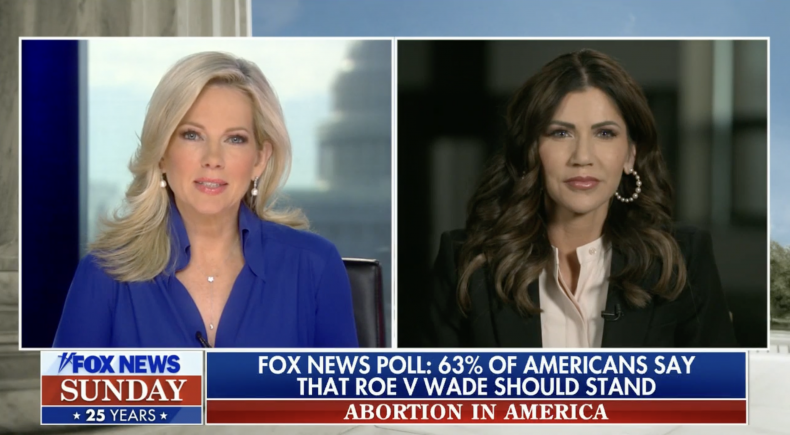 "No," Noem quickly responded. She then cited other polling data that suggests a majority of Americans believe there should be "some reasonable restrictions on abortion." The Republican politician went on to remind viewers that she campaigned in South Dakota to be the "most pro-life governor in the country."
Bream then pressed Noem further regarding the anti-abortion bills she has put forward in South Dakota. The Fox News host noted the proposed legislation was similar to the controversial Texas law.
"So the bill that you talked about, the new measure you've got that you're working on this year, is very much like Texas SB8, which is the one that's been back and forth at the Supreme Court," Bream said. The anchor explained that it "essentially says that people who aide a woman getting an abortion after ... a heartbeat is detected, they can actually, as private citizens, bring a case against these women"
She then confronted the GOP governor with Supreme Court Justice Sonia Sotomayor's strong condemnation of the Texas anti-abortion law.
"Justice Sotamyor said this about it, she said, 'It's a complicated private bounty-hunter scheme that violates nearly 50 years of this court's precedents.' She went on to talk about the case, about the law. She said it's 'a disaster for the rule of law and a grave disservice to the women in Texas, who have a right to control their bodies,'" Bream said. "How do you respond?"
Noem replied, "Well, that's her opinion." The governor said Sotomayor's remarks were not "a legal defense" and pointed out that the Texas law "has been upheld three times now."
Bream then noted that many women who have abortions cite financial concerns, believing they cannot afford to take care of another child. "What kind of resources, what kind of efforts is the state making to help these women? If you're telling them they can't have an abortion, where is the assistance otherwise?" the Fox News anchor asked.
The South Dakota governor admitted that this was "one of the things we need to do a better job of across the country." Noem said that in South Dakota women are informed of their "options" when they consider abortions.
Earlier this month, during her state of the state address, Noem expressed hope that the Supreme Court will overturn the landmark Roe v. Wade decision, which established women's right to abortion nationwide.
"The Supreme Court has a historic opportunity to make that a reality. As soon as Roe v. Wade is overturned, our state laws are ready to protect every unborn South Dakota child," she said in her January 11 address to South Dakotans. "But until then, we can take steps to protect South Dakota children, today."
With a 6 to 3 conservative-leaning Supreme Court, activists fear that abortion rights are under serious threat. With the top court's decision to allow the Texas law to stand for now, most analysts believe that the judicial body is poised to significantly weaken the Roe v. Wade precedent or overturn it entirely.