Fox News anchor Trace Gallagher confronted Senator John Barrasso, a Wyoming Republican, over his opposition to increasing the debt liming, pointing out the benefits it would bring to constituents in his own state.
Republican lawmakers have voiced their opposition to increasing the debt limit, which would allow the government to continue funding programs that have already been approved. GOP lawmakers have slammed Democrats' efforts to pass large spending packages to defend their opposition—but Democrats have pointed out that the debt limit increase would cover spending previously approved, not new spending.
During an interview on Fox News Sunday this weekend, Gallagher raised the issue with Barrasso. He pointed out that the hike in the debt limit would cover previous spending as Democrats and other analysts have explained.
"The Wall Street Journal says: 'A vote to raise the debt limit doesn't authorize new spending, but it essentially allows the Treasury [Department] to raise money to pay for expenses the government has already authorized,'" Gallagher said.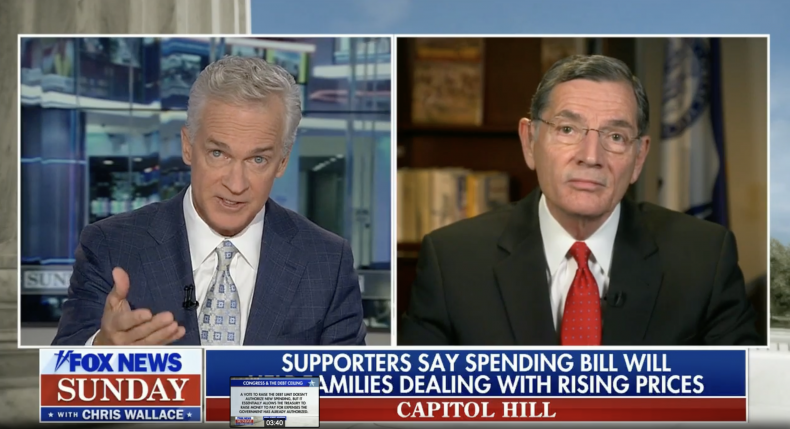 "So this is to pay for things already authorized," the Fox News host continued. "And it's important to point out, in your state alone, this is paying for things like almost 30,000 people getting SNAP benefits. Of course, that's food benefits. Thirty-three thousand students eligible for free or reduced school lunches," Gallagher said.
"A lot of benefits from this [debt limit increase] to your state, senator. Why are you against it?" he asked.
Barrasso responded by comparing the federal issue to how things work at the local level in Wyoming. He pointed out that his state's constitution "demands that we balance our budget every year—that we live within our means." He also said that the federal government "ought to do the same thing."
"This is all about Democrat spending," Barrasso argued. "This is 100 percent on them." He asserted that there is "not a single Republican" who will vote raise the debt ceiling.
Republicans voted with the support of Democrats to raise the debt ceiling three times under the administration of former President Donald Trump. During Trump's tenure, the debt increased by about $7 trillion. Much of this was due to bipartisan COVID-19 relief packages approved by Congress in 2020.
But the former president's signature 2017 Tax Cuts and Jobs Act also is projected to add $3 trillion to the debt before the end of the decade, according to the Committee for a Responsible Federal Budget.
Treasury Secretary Janet Yellen has criticized efforts to prevent increasing the debt limit. "I believe it is very destructive to put the president and myself, as Treasury secretary, in a situation where we might be unable to pay the bills that result from those past decisions," she said in September.
Although Republicans have been unified in voicing opposition to a debt limit increase, GOP Senate Minority Leader Mitch McConnell, who represents Kentucky, reached a stop-gap deal with Democrats for a relatively small increase in early October. That bought lawmakers a couple more months to figure out a longer-term strategy to address the issue.
"I will not be a party to any future effort to mitigate the consequences of Democratic mismanagement," McConnell threatened in an October letter to President Joe Biden after the limit was temporarily increased.
However, McConnell has also promised that the federal government will not default and met with Senate Majority Leader Chuck Schumer, a New York Democrat, to discuss the issue earlier this month.