Fox News Host Confronts Larry Elder Over His Media Criticism, Suggests He's 'Fair Game'
Fox News host Howard Kurtz confronted California's Republican gubernatorial hopeful Larry Elder over the latter's criticism of the media, suggesting that the GOP candidate is "fair game" as the leading challenger to Governor Gavin Newsom, a Democrat.
Elder, a conservative talk radio host, has routinely argued that the media is attacking him and covering his candidacy unfairly. The Republican contender has said that the press is particularly against him because he's a Black conservative.
During a Sunday interview on the Fox News program Media Buzz, Kurtz questioned Elder over his assessment of the media's coverage.
"Aren't some of the things you've said over the years on the radio—where you're paid to be provocative, whether it's opposing the minimum wage, or calling global warming a crock—fair game for the press now that you want to run the state of California?" Kurtz asked the Republican candidate.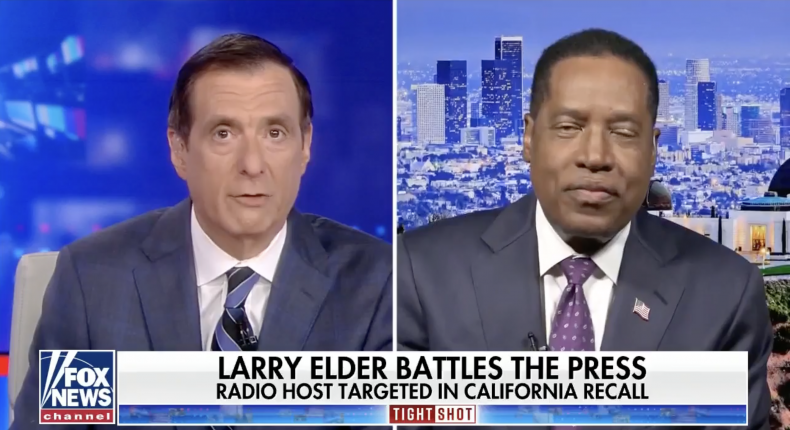 Elder responded by insisting that he never said global warming is a "crock."
"I've said global warming alarmism is a crock. But, Howard, I've been campaigning now for five weeks. I've been a politician now for five weeks. No one has asked me about any of those things. They asked about the rise in crime. They asked me about the way this governor has shut down this state in a more severe way than did the other 49 governors," Elder said.
Later in the interview, Kurtz came back to the issue of press coverage of Elder's campaign.
"You've described the media attacks on you as a racial smear campaign, but with the exception of that white supremacy column I referenced earlier, aren't most of these news outlets opposed to your conservative ideology as opposed to taking you on for racial reasons?" the Fox News host asked.
The GOP contender said that the media is "doing whatever they can to bring me down."
"They're afraid that I'm going to be able to break the stranglehold that they've had over Blacks and browns for years. All I am is common sense. I'm going to do something about the crime. I'm going to do something about the lousy education. Do something about the rise in homelessness. Do something about our water crisis, about our poor management of the forests," Elder asserted. "What could be so bad?"
The Los Angeles Times ran a controversial opinion column in August with the headline: "Larry Elder is the Black face of white supremacy. You've been warned." Another opinion article by the prominent California newspaper was titled: "Larry Elder's fans prove he's a face of white supremacy."
Elder has emerged as the leading GOP contender to potentially unseat Newsom in California's recall scheduled for September 14. Although California polls show that Elder is only backed by less than a quarter of the state's voters, this could potentially be enough to make him the state's next governor under the rules of the recall election.
When voters go to the polls later this month, they will be asked two questions. The first is whether to keep Newsom in Sacramento or remove him from office. In order for Newsom to remain the governor, more than 50 percent of voters must say they want to keep the Democratic leader.
The second question will be who should replace Newsom if the voter wants him removed. If Newsom fails to receive the back of more than 50 percent of voters, the challenger with the highest number of votes will become California's governor. While Elder is not expected to garner anywhere near 50 percent of votes, he could become governor if not enough voters show up in support of Newsom.
A couple of weeks ago, polling suggested that the Democratic governor may be in serious trouble. The number of voters saying they wanted to keep him in office only hovered narrowly above 50 percent, as Elder's popularity surged. But more recent polls have signaled that Newsom is better positioned to fend off the recall challenge.
A survey of Californians conducted by the Public Policy Institute of California from August 20 to 29 found that 58 percent of the state's voters wanted Newsom to stay, while only 39 percent wanted him gone—a difference of 19 percentage points in favor of the Democratic governor.
If Elder—or another Republican—manages to unseat Newsom, it would be a significant upset as Democrats are estimated to outnumber GOP voters in the West Coast state by a margin of two to one.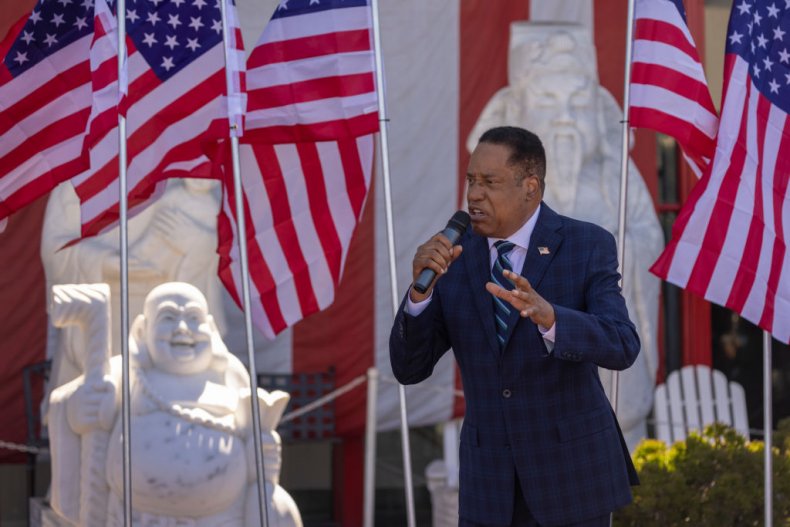 Notably, Elder dismissed the possibility of running for governor back in February.
"I just don't believe I have the stomach, the temperament, the personality, the drive, the willingness to deal with these doofi in Sacramento for the next several years of my life," the conservative said in an episode of his radio program
"Have I exhausted all of my excuses yet? Anyway, thank you very much for that. That's very flattering. But no, I'm not going to run. I would miss being on the radio as well."
Newsweek reached out to Newsom's press representatives for comment, but did not immediately receive a response.