Fox News Host Confronts Trump Adviser, Says It's 'Very Difficult to Find' Data Backing President's Voter Fraud Claims
Fox News anchor Trace Gallagher confronted Mercedes Schlapp, a senior adviser to President Donald Trump's reelection campaign, with data showing that rates of voter fraud are extremely low in the U.S. — after the president again claimed that the election would not yield accurate results on Thursday.
"Because of the new and unprecedented massive amount of unsolicited ballots which will be sent to 'voters', or wherever, this year, the Nov 3rd Election result may NEVER BE ACCURATELY DETERMINED, which is what some want. Another election disaster yesterday. Stop Ballot Madness!" the president tweeted Thursday morning.
Gallagher raised the tweet with Schlapp, after sharing a screenshot of the post on the screen during a segment of the Fox News program America's Newsroom. He pointed out that Trump has "several times" cast "doubt on the upcoming election." The anchor said that people want to see "proof" and "evidence" to back up those claims.
"I want to put this—this is from the Brennan Center for Justice saying that the rate of voter fraud in 2017, their study done in 2017—look at the numbers right there," Gallagher said, sharing a slide on the screen showing that the rate was between a statistically insignificant 0.00004 and 0.0009 percent.
"I mean, I don't even know what that is," Gallagher said. "Four zeros before you have a four and then point three zeros nine... In other words, extraordinarily low. What's the countering evidence that you would present, Mercedes?" he asked.
Schlapp argued that Democratic leaders in several parts of the country had "fundamentally" changed their state's voting systems to allow for universal mail-in voting. She claimed that this would lead to "all sorts of problems." She then pointed to isolated incidents of irregularities that had led to recounts or new elections being called.
Gallagher said that these incidents were "red flags" but pressed Schlapp on the assertions that there would be voter fraud. "When you get to the fraud, when you get to the actual wrongdoing in ballots, it really is very difficult to find," he said.
Schlapp again pointed to other isolated incidents, saying the Trump campaign wants to avoid problems. "Our focus is voter integrity. It is that if a person votes, if their vote counts and they vote only one time," she said. "The president is just bringing up this awareness."
Twitter has flagged Trump's Thursday tweet, providing a link to information about how voting by mail is safe and secure. The social media platform also tweeted that the president's post was a "potentially misleading statement regarding the process of mail-in voting."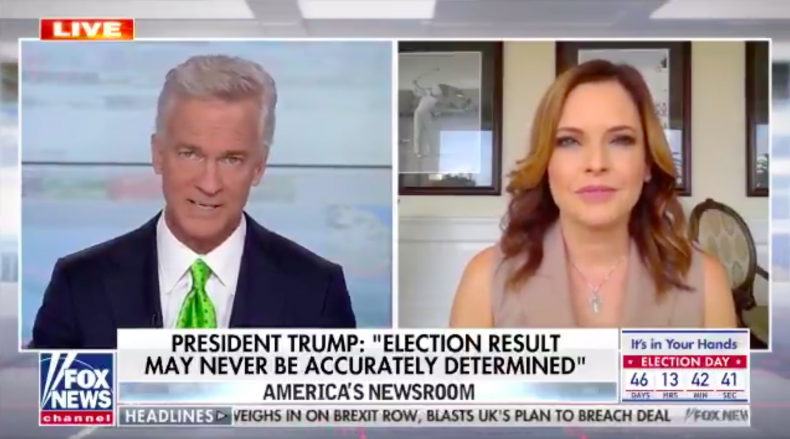 "Another day, another episode of Twitter trying to silence the leader of the free world who is fighting every day to make sure Americans have the free, fair election they deserve. Social media companies are not the arbiters of truth or elections, and the fact that they pick apart the president's tweets while blatantly giving Democrats a free pass for shredding election integrity rules and disenfranchising voters with their radical universal vote-by-mail scheme is shameful," Thea McDonald, deputy national press secretary for Trump's reelection campaign, told Newsweek in an email.
Election experts, including multiple Republican officials, have stressed that there is no evidence to support the president's claims that mail-in ballots lead to voter fraud. They point out, as Gallagher did, that voter fraud is incredibly rare within the U.S. Some have also pointed to evidence that mail-in ballots appear to be more secure and have even lower rates of fraud, as there are more safeguards in place.
Trump critics have argued that the president is attempting to delegitimize the election results before the ballots are even counted. The president has repeatedly declined to say whether or not he will accept the outcome if he were to lose the November election. Currently, polling suggests that Democratic presidential candidate Joe Biden is favored to win.
Updated 2:39 p.m. ET: A statement from Trump's reelection campaign has been added.