Fox News Anchor Says Trump's Arrival Created 'Chill' Among Attendees at George H.W. Bush's Funeral
President Donald Trump's arrival at the Washington National Cathedral for the funeral of George H.W. Bush altered the mood, said Fox News anchor Chris Wallace.
Michelle and Barack Obama were chatting with Bill and Hillary Clinton when the 45th president entered the cathedral. With Trump's entrance, the friendly atmosphere among the couples seemed to vanish, the Fox News host reported. The three couples were seated together in the front row.
"I have to say I was struck when President Trump and Melania Trump came to the front row that it was as if a chill had descended on that front row," Wallace said. "You had seen a lot of chatty talk between the Clintons and the Obamas, the Carters. But when Donald Trump sat down, the greeting that he was given by Barack Obama and Michelle Obama was about as cool as it could have been," he said.
The Obamas greeted the Trumps, albeit with some apparent uneasiness from Michelle Obama, whose recently released memoir offered plenty of criticism of the commander in chief. Hillary Clinton looked and nodded as Bill Clinton shook Melania Trump's hand but did not formally greet either the president or the first lady. Bill Clinton and the president did not shake hands.
"At that point they all stopped talking to each other," Wallace said, noting the "ill feelings" between the current president and others sitting together at the front of the cathedral.
"I have to say that where you usually have a president's club, and even people that ran against and maybe one beat the other, that doesn't seem to have been extended to President Trump when you see them sitting in that front row."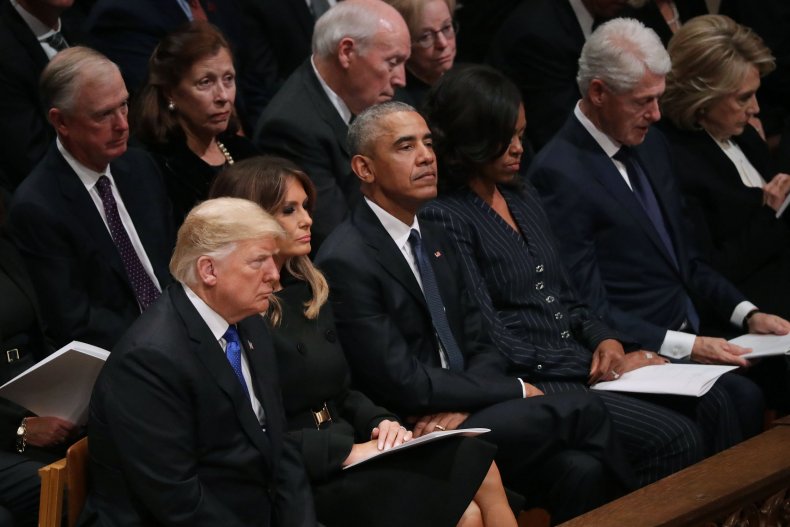 George W. Bush offered a humor-tinged eulogy for his father.
"To us, he was close to perfect—but not totally perfect," Bush said. "His short game was lousy. He wasn't exactly Fred Astaire on the dance floor. The man couldn't stomach vegetables, especially broccoli."
He described his father as a man who "valued character over pedigree," and called him "a great and noble man, the best father a son or daughter can have."
Historian Jon Meacham and former Wyoming Senator Alan Simpson also eulogized Bush.
Bush's remains will arrive Wednesday evening at the St. Martin's Episcopal Church in Houston, where the public is invited to pay its respects. A funeral service will take place on Thursday. Bush will be buried on the grounds of the George H.W. Bush Presidential Library, alongside former first lady Barbara Bush and the couple's daughter Robin, who died in 1953.