Fox News Host Sean Hannity Unloads on CNN's 'Desperate' Jim Acosta: 'Grandstanding, Sycophant Left-winger'
Fox News host Sean Hannity took another swipe at CNN reporter Jim Acosta, and spent 10 minutes berating the channel he works for.
Hannity criticized the lawsuit filed by CNN against President Donald Trump, some of his top aides, and the Secret Service, which seeks to restore White House access for Acosta. The reporter saw his press credentials revoked after a heated exchange with Trump, who called Acosta a "rude, terrible person," during a press conference last week.
In Hannity's opening monologue on his Tuesday show, he said that CNN still has access to the White House and Acosta was still "free to spew his anti-Trump hatred anywhere he wants, just not inside the White House."
Quoting the wording of the CNN lawsuit, Hannity mocked the network's description of Acosta as a journalist who was "widely respected for his diligence and independence."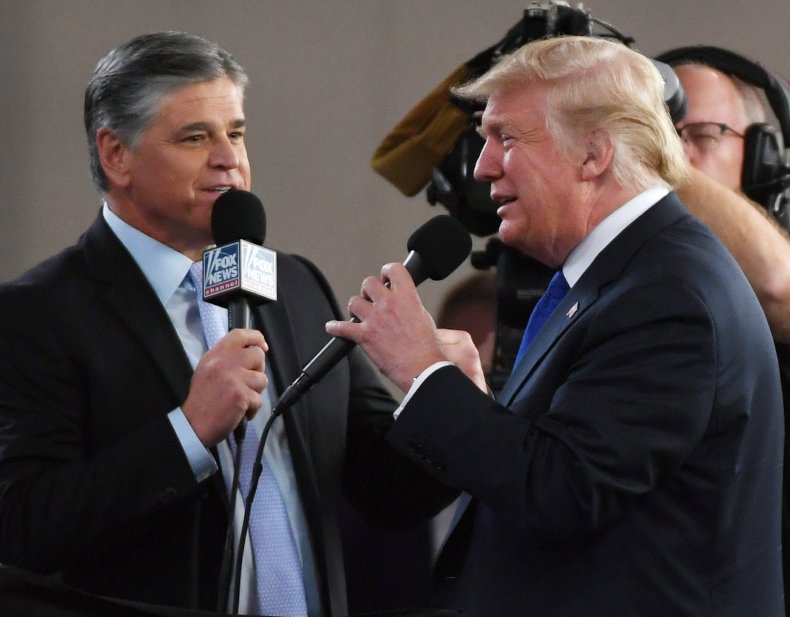 Hannity said: "That's the biggest lie. Jim Acosta is a lot of things, he is not a fair, balanced independent journalist. He is a far-left, grandstanding sycophant left-winger capitalizing on his blatant anti-Trump bias and his conduct inside the White House has been frankly a lot of times anything but professional."
What followed was a montage of what was described as "Jim Acosta's lowlights" in which he is seen criticizing Trump's description of the press being the "enemy of the people" and his constant questioning of the White House press secretary.
This was then contrasted with what Hannity said was Acosta's "glowing coverage" of the Obama administration, with cuts to his covering the inauguration in 2013 when he said "I felt like I should pinch myself."
Hannity added: "Now is anyone really surprised that the network you just saw had their chief White House correspondent kicked out for unprofessional conduct."
Last week Hannity accused Acosta of "Trump derangement syndrome."
There has been criticism from other quarters over the CNN lawsuit which states that Acosta's First and Fifth Amendment rights are being violated.
Bob Woodward, one of the journalists who broke news of the Watergate scandal, questioned the wisdom of a lawsuit, arguing that the best thing for Acosta was "more serious reporting about what he's doing.
"In the news media there has been an emotional reaction to Trump. Too many people for Trump or against Trump have become emotionally unhinged about this," Woodward told the Global Financial Leadership Conference in Naples, Florida, The Hill reported.
In a statement, Fox News president Jay Wallace said: "Fox News supports CNN in its legal effort to regain its White House reporter's press credential. We intend to file an amicus brief with the U.S. District Court.
"Secret Service passes for working White House journalists should never be weaponized. While we don't condone the growing antagonistic tone by both the President and the press at recent media avails, we do support a free press, access and open exchanges for the American people."
This article has been updated to include a statement from Fox News.